The mobile app market is huge, and its future is bright. Consumers spent a whopping $101 billion on mobile apps in 2018 alone, a 75 percent jump in a matter of only two years, according to App Annie's State of Mobile in 2019 report.
Mobile applications are gaining traction rapidly across the globe thanks to the enormous number of mobile users and devices being churned out year in, year out.
It's estimated that there will be over 6 billion users by 2020, accounting for 194 billion app downloads. The mobile app economy was valued at around $108 billion in 2016, and it is forecast to be worth a staggering $311.25 billion by 2023.
However you look at it, the mobile user community is thirsty for apps.
For companies, this means developing a tremendous variety of mobile apps. Even within the same organization, there can be a wide set of mobile apps targeted at different customer types, or even various segments of internal users.
That brings the primary question when it comes to mobile app development. Who should build these next-level apps that will satiate the needs and demands of mobile users?
Should they be built by an in-house team or should the development be outsourced to specialized agencies? That's the million dollar question we will explore in this in-depth article.
Here's what you're going to read about below:
Outsourcing vs. in-house mobile app development

What is mobile app development outsourcing?

The benefits of outsourcing - is it worth considering?

How to outsource mobile app development effectively

How to find the right app development agency partner
Let's get right to it.
---
100+ companies trust us with their mobile app development needs. Watch the video below to learn why.
---
Outsourcing vs. in-house development
In-house development
Everyone is betting big on mobile apps to drive engagement, marketing, brand awareness, sales and other metrics that matter to a company's bottom line. That's why some companies have rounded up their own mobile app development teams.
In saying that, in-house development essentially is owning your entire mobile application development team and the actual process from beginning to end, without involving any third party.
In short, you don't have to hire an external company to do it for you. There are many advantages that come with this approach to mobile app development.
First off, the development will be the project of your business from top to bottom. Your internal team will have complete control over the application, making it easy to address any requirements and issues that might occur down the road.
While it is not always the case, sign-offs and approvals are often executed faster if everyone involved in the development is in the same place and on the same page.
The other upside of this approach is talent building.
Since everything is done in-house, your development team can easily learn from the design and technical experts you may hire over time.
Moreover, any fixes, production bugs or maintenance can be executed quickly by your internal team. This makes the process become an investment instead of a one-off IT expense.
But there are drawbacks too:
It's costly and time-consuming:. An effective mobile dev team is comprised of several members - developers, team leaders, product managers, quality & testing engineers, analysts, and designers among others.
Putting such a team together means several rounds of recruitment, training and on-boarding.
It can also become quite expensive given that you have to use hiring agencies, hire a full HR department and pay for training tools.
Not to mention hefty salaries, paid leaves, team-building activities and a plethora of other office expenses.
You might also have to invest more money and time to interact with new talent and make sure that each member of the team is on the same page when it comes to creating a great app. Remember, each and every day you don't have a mobile app is another day you lose business to your competition.
Furthermore, you will have to deal with certification and licensing.
Agencies already have software certification and licenses required to build an engaging mobile application. When you use an in-house team, however, you will have to get these licenses yourself.
Your internal team may not have the capacity or experience to deal with the ups and downs of app development. In such a situation, you will be required to bring in a specialist.
Staffing and team issues. Choosing the right experts to include in your in-house team can take time, which is a luxury you don't have. You want to get your app to the market as quickly as possible, and hopefully beat your competition at its own game.
Another common issue you will have to deal with directly is turnover. Even the best employees aren't permanent. What will happen if the best designer, project manager or developer decides to jump ship? What if you have to let go of one or more team members?
Should staff dismissal or flight happen, your development project will be hit hard. To add insult to injury, you will have to shell out more money to find, recruit, train and onboard replacements, not to forget significant resources you had invested in former employees.
Lack of expertise. Unless you have do-it-all members on your team, the chances are that you will, at one point or another, experience a shortage of specific skills. To remedy that, you will have to hire yet another resource and therefore incur additional hiring costs.
The same is true if your company is expanding or you have to build out your project. To bring in more full-time employees to the team, you will have to expand the office, buy more equipment, as well as pay for medical coverage, holidays, benefits and more.
If you aren't careful enough, in-house app development can turn into a messy, complex and expensive nightmare. But, why go through all the trouble when you can let someone else do pretty much all the heavy lifting for you?
Thus, to save time and money, outsourcing becomes the route of choice for many organizations that want to move fast.
What Is Outsourcing?
There are many reasons why you might not be in a position to develop your own mobile app in-house. You might not have the right tools, the expertise or resources for the job.
Even more commonly, your in-house development team might be bursting at the seams with more pressing internal projects.
Whatever the case, you will find yourself looking for a reputable external company to help you with mobile app development. That's where outsourcing comes into the fold.
The chances are fairly good that you associate the word "outsourcing" with overseas teams. However, in the world of tech, outsourcing entails a decision by a company to hire a third-party professional to do the software development instead of using an in-house team which can be in Chicago, San Francisco or any other US city.
IT sourcing isn't something new. It is an established market which Global Industry Analytics report says it'll touch $220 billion in value by 2020, up from $24.6 billion in 2017.
When your internal team doesn't have the capacity or time to do the development, outsourcing is an incredibly smart move.
And let's face it; not every business has an elaborate IT team to take care of every software development project. That's why most small and medium-sized businesses prefer outsourcing agencies.
What Is Mobile App Development Outsourcing?
If you cannot create your app in-house for whatever reason, you might have to turn to an outside agency to design, develop or deploy it for you. This process is what's called mobile app development outsourcing. It is the arrangement you make to hire a third-party agency to do the development of your mobile app.
Developing your app internally demands lots of time, money and other resources. Outsourcing allows you to turn the whole thing into a one-off or ongoing expense - the development agency fee.
Mobile outsource agencies take many forms and names.
They may go by mobile/design studios, digital agencies, mobile specialists, app developers, freelancers, dev shops, mobile consultants or systems integrators.
Most mobile development agencies boast teams of project managers, designers, quality assurance engineers, programmers, developers, and software lead engineers who have dealt with several projects together.
They work as a team to build an app from the ground up, and there's an expert for each step of the development.
You cannot say the same about most in-house IT teams.
The odds are that you have a few IT professionals in your team with mobile expertise. Even if you decide to hire in order to fill the expertise gap, the people you bring in will cost more money and time to onboard.
Development agencies, on the other hand, know the ins and outs of each member of the team, so they'll get cracking on your app from the word "go." It's all seamless and collaborative from start to finish.
What Are the Benefits of Outsourcing? Is It Worth Considering?
     1. Outsourcing helps you reduce development costs
Building a well-designed and functional mobile application that your target audience will want to use isn't exactly cheap. That's why the cost tag is usually the first thing companies consider before going ahead with app development. In most cases, the app itself will not get immediate returns.
A good app isn't built by one or two people. It's a job of several experts, from designers to testers. Putting together a full in-house team will cost you a fortune because you'll have to pay their salaries, insurance, time off, and other incentives.
To the contrary, it'll cost you LESS when you outsource your entire development project to a competent mobile app agency. You don't have to hire new employees. You don't have to worry about extra payroll issues. You don't have to deal with paid sick or leave days.
With that said, when you hire an agency, you know what you will pay for your mobile app development up front. Once you have agreed on the price, all associated costs will fall under the agency, unless you change the scope of work.
     2. More expertise means better quality
If IT isn't one of your company's key competencies, mobile development will, of course, take longer to finish, and may not yield an app that'll compete well in the market.
Mobile app outsourcing gives you an opportunity to delegate the task to experts with a proven track record of delivering high quality work on time and on budget.
This way, you can focus your attention and resources on your company's core competencies. When experienced professionals are handling the development, you can rest assured of expert-grade work, fast turnaround, and on-time delivery.
For instance, if you are an e-commerce store; outsourcing your e-store app to the right agency means that your staff will focus on customer service, marketing and other efforts to boost your online sales.
     3. Enjoy ongoing support
Incorporating a mobile strategy into your core business isn't a one and done.
Development of a mobile app is not even half the battle.
You will have to update the application regularly to match user expectations, as well as deal with other issues like content, security, cloud hosting, analytics, and even monetization.
A mobile agency with the right tools and cutting-edge expertise will help you every step of the way, from mobile strategy ideation and design to development, deployment and ongoing support.
Because the cost of each mobile service is fixed, you don't have to worry about sudden costs. You can budget for your mobile strategy accordingly, and sleep easy knowing that everything is taken care of in your app's life cycle.
     4. Gain privileged access to domain knowledge
Staying competitive in today's complex business world is not easy, but one solution is getting your feet wet in new, innovative markets with higher ROI potential.
While most startups kickstart their ventures with a single great idea, there comes a time when you want to make a foray into other markets to take advantage of emerging opportunities.
A good outsourcing partner will help you gain access to the ins and outs of new and more exciting domains and opportunities. Often that means working with a multi-competent agency with expertise in areas like .NET, Laravel, React.JS, JavaScript, AWS, and other competencies that can help pivot your business for expansion.
     5. Outsourcing increases business efficiency
If you are a startup, time-to-market speed is everything.
If someone else beats you to the market, it can be difficult for you to gain traction later even if your product is of superior quality.
App agencies hire talented designers, developers, product managers and other skilled pros who add value to their teams.
Your project will not be their first rodeo.
Owing to their experience and wealth of knowledge, most outsourcing partners know how to tackle different business objectives and typically have a deep understanding of how to align your app to your bigger goals.
Taking advantage of your outsourcing partner's experience is plain sailing to the successful product you want to build.
Bottom line: While the mobile app development company is building your core product (assuming it's the application), you can pay more attention to marketing, invest more into research, increase your brand awareness and spruce up other aspects that matter to your company's bottom line.
     6. Diversifying and scaling team skills
Delegating mobile development activities to a creative agency helps you take the skills of your IT team to the next level, as well as scale your costs as required.
For example, if you have to direct more dollars in your budget towards marketing or sales, you can cut IT costs to make up for the deficit without hurting your mobile strategy.
If you want to increase the size of your team, you can easily hire professionals in other core competencies because the agency has got you covered as far as your mobility strategy is concerned.
     7. More accountability
Members of an in-house team know that your app isn't necessarily the highlight of their careers. With the right CV, they can always jump to another company, or, even worse, your competitor.
On the other hand, a mobile app agency has a reputation to uphold and a name to protect. Consequently, they will do everything they can do deliver pure gold, and make sure that you are 100% satisfied with the result.
Mobile dev agencies want to gain your confidence, your referrals, and repeat business.
They want to make a name for themselves in a space that's already oversaturated.
So your app's success is their success too, which is why outsourcing mobile development is more of a partnership than a transaction.
     8. Improve customer experiences
Successful mobile apps are built with the user in mind.
Forward-thinking outsourcing agencies will help you research, identify and thereafter track customer personas.
And because of this, you will have a deeper understanding of user intent, customer expectations, and other aspects of your target audience so you can tailor your app to meet their needs, preferences and solve their problems.
How Do You Outsource Mobile App Development Effectively?
Outsourcing your mobile app development isn't always going to be a smooth ride.
You have to do some due diligence, and manage the whole process to ensure you get the right partner at the right time. Here are a few more tips that might come in handy:
Know what you are building, and why. How can you know if the product is good if you don't know what you want in the first place?
Knowing what you want from your mobile strategy makes it easy for you to explain your requirements to a mobile app agency as clearly as possible.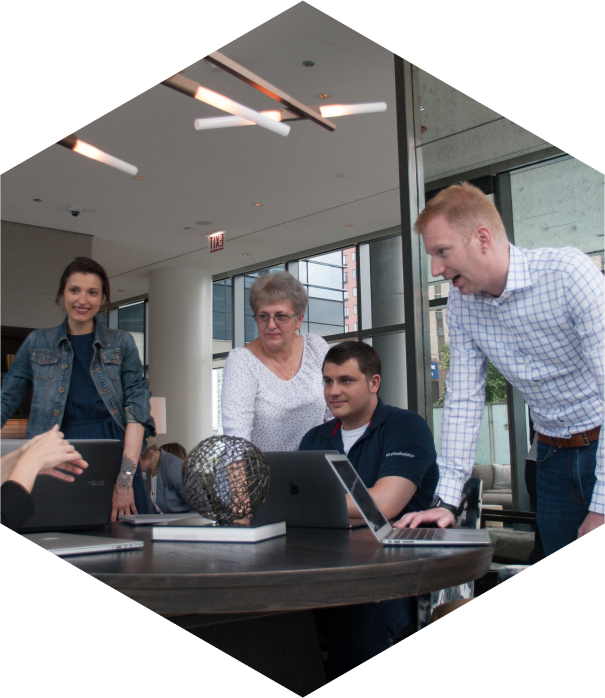 How Can We Help?

Fill out the short form below or call us at:



(888) 846-5382
Apps are built with a purpose and a mission.
What are yours?
If you don't know them, chances are good that you will get an app that doesn't meet your customers' expectations or, worse yet, an app that doesn't perform as you expected.
Moreover, the more tweaks and changes you make to the product, the more expensive and time-consuming the development becomes.
Pick the right development option. When choosing the agency you want to outsource your mobile app development to, there are many options to choose from, and not all of them are created equal:
Agencies and specialized firms

: While these may be on the expensive side, their job is to be experts in building apps, from strategy to execution. They know the industry inside out, and they have what it takes to get the job done the first time. Choosing them is not a hit or miss - it's a hit!

Freelancers

: These are developers, designers or mobile specialists who work independently of any company or agency. A freelancer typically works alone, or in cohorts with other freelancers. This is often an inexpensive option for startups on lean budgets. Be that as it may, they don't offer a holistic package. For instance, if you manage to hire a skilled freelance developer, the odds are that the person isn't well-versed in the strategy and research side of the development process.

Overseas developers:

Cost is the biggest driver for picking this option. However, offshore dev shops may not be a good fit for your target audience needs, culture, and quality standards.
Make sure to get stakeholder support. Do market research and a thorough target audience analysis. This process is crucial because it will see to it that your mobile strategy is in alignment with organizational goals. And for that matter, this will maximize the chances of getting a great quality product, on time, and within your budget.
Deliberate, decide and pick up the right technology. Deciding which technology is best will have a far-reaching impact on the app. Native vs. hybrid vs. progressive? What kind of database do you intend to use? What analytics platform will you use?
These are important questions that need to be answered and should be reviewed throughout the development process.
Set a budget. The price is certainly one of the biggest considerations, but it should not be the most important factor at the end of the day. You should strike a subtle balance between the price and other important aspects of development, such as quality, time to deliver and scope. When all is said and done, you need to find the optimal balance between all these elements before settling on the perfect partner.
Define your goals and set your Key Performance Indicators (KPIs). You cannot simply delve into mobile app development blindly. First off, you need to set clear, concise and well-defined goals, which can be easily tracked in order to define success. Of course, to make sense of your app's success, you will have to come up with distinct KPIs for your mobile apps - the metrics you will use to evaluate the performance of your project.
Now that the basics are in place, finding the right agency is the next big step
How Do You Find the Right Agency Partner to Outsource Mobile App Development To?
Mobile app development is a big financial undertaking for companies of all sizes, and choosing the right agency to create your app as precisely as you envisioned is not easy.
The following tips are designed to make the choosing process easy so you can pick the perfect agency for your development needs.
So how can one choose the right agency?
     1. Research and create a shortlist
Due diligence can go a long way when zeroing in on the right agency.
As you identify them remember to dig up as much information about what they do, the services they offer, and their approach to the mobile app dev.
     2. Create an RFP - request for proposal
Once you have rounded up a short list of agencies, start by taking a second look at your project goals and the key performance indicators (KPIs) that you have already set (see above).
This way, you can come up with a set of features, needs and pain points that you want the agency to focus on in their proposals. You might also want to develop an assessment model as a key part of this process because an evaluation model can help validate the info that you will get through the proposals.
     3. Check how passionate the agency is
Here's the truth about mobile app ecosystem: great applications are more about insight and passion than development skills.
Technical skills can be developed inside of any app agency. However, not all agencies are passionate about apps and what they offer.
Passionate firms can't contain their excitement about what they do - they want to climb on top of the tallest mountain to shout about it.
Their teams are usually quite active in the regional, national and global developer scenes.
And because they are driven by passion above all, they usually provide new insights that can indeed meet your business goals.
     4. Is the agency good in mobile technologies?
New technologies like AI, machine learning, Big Data, Business Analytics, and Blockchain are changing the way consumers interact.
A good agency knows how to leverage these technologies and more to boost your app's functionality, relevance, and user appeal.
So, no matter how you look at it, an agency that keeps abreast of changes in technology and knows how to apply them to enhance your app is a big plus.
     5. How important is user experience to the agency?
User experience is key to mobile app marketing.
An app with a lower star rating will get downloaded far less than four or five-star rated app.
It all starts with an agency that has the experience and is passionate about creating an impressive UX.
It is important if you want to get your app download and adopted.
In saying that, you have to go for an agency with a design team that has a wealth of experience, knowledge, and understanding of how great UX is achieved.
     6. Know all costs upfront (or at least a price range)
Understand the pricing model, decide what is best for you and develop an incentive plan that will reward great work done by the agency.
Some unscrupulous agencies usually give a seemingly affordable pricing plan, but add questionable charges and hidden fees later.

Summary:
Outsourcing is a rather clinical process that involves transferring mobile development tasks to experts outside of your company.
The whole process can feel a little daunting when you think of all the moving parts. It doesn't have to be scary.
Trust the process.
Your ultimate list should comprise only the best of the best candidates.
These should be the agencies that have delivered top-notch quality work to hundreds of clients, are deeply passionate about what they do, and have the ability to do a bang-up job, deliver the product on time, and within the set budget.