Do you have a business that needs to be found online by customers? If so, then you know how important it is to rank high on search pages. The internet has made it incredibly easy for people to find businesses like yours. Except there's probably a lot of competitors in your industry, making it tough to stand out.
Your website may be the best, convert like crazy, but if you can't reach the top of search page results, consumers will never make contact with you. Search Engine Optimization (SEO) is a key element of getting your brand out there. Plus organic SEO is more important in 2021 (and 2022) than ever before.
With the help of an SEO partner, this won't be an issue for you. But how do you know which one to hire and work with to improve your company's SEO? Below are some things that all potential partners should be able to tell you about their services before you agree to work together; check them out. And you'll find one of the most important tips at the end. 
---
Want to learn more about the Digital Authority Partners approach to SEO? Watch this video!
---
What's Their Overall SEO Strategy for Your Business?
When it comes to SEO, your business needs a plan that's structured, adaptable, and executable. Hiring an SEO agency that doesn't have strong organizational skills, a dedicated team, and years of experience is a big mistake. With a marketing initiative as big as SEO, you'll want to ensure your business makes the right choice.
A strong SEO strategy includes (but isn't limited to) an audit, a plan for content development, a plan for technical/off-page SEO, and an analytics strategy in case the plan needs to adapt.
Need a strong local SEO plan? Take a look at our San Diego Local SEO Agency.
Do They Offer an Audit or Consultation To Learn More About Your Needs?
It's crucial to make sure the agency you're hiring completes an audit before they start with any part of your SEO project. SEO agencies need to see what your business has been doing, what has been working, and what you need to improve.  This enables them to give you an in-depth analysis of where your business is today. A thorough SEO audit should include the following:
An overall evaluation of your website

Analysis of backlinks (and whether they're relevant)

Analysis of top-performing pages

Analysis of your technical SEO

Analysis of your current on-page SEO
Here's a list of the top SEO metrics to focus on.
What Is Their Strategy for Tracking Data?
Data is almost as important as the SEO strategy itself. It's what tells your SEO agency to continue with the same plan or to switch it up and try something else. Unfortunately, a lot of SEO agencies can't explain how they track their data, so this is where you need to be careful and screen the agency carefully. 
No one knows your business better than you do – that's why it's important to hire an agency that knows how to track data and share it with you. Make sure to look for an agency that has a strategy in place when it comes to tracking data and can put it into meaningful reports that can impact future SEO.
You'll probably spend a lot of time with the person you hire for your SEO project, so it's important that they'll add value while taking care of everything you need them to do.
How Often Will They Be Adding Content to Your Site?
Determining the type of plan your SEO agency has will give you an outlook for the project scope. Typically the best SEO agencies create content calendars that include a date and time for when content will be uploaded and completed. Sometimes agencies fall behind, miss deadlines, and lose track of their schedule. That's something you'll want to avoid.
Need help with an SEO project? Check out our San Diego SEO Agency.
The more often content is uploaded, and the more relevant and high-quality it is, the better chance you'll have of ranking on Search Engine Results Pages (SERPs). You're looking for a long-term SEO partner that will drive additional traffic to your site. Hiring an agency that consistently adds new, valuable content to your site every week is a surefire way to do that.
Given enough time and the right SEO strategy, you'll eventually see positive results in search engine rankings. But if your business is in need of an immediate fix, it may be more beneficial to find a company that offers expedited services.
Remember that SEO takes time. It could take several months before the results are noticeable. An exceptional SEO agency will continue tracking data, keep you updated on results, and give your business a timeline so you're always on the same page.
Do They Offer Other Services Alongside SEO?
Some agencies deal with SEO. Others deal with SEO, website design, demand generation, and user experience.  While your business may not require the latter three, it's crucial to get a firm that knows what they are doing in the digital marketing space and has the experience to prove it. 
If they offer a variety of services, you know that agency has been in the digital marketing industry for a long time. They've probably helped businesses just like yours achieve results in SEO.
Looking to hire a full-fledged digital marketing campaign? Check out our San Diego Digital Agency.
What Are the Costs Involved?
Of course, this list wouldn't be complete if we didn't discuss the costs of an SEO project.  Keep in mind that there are other factors, like your industry or location. But we'll focus on the factors that affect every SEO project's costs.
SEO does not come cheap. Prices can range from a couple of thousand dollars to hundreds of thousands, depending on what you're looking for and how long you want the campaign to last. And It takes time and effort to see results. However, SEO is the marketing effort with the best bang for your buck. It can bring exponential results from a much smaller input. 
What do their past clients say?
Seeing an agency's testimonials is a vital step in the hiring process. It should be the main factor when hiring an agency. These testimonials will give you insight into how the agency operates, its process, and what you can expect in terms of results.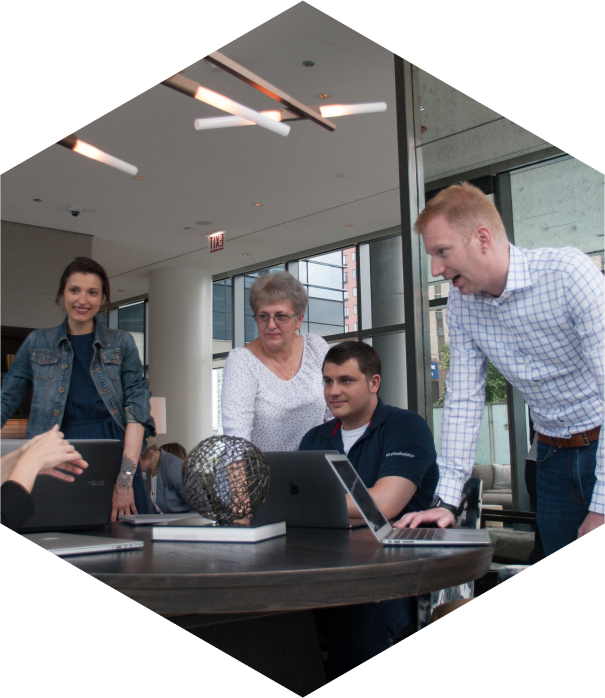 How Can We Help?

Fill out the short form below or call us at:



(888) 846-5382
Reviews are also helpful when trying to decide which SEO agency would be best for your business. If past clients have written reviews of the company on Google, Yelp, or any other sites they've used for review purposes - these are gold mines when determining the legitimacy of an agency.
Final Thoughts 
An agency should be transparent about the services they offer, as we've highlighted several areas to consider before you choose the right agency for your business. Not only will this make your life as a business owner easier, but it will help you understand what is possible, how long the process will take, and what kind of results you can expect.
If you're located in Chicago, visit our Chicago SEO Agency.