In an era when cutting-edge technology is transforming nearly every aspect of human life, healthcare organizations and providers need software solutions that will not only streamline care delivery, but will also accelerate their routines and ultimately improve patient outcomes.
The global demand for healthcare software development is already massive, with experts saying the market will grow at a CAGR of 5.8 percent to reach $19.3 billion by 2025. Unsurprisingly, the U../ segment is enormous, commanding a huge market share of close to 31 percent.
Today, healthcare organizations and clinicians are under more pressure than ever before to offer patient-centric services, cut costs, and run more efficiently.
Custom healthcare software can help by enhancing accessibility, productivity, portability, and scalability.
Building appealing, versatile, and high-performance healthcare software is different from traditional business software. It calls for a deep knowledge of not only the technology itself but also interoperability, regulatory, and security requirements, as well as user needs.
With that in mind, you will need to partner with a reliable development agency that builds custom healthcare software. Make sure they have proper certifications, competencies, skills, and strong domain knowledge.
---
Watch this video to learn how Digital Authority Partners designs software that works for your business!
---
We put together this extensive guide to share our insights, knowledge, and everything else you need to develop custom software for your healthcare organization.
The Healthcare Industry
Overview
The healthcare industry is huge, with the value of the global healthcare market at a staggering $7.724 trillion, according to Deloitte Global Health Care Outlook report. In the five-year period between 2013 and 2017 alone, the industry experienced growth at a CAGR of 2.9 percent.
The industry encompasses hospitals, clinics, and other companies that: (i) provide clinical services, (ii) offer healthcare-related support services such as medical coverage, or (iii) develop medical equipment and drugs.
The healthcare industry comprises a range of sub-industries, with each sub-industry focusing on a specific area. The three major healthcare sub-industries are:
Life sciences, which include med tech, manufacturers, pharmaceutical industry;
Healthcare providers, including hospitals, medical research facilities, physicians;
Healthcare financial services, such as medical insurance carriers.
A successful healthcare system creates amicable relationships and seamless collaboration among these key elements, including healthcare insurers, medical equipment providers, pharmaceuticals, government agencies, medical administrators, nurses, doctors, and so on.
What's more, healthcare is being influenced by technological innovation, which is why digital health has come to the fore. Innovations in digital health require investments in big data, interoperability, electronic patient record systems and machine learning.
The healthcare industry is one of the largest industries in the United States and globally. The major growth drivers include intelligent healthcare information management systems, continued integration of healthcare and medicine, and advances in healthcare technology.
At the core of the healthcare sector's massive growth is the need to provide better patient experiences and improved health outcomes. To achieve this, there's an increasing need for professionally designed and developed tools and solutions that can facilitate healthcare providers and other supporting parties in delivering patient-first and cost-effective care.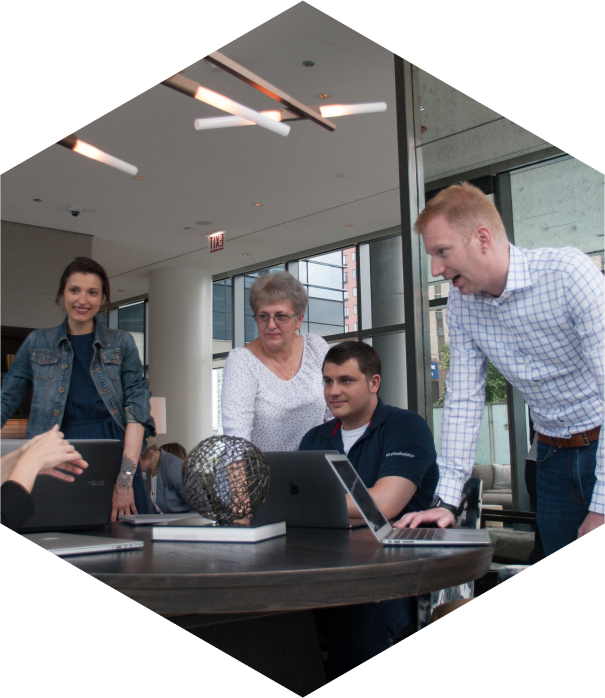 How Can We Help?

Fill out the short form below or call us at:



(888) 846-5382
That's where robust healthcare software comes into play.
When expertly designed it can help improve response times, increase data management accuracy and security, and drive down healthcare costs.
Innovations in healthcare software promise continued growth in the medical industry engaging in a more patient-centered approach where creating value for patients takes precedence over profitability and increasing volume of services. More importantly, value-oriented healthcare can be enhanced and supported by a range of reform programs, technology integration, and regulatory policies within the industry itself.
The effectiveness of a healthcare system will be assessed based on patient experience and clinical outcome metrics. Only healthcare organizations with the best medical software will rank above the fold for these outcomes.
The US Healthcare Industry
Unsurprisingly, the U.S. is the largest healthcare market in the world, accounting for about 15 percent of the country's entire GDP.
It's estimated that U.S. healthcare spending will go up from the current $3.6 trillion to approximately $6 trillion by 2027, an uptick of 5.5 percent, according to CMS expenditure report.
Numbers aside, the healthcare industry is quickly shifting from a volume-based model towards a model that's based on creating value for the patient.
In other words, the industry is moving away from the fee-for-service (FFS) model to the value-based system with the patient at the center of everything. But what's the difference between the two models?
On the one hand, a volume-based model, or what's called the FFS (fee-for-service) model, is focuses primarily on increasing patient volume in order to optimize revenue generation.
In a value-based healthcare model, on the other hand, a patient at the doctor's office is treated as an expense instead of a revenue source. In this approach, healthcare systems don't see people as patients, but rather serve them more like members.
To realize this paradigm shift, making sure people are healthy and keeping them out of the hospital will be crucial. The benefits of this shift are apparent: a value-based healthcare system will help build brand awareness, strengthen customer loyalty, boost reputation, and improve overall care delivery.
As this shift towards a valued-based system becomes more common, it brings important new trends to watch in the US healthcare industry:
(a) Collaboration and convergence between health plans and healthcare systems will become more prominent
As we shift more and more towards a healthcare model that favors the patient, the most standout health plans will focus on connecting their customers to the right health care systems.
This is particularly true given that health plans are the only elements within the healthcare industry with 360-degree information about every patient with coverage.
The holistic patient datasets that health plans have in their possession will also become vital for healthcare providers and organizations as they move towards offering long-term care for the patient. This cultivates a symbiotic relationship or collaboration between healthcare providers and health plans.
On the one side, health plans need healthcare professionals and organizations on their side because they have a deep understanding of clinical effectiveness and care delivery.
What's more, healthcare providers can benefit from the expertise and technology that health plans have when it comes to care management. As a result, both parties can take advantage of each other's pluses, helping to create a next-level healthcare system that's not only stronger but also more focused on delivering better patient outcomes.
This collaboration is a win-win for the two sides, but the biggest winner is the patient.
(b) More focus on wellness than illness
Rather than focusing on treating diseases and illnesses, the U.S. healthcare system will focus more on encouraging healthy lifestyles and wellness. This new vision of value-based healthcare was introduced to most doctors by Medicare Access and CHIP Reauthorization Act of 2015 (MACRA).
MACRA was not only a key step away from the FSS model, but Sustainable Growth Rate was also replaced with initiatives meant to encourage wellness and reduce care costs by compensating high-quality patient outcomes.
While MACRA is slightly older than three years, its impact on the overall healthcare system in the US has been quite commendable.
It's anticipated that regulations focusing on wellness will find more footing in the coming years in the healthcare industry.
Whereas this has traditionally been the job of medical insurers, healthcare providers and other stakeholders will continue to chime in as the healthcare system shift towards a value-based financial model.
(c) More patients are considering virtual health
Most patients hate going to the doctor's office, to the detriment of their health and well-being. Virtual health options like telemedicine and telehealth can help fill the gap, reduce costs, and prevent unnecessary ER visits.
Technological innovations like big data, mobile apps, artificial intelligence (AI) and videoconferencing can help doctors and other clinicians attend to more patients.
More importantly, this will see patients have more say in their care than ever before. More than 48 percent of employer-sponsored health insurers have already embraced telehealth, and this trend will continue to grow across the healthcare spectrum.
(d) Technology is helping place the patient at the center of the healthcare system
A 2016 physician survey found that 21 percent of the doctor's time goes to non-clinical paperwork. That means less time for the patient and more chance of burnout for the doctor.
Thanks to robotics, AI, big data, and cognitive technologies, the vast majority of non-clinical work can be automated, giving physicians more time to do what matters: practice medicine. In fact, according to a recent research report, all healthcare providers will embrace these care delivery-optimization technologies in the next 3-5 years.
(e) Population health will continue to take center-stage
Population health entails optimized use of healthcare resources with the aim of improving the lifetime well-being and health of a given population. In other words, this means taking a more global look at the management of outcomes for all patients in a given healthcare system.
Instead of focusing on the outcome of a particular patient, population health involves encouraging health and wellness.
In particular, providers have recently started paying more attention to social health determinants to improve public health.
The Global Healthcare Industry
The global healthcare industry is growing at break-neck speed, and there is no sign of this trend slowing down any time soon. According to the 2019 Global Health Care Outlook report by Deloitte, the worldwide healthcare market is forecast to grow at a 5.4 percent CAGR to hit $10.059 trillion by 2022.
The key drivers for increased healthcare spending and demand globally are well known:
Increasing prevalence of non-communicable diseases (NCDs) or chronic ailments, most notably diabetes, cardiovascular disease, and cancer.
Aging and growing population, with 11.6 percent of the worldwide population now aged 65 and older. That translates to 668 million older adults aged 65+ globally, driving demand for both senior and health care.
The emergence of cutting-edge yet costly technologies like AI, big data, RPA, machine learning, smart EHRs, blockchain, and much more. Integrating most of these technologies into existing healthcare infrastructure is not only costly but also time-consuming, increasing healthcare costs.
Clinical advances and expansion in emerging markets in regions like Asia, the Middle East, and Africa. Other top issues include competitive disruptors, advanced payment models, and the emergence of personalized healthcare.
Looking at the global industry, the disparity in healthcare spending is also expected to widen. For instance, healthcare spending in the US is expected to reach $11,674 per person by 2022, while that of Pakistan is anticipated to be a meager $54 per person by the same year.
Globally, healthcare providers are also shifting away from the so-called "sick care" towards patient-centric care that focuses on early diagnosis, timely intervention, prevention, and overall well-being.
Patients, on their end, are more empowered and informed, viewing themselves as consumers of health rather than just patients. As such, they are active caretakers and change agents, playing a bigger role in their health.
In response to this shift, some of the top issues affecting the global healthcare industry, healthcare providers and other health-related stakeholders are:
Leveraging personalized programs and advanced technologies to increase consumer engagement, and enhance patient experiences.
Using technology to move data ownership, security, and interoperability to the center.
Employing mobile technologies to offer virtual health and redefine care delivery.
Employing new care delivery methods to reduce costs, make healthcare more affordable, and increase accessibility.
Embracing health technology and pursuing alternative revenue sources, as well as using partnerships, acquisitions, and mergers to create financial stability to weather uncertainties in the global economy. Health technology spending, for instance, is forecast to grow by close to 16 percent by 2022.
With data being the new currency in an increasingly digital global healthcare industry, stakeholders are putting in place technology innovations to stay on top of cybersecurity and stay compliant with relevant regulations.
Healthcare organizations are also making more effort to recruit, nurture and retain top talent to cut staffing costs, which account for up to 70 percent of the spending of an average hospital.
Segments in Healthcare
The following are the major segments of healthcare:
(1) Payer or Financier
This segment includes companies and government agencies that help finance healthcare services and provide medical coverage. Employer-sponsored health plans, union-sponsored health plans, health insurance companies, and government agencies like Medicare are all considered payers or healthcare financiers.
In many cases, the payer pools money collected through personal policies and employer contributions and oversees payment for services received by the patient.
Medicaid Services, The Centers for Medicare, Aetna, Anthem, and Cigna are good examples of healthcare financiers and payers.
(2) Provider
The provider segment brings together organizations that offer healthcare services to patients (or consumers), including private practices, hospitals, clinics, hospices, and other groups of caregivers.
Healthcare providers can be further classified into three groups:
Ambulatory service providers: These include doctors and other clinicians who offer services that don't need hospitalization, which means they provide outpatient health services. The patient is usually diagnosed, treated, and discharged on the same day.
Hospitals and medical centers: These facilities offer both inpatient and outpatient medical services. They offer medical training, research, and teaching, as well as diagnosis and treatment of ailments.

Rehabilitative facilities and nursing homes: These institutions offer both long-term and short-term care services, including physiotherapy, occupational therapy, physical therapy, senior care, and speech-language therapy.

Classic examples of firms in the provider sector include HCA Holdings, City of Hope, Mayo Clinic, and Boston Children's Hospital.

(3) Life Sciences and Pharma

This sector comprises companies that research, develop, and make medical equipment, biotechnology, drugs, and other solutions required for healthcare delivery. Providers of peripheral research and scientific services needed to diagnose, treat and monitor patients fall under the umbrella of Life Sciences as well.

Great examples of firms in the sector include Johnson & Johnson, Eli Lilly, Pfizer, Abbott Laboratories, and ThermoFisher Scientific.

(4) Digital Health

Digital is an emerging segment of healthcare which includes firms that design, develop or produce digital solutions for the healthcare industry.

Digital Authority Partners (DAP), Orthogonal Technologies (well known for software as a medical device development), Heartmath, and Qualcomm Life are good examples of companies that fall under the Digital Health segment.

Trends in Healthcare Software

Healthcare is an industry that focuses on innovation, with emerging technologies revolutionizing both care service delivery and reception.

AI, telehealth, telemedicine, and other innovative health technologies, for example, are being leveraged to improve accessibility, patient outcomes, and quality of care.

The flip side is also true.

The healthcare industry can also be affected by the slow adoption of innovation because of challenges relating to regulations, processes, data security, and siloed existing technology stacks.

Thankfully, technological innovation in the medical industry has gained momentum in the past few years, with software causing a seismic shift in how healthcare is delivered and received.

With clinical advances and technology innovations happening on all fronts of the medical industry, here are some of the key healthcare software trends you should watch in 2022 and beyond:

1- Increased Demand for Self-Care and Patient Portal Software

In an increasingly patient-centered healthcare space, patients have become active caretakers and change agents in their own health and well-being. They no longer sit and wait for the doctor to dictate everything.

Because patients want to play a bigger role in their health care, the demand for self-care and portal software has increased. These portals and self-care platforms allow patients to interact with their providers online, as well as gain access to their health data and medical records.

Patient portal software also helps consumers fish out any errors and inconsistencies in their medical data, and therefore become active agents in their treatment plans.

The patient portal software market has been growing steadily since 2015 at a CAGR of 18.1 percent and is expected to hit $2.74 billion by 2020.

Another growing trend is patient kiosk software. These are platforms and software solutions that are designed to enable patients to do an array of tasks online, including signing up with clinics, checking identification, signing necessary paperwork, and making co-payments.

2- Blockchain Integration

In the last few years, blockchain technology has become more and more appealing to healthcare providers and health tech companies alike, and with good reason.

Healthcare stakeholders see it as a perfect technology for democratizing medical data, as well as securing transmission and sharing of medical records, creating greater transparency, collaboration, and trust among health data handlers, especially between clinicians and medical researchers.

Blockchain has also shown great potential in providing patients with more control over who can access or share their medical information. Ultimately, these features result in more robust and tightly secure electronic health records systems (EHRs).

Several blockchain and health technology companies have already collaborated in developing custom-built, blockchain-based healthcare software.

3- Rise of Niche-Specialty and Multi-Specialty Electronic Medical Records (EMR) Software

Building independent EHR software for each specialty makes scaling and cross-specialty data sharing difficult. That's why more health techs are focusing on multi-specialty EMR software for specialty practices too.

This comes with plenty of perks, including enhanced compatibility and reduced need to patch the software in order to integrate with other specialties. The biggest pluses include a reduction in costs and time otherwise need to interconnect several different groups of specialists.

4- Consumer-Class User Experience (UX) in Enterprise Software

Generally, software solutions that target consumers offer the best UX features. For many years, this hasn't been the case for enterprise healthcare software normally used by doctors and administrators.

Doctor-facing software is often riddled with poor UX that can be frustrating and confusing, making it very hard to understand and use. That's because the final purchase decision-makers aren't usually the end-users.

That has changed.

Enterprise healthcare software developers now involve the end-users (the doctors, clinicians, etc.) in the entire development process, delivering the same UX features seen in customer-oriented software.

5- Medical Devices and Telemedicine

In the patient-first healthcare system, technology is being leveraged to break more physician-patient barriers.

Telemedicine, medical device software, and software as a medical device are being developed to let patients connect directly with their physicians, as well as make sharing information effortless between healthcare professionals.

The beauty of telemedicine is that the patient can get access to healthcare from the comfort of their own homes.

This places the patient at the very center of their healthcare. The other hidden benefit is that physicians can keep a closer eye on their patients, potentially improving medication adherence, disease monitoring, and ongoing diagnosis.

6- Artificial intelligence

As far as delivering next-level healthcare services, physicians and other medical providers will leverage artificial intelligence to diagnose disease, treat patients, and monitor conditions on a whole new and advanced level.

For instance, AI-powered technology can be used by oncologists in larger hospitals to diagnose patients in remote areas where there's a shortage of specialists.

That means the patient will get a more accurate diagnosis, reducing the burden for small clinics and medical centers in remote areas.

Key Types of Healthcare Software

 

(a) Medical Practice Management Software (MPMS)

MPMS is a crucial component of healthcare practices across the globe. This software both streamlines clinical workflow and improves daily practice operations.

At the very core, MPMS allows healthcare providers to access patient medical data, create performance reports, and effectively process reimbursements with payers.

Other notable features of MPMS include:

Managing patient records: Integrating seamlessly with EHRs, MSMS enables practice administrations to store and track patient information, including reasons for clinical visits, medication prescribed, medical coverage details, demographic info, and medical history, just to mention a few.

Schedule management: MPMS gives practice staff the right tools when it comes to scheduling and tracking patient appointments.

Financial reporting: MPMS enables medical providers to present and analyze necessary information related to the quality of care, finances, and other vital health information.

Accounting and business management: MPMS comes with robust accounting and financial management features poised to help healthcare providers stay on top of their practices' financial matters. These components include accounts payable, accounts receivable, timesheet management, payroll management, etc.

MPMS offers medical practices plenty of benefits, including an increased focus on quality care, seamless access to patient records, and improved patient experiences and satisfaction.

For these reasons, the demand for MPMS has grown steadily both in the U.S. and globally. According to a research report by Technavio, the global Medical Practice Management Software market is expected to reach approximately $6.53 billion by 2022, with a CAGR of more than 8 percent between 2016 and 2022.

The future of the global MPMS sector is also brighter than ever, with analysts predicting the market to be worth around $9.4 billion by 2023, jumping from $5.8 billion in 2017, at a CAGR of about 8.4 percent

The best examples of MPMS include McKesson, Epic Systems, Prime Suite, Cerne, CPSI, and Allscripts.

(b) Electronic Health Record (EHR) Software

Also known as Electronic Medical Records (EMR), EHR is yet another key component of healthcare software that stores and manipulates comprehensive patient data. Generally, EHRs consist of allergy reports, lab reports, medical history, demographics, and other critical data about the patient.

Data contained in electronic medical records are usually shared across authorized healthcare providers, enabling them to offer more precise and timely diagnosis, support, and treatment.i

The standout features of quality EHR software include:

Patient medical history: This provides physicians and other caregivers with vital patient medical history, including allergies, existing conditions, and prescribed medications..

Data handling and management: Making sure patient information is accessible to doctors electronically is crucial. EHR software enables providers to enter, store, and access patient data.

Appointment management and patient scheduling: EHR allows practitioners and staff to effectively schedule and track patient appointments.

Electronic prescribing: Providers no longer need to write paper prescriptions thanks to EHR software which enables them to send e-prescriptions to drug stores and pharmacies.

Accounting and financial reporting: This component of electronic health records software enables practitioners to take care of the financial side of their organizations. More specifically, the software's financial reporting tools provide healthcare organizations with useful insights to ease decision-making and optimize performance.

With these useful components, electronic health records software helps healthcare providers and organizations cut down costs, offer better patient care, and improve both clinical and practice efficiency.

Despite being one of the oldest types of healthcare software, the EHR software segment has always enjoyed vibrant growth and is expected to continue growing as innovative features like Big Data and AI capabilities are added. That's why Statista predicts that the worldwide EHR software market will be valued at around $40 billion by 2024, up from $22 billion in 2015.

Classic examples of EHR software include EpicCare, CureMD, and Care360.

(c) E-Prescribing Software

E-prescribing is one area of telemedicine and digital health that's gaining immense traction with healthcare providers, health plans, and patients. E-prescribing software is a dedicated solution that enables providers to send electronic prescriptions directly to drug stores and pharmacies.

The core benefits of this type of medical software include reduction of errors often associated with handwritten prescriptions, far fewer lost or misplaced prescriptions, and an overall improvement in the quality of care. Plus, the prescription process becomes more streamlined, leaving physicians with more time to take care of patients.

The key features found in e-prescription software include:

Medication history: This component provides physicians, drug fulfillers, and other clinicians access to a patient's medication history, including what drugs the person has used or is currently using.

Prescription management: This feature of e-prescribing software allows providers to deliver prescriptions to pharmacies digitally.

Feedback management: Different medications can deliver different outcomes and have different side effects. This software allows patients to give their feedback and ask questions related to the drugs they are taking.

The future of e-prescription software is also remarkable, with experts anticipating that the global market will grow at an outstanding CAGR of 18.3 percent between 2019 and 2024.

Great examples of e-prescription software are MediTouch, Cerner, aprima, DrFirst, and Allscripts.

(d) Urgent Care Apps

The allure behind the popularity of Urgent Care apps is that they enable patients to avoid going to the doctor's office yet receive care whenever and wherever they may be. Patients can also use the app to monitor their symptoms, read medical articles, ask health-related questions, and ultimately know when to go to the doctor's office.

Some of the key features of urgent care apps include:

Search capability: This allows patients to search for health-related information and find healthcare providers in their proximity.

Patient data management: The software enables providers to collect, store, track, access, and manage the patient's medical data.

File management: This component gives patients a means to attach, access, submit, and store photos and other files associated with their diagnosis, treatment, and progress.

Video chat function: This offers a channel for secure live video visits and messaging, allowing providers and patients to share information in real-time.

E-booking and scheduling: This component allows patients to skip long lines and book the physician's appointments online.

Urgent care apps also offer an array of additional benefits for healthcare providers organizations and patients. These include increased operational efficiency, access to 24/7 care, improved patient satisfaction, and greater access to quality care.

Do urgent care apps have a future in the healthcare space? That's a resounding yes. The global market for urgent care apps is expected to grow to $2.515 billion by 2023, with a CAGR of a whopping 41 percent between 2018 and then.

PatientSafe Solutions, Imprivata, Ecare, TigerConnect, Twiage, and HealthTap are good examples of urgent care apps currently on the market.

(e) Hospital Management Software (HMS)

It's what it sounds like ⁠— healthcare software design to take care of every aspect of managing a hospital, including labs, scheduling, and reception. It handles all hospital management tasks that include hospital billing, insurance processing, patient data management, medical administration, and clinicians' information management.

Not surprisingly, the benefits of an HMS are far-reaching. It can not only improve operational efficiency but also provide better data management and enhanced patient satisfaction. Ultimately, it enables hospitals to focus primarily on offering quality patient care in real-time.

Some of the key features of HMS software include:

Pharmaceutical data management: This component enables seamless medication prescription plus hassle-free billing of meds, medical devices, and consumables.

Patient data management: This software eases the registration of new patients, allowing the staff to capture important information like demographics, existing conditions, allergies, and other important conditions.

Lab data management: This component allows doctors to send requests to the lab department electronically.

Billing management: All aspects of billing, whether charges for lab tests, consultation fees, or other services. is taken care of by this component.

The need for well-designed and intuitive HMS software is ever-increasing. No wonder Transparency Market Research anticipates that the global Hospital Management Software Market will grow at a CAGR of 12 percent to exceed $15 billion by 2026.

Insta by Practo and SoftClinic have some of the major examples of HMS.

(f) Healthcare CRM

Customer relationship management is one of the biggest challenges for those in the healthcare space. That's why healthcare CRM software is important. This type of healthcare software helps hospitals, clinics, and other medical organizations acquire, maintain, and nurture relationships with more efficiency and effectiveness.

The benefits of CRM are apparent, including an enhanced provision of patient-centric care, automated clinical workflow, and strategic patient outreach as part of holistic healthcare marketing.

Key features of healthcare CRM include:

Task management: Medical employees can create, track, and assign priorities as well as deadlines to tasks.

Contact management: All important patient contact information is easily acquired, stored and managed by this component of the software.

Performance reporting: This allows custom reports to be created to monitor metrics like ROI, no-shows, marketing campaign performance, and much more.

Campaign management: Healthcare marketing is of increasing importance, this component enables healthcare businesses to create campaigns and manage all aspects of their marketing initiatives.

Communication management: This portion enables practice  employees to manage patient appointments via reminders, calls, text messages, emails, and other avenues.

The healthcare CRM market across the globe is forecast to grow at a CAGR of close to 15 percent between 2018 and 2023, to reach $17.4 billion by 2023.

Major examples of healthcare CRM software include DocEngage, Salesforce, Healthgrades, SugarCRM, and IBM's Clarify Health.

 

Medical Software Development

The world of medicine relies heavily on technological breakthroughs and innovations to improve the quality of care, enhance efficiency, and generally transform the way medical practitioners operate.

Medical software is at the intersection of cutting-edge technologies and medicine. Medical software development helps create solutions to eliminate human error, streamline workflow, and manage medical data more effectively and efficiently.

What is Medical Software?

This standalone healthcare software focuses on a specific medical subfield, such as oncology, pharmacology, radiology, cardiology, and other specialties.

Medical software is usually designed to help with therapeutic and diagnostic tasks, medical records management, medical practice management, research management and reporting, and quality control management. The software can also be used as a medical device on its own or in conjunction with medical equipment.

In the past few decades, the need for medical software development has surged across the world. In fact, recent market research shows that the global medical software market is expected to grow at a CAGR of 5.8 percent to exceed $19.3 billion by 2025, up from $13.1 billion at the close of 2018.

Medical Software Development Process

Just like the conventional software development process, medical software development is meant to tackle challenges and address the needs of a medical organization. Key software development steps include these stages:

Stage 1. Determine medical software requirements

During this stage, key decision-makers examine user, patient, and clinical information to assess the needs the medical software development must fulfill.

Stage 2. Research and propose a prototype of the medical software

This crucial step involves rigorous assessments and comprehensive data gathering in order to propose a holistic medical software solution.

Stage 3. Design and development

This is the stage when the real work starts. The chosen agency, partnership or in-house team will use the prototype to design and build custom medical software.

Stage 4. Medical software testing

This step involves extensive testing and verification of the software prior to successful implementation. This stage is crucial because it helps the developers and testers zero in on errors, bugs, and usability issues long before it's rolled out to the end-user.

Stage 5. Finalization: software validation and deployment

At this point, the software is ready for use but goes through intense validation and accreditation. FDA-approval and other forms of validation are sought at this stage. Finally, the medical software is deployed and delivered to the hospital, medical research facility, or other client.

In the arena of medical software development, web-based clients, desktop applications, and mobile apps help tie into the healthcare mission of providing medical users with smart UI and UX to improve efficiency.

Types of Medical Software

Medical software development agencies or companies not only plan and design but also develop and deploy software systems for the medical industry. Within this specialized industry, the software can have a myriad applications:

Medical Manager Software - In increasingly complicated healthcare space, medical manager software allows staff to address all aspects of business and operational management. By leveraging this solution, they can seamlessly take care of insurance issues, track patient medical data, billing, data storage, and much more.

Population Health Management Software (PHMS) - These enable medical staff to record, aggregate and integrate patient data to make sure services offered by physicians are complete.

Medical Device Software - There are three broad types of medical device software: (i) software used in maintenance, upkeep, or manufacture of a medical device; (ii), Sin a Medical Device (SiMD); and (iii) Software as a Medical Device (SaMD).

Medical Office Software - Similar to medical manager software, this software simplifies operational aspects of medical practice and is built to manage and handle tasks that will reduce or eliminate office paperwork.

Medical Imaging Software - A medical decision support solution, imaging software integrates technologies like AI to help analyze complex images to deliver more accurate diagnosis and treatment of disease.

Medical Scheduling Software - This is no-brainer medical software that manages scheduling effectively and efficiently for targeted users like medical staff, physicians, doctors, clinicians, and more. It helps track patient's movement from entry to exit.

Medical Research Software - This type of software offers an array of tools and resources that medical researchers can leverage for data collection, statistical analysis, and medical research reporting.

Medical Voice Recognition Software - Voice recognition tech is a convenient and increasingly essential tool that helps translate speech into written text, helping medical practitioners skip handwritten notes. It improves documentation by a huge margin.

Key Benefits of Medical Software Development

Improves the quality of care: Excessive paperwork diminishes time medical providers could spend offering better quality care. Medical software development helps create versatile solutions that increase workflow and seamless operation of medical operations.

Enhances patient outreach: It's time-consuming and often labor-intensive for medical practices to reach out to patients. Mobile health apps, patient portals, and other medical software applications can help with medical marketing and patient outreach.

Improves medical business management: By relying on strong data collection, storage, and management, medical practices can increase financial efficiency, cut down costs, and eventually improve the bottom line.

Why Build Custom Healthcare Software?

A one-size-fits-all approach doesn't work for traditional software, and healthcare software is no different. That's why most health organizations turn their attention to custom healthcare software which best suits their exact needs and challenges.

When it comes to building custom healthcare software, organizations have two options:

They can leverage one of the many open-source platforms, creating an out-of-the-box solution that's customizable without needing lots of coding
Outsourcing the entire custom healthcare software development process to a credible IT agency.

No matter the choice, the primary aim of developing custom healthcare software is to create a unified platform for medical information. Reliable and scalable healthcare software solutions cultivate relationships between healthcare consultants, patients, and medical professionals, which works in favor of all involved parties.

Key Benefits

 

For Clinical Specialists

Less day-to-day paperwork. Clinical specialists don't have to deal with loads of routine paperwork, freeing more time to spend doing what truly matters: providing superb health care to patients. This can also help reduce physician burnout.

Increased collaboration with other clinical specialists. Healthcare software enables physicians, doctors, and other clinicians to share knowledge and ideas, and to collaborate seamlessly even if they're in different geographic locations.

Efficient practice management. Clinical specialists can leverage EMRs and EHR software to easily and effectively manage their practices.

For Health Organizations

Enhanced diagnostics and treatments: This is thanks to easy access to medical records and readily available patient data that are comprehensive and reliable.

Greater patient engagement and improved patient satisfaction: With portal, self-help, and scheduling software, patients can easily interact with clinicians and stay on top of their health. This leads to higher engagement as well as better patient experiences.

Improved quality of care: Healthcare software touches on all facets of patient care and quality of medical services.

Enhanced financial efficiency: Hospitals and other healthcare organizations can cut down costs because the software can help automate many routine tasks.

More streamlined coordination of processes: Software provides better communication tools to everyone in the organization. In addition, the central storage of information means better coordination, enhancing the patient journey.

For Patients

Hassle-free doctor's visits: With the help of healthcare software solutions, patients can book appointments remotely and even register or fill out essential documents online.

More informed and empowered patient: People can access high-quality, expert-written educational info on a range of medical issues.

No-hassle communication: Using video chats, live messaging platforms, and other remote tools, patients can stay in touch with their doctors and other clinical specialists.

Easy access to medical data: Digital healthcare platforms enable patients to access their medical history, treatment plan, and lab reports.

How to Build a Custom Healthcare Software

Here's a step-by-step guide on creating the right custom healthcare software solution for your organization.

Step #1: Identify your target audience

Before building custom healthcare software, take a step back and understand who the typical end-user is and why they need it.

A deep analysis and understanding of your target audience, as well as their desires, preferences, and requirements, will help you craft a solution that solves their exact challenges and meets their needs. Knowing your target audience inside and out makes it easier to determine the important features, technologies, and components to incorporate into a software solution.

Step #2: Plan the software architecture

Once you have the target audience figured out, begin designing the functional structure or architecture of the software. This design stage relies on the tasks, functionality, and data the software is intended to use. In a nutshell, plan and define the functions of the software from the perspective of the user's needs.

Visualization is a crucial component of this step. Visualize the structure of the software once you have defined what functions it will perform. Then determine  which modules and sub-modules to include and how to integrate them together perfectly into the structure.

Step #3: Focus on UI/UX

Like all consumer-focused software, healthcare software must be intuitive, easy to use, and offer positive end-user experiences. To achieve this, software developers must work together with designers to create a UX and build a UI designed to meet end-user needs and expectations.

Step #4: Ensure the software is secure

With growing numbers of cyber-security issues and data, software engineers must ensure the security of the application and its data from the beginning of the design.

Consider and examine security parameters like encryption techniques that are meant to provide high-grade data protection. This is a critical step, especially if the intent is to seek clearance from the FDA for the software solution.

Step #5: Be prepared to integrate with other systems

The new software system shouldn't interrupt workflow at any level of the organization. During this stage, integrate existing IT infrastructure and software systems, ensuring that services, data, and processes are intact and seamlessly migrated to the new system.

Ideally, the whole migration process should be done so that patients, healthcare providers, and other users will experience no downtimes or delays. That's why the planning stage of the integration process should be meticulous.

 

How Can We Help?


Fill out the short form below or call us at:




(888) 846-5382




Conclusion

Healthcare software, like other software, should follow the fundamental principles of great UI/UX and robust software architecture and should be easy to integrate with other systems. In addition, it is crucial that the software is also completely secure so that patient data is never at risk.

The healthcare industry is constantly growing and is now leaning on innovation to fuel this growth. As patients become more aware of managing their health, the need for cutting edge software that provides them with better health outcomes will continue to grow.