Linking is one of the most critical elements of SEO. So often goes forgotten, with people preferring to speak about keyword optimization, site speeds, responsiveness, and other technical elements. However, any medical SEO strategy that will make a splash needs to address links.
---
Watch this video to learn more about the Digital Authority Partners approach to Medical SEO!
---
What Is An Outbound Link In SEO?
Before we delve into why outbound links are essential, let's clarify what they are and how they differ from the other types of links you'll find across all websites.
     Inbound Links vs. Outbound links
To a user, inbound and outbound links are the same thing. They send you from one website to another website. However, for your reference as a business, an inbound link or backlink is when another website links to yours. On the other hand, an outbound link is when you link your content to someone else's.
     Internal Links
As the name suggests, an internal link goes from one page of your website to another. Therefore, a user doesn't leave your website – you're sending them to the next appropriate page to view. Design these links to help users navigate your website easily, discover important content, and follow a well-thought-out user journey.
Do Outbound Links Help SEO?
In short, the answer is yes. Outbound links can contribute much to SEO by adding validity to your content and showing it as reliable and valuable – that is, if you use the correct links.
In addition to boosting your SEO, outbound links can help you build trust with users. Usually, you're linking to an external page because you're citing a source or providing additional information to explain further or evidence your content. As a result, this shows users that your content isn't merely an opinion piece.
Additionally, outbound links are what help the most relevant and informative content climb to the top of search rankings. Your outbound link shows that you view another web site's content as worthy of sharing with others.
When reversing the roles and someone links to your content, Google will boost your ranking. Outbound links are an essential part of the linking cycle that creates an interconnected web that presents the best content for users.
What Should You Link To Websites?
You're trying to create an SEO presence deemed reputable, trustworthy, and authoritative, so these are the kinds of websites you need to be linking. Of course, there are millions of websites that you can link. Still, Google wants to know if the content you're encouraging others to read is accurate and from a trusted source.
For outbound links to impact your SEO rankings, you need to select sources with high domain authority. Examples include well-known publications, academic institutions, governing bodies, and well-established websites.
That's not to say you can't link to those smaller websites with lower domain authority. If they add weight to your content and you see them as reliable, go for it. There is a way for you to ensure no link is detrimental to your SEO ranking, which we'll discuss next.
NoFollow vs. Follow Outbound Links
Outbound links optimization will help protect your ranking without having to leave out any links. When you're unsure of the quality of a link, you can use the NoFollow tag to tell Google and other search engines that you don't want them to follow that link or for it to contribute to your ranking. On the flip side, a Follow tag tells search engines that you want them to see this content and that it should be factored in when ranking the page.
When linking to outbound content, a tip to remember: When you add a link to content, it becomes automatically tagged as Follow. More often than not, you do want links followed. However, don't forget to NoFollow any potentially detrimental links.
Can I Check My Outbound Links?
Yes! We highly recommend monitoring your outbound links, updating and removing them when necessary. Many tools highlight these for you, so you don't have to go through every page manually.
This feature is vital for any website, especially those that add content frequently. Many outbound helpful and trustworthy links could now be 404 error pages that no longer exist. Additionally, a URL may change, and a redirect not be applied.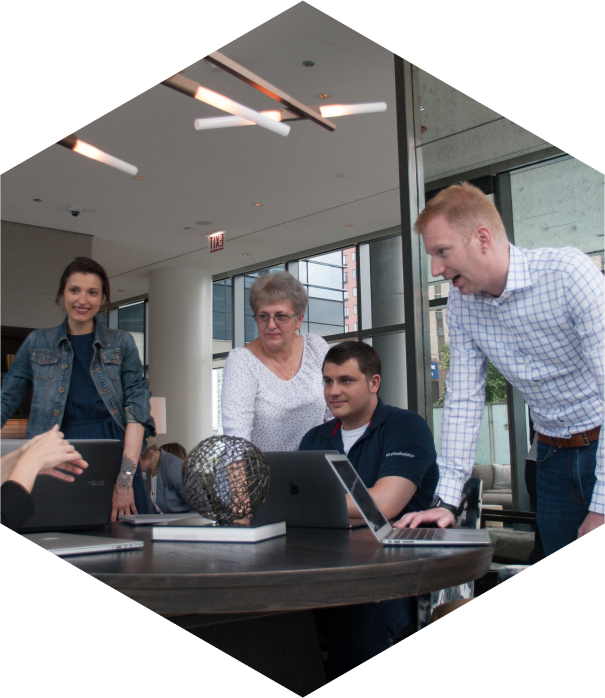 How Can We Help?

Fill out the short form below or call us at:



(888) 846-5382
By removing and updating these links, you're ensuring your content is still backed by valuable sources. Additionally, it forces you to frequently update content, which search engines see as a vital element of any SEO strategy.
Why Are Outbound Links Important?
Adding outbound links to your content can help you build relationships with other businesses, enabling you to earn backlinks in return. Inbound links are more valuable than outbound links, and the easier you make it to establish these links, the better.
There are a few ways to build backlinks. Still, many marketing professionals have taken to creating these reciprocal relationships, trading links for links, in an attempt to boost both companies' rankings. While this is a good strategy, you must ensure it's not apparent to Google – they'll punish you.
Also, the businesses you're partnering with should have good quality website scores, rank well, and preferably have high domain authority.
In Summary
While outbound links aren't the most crucial element of an SEO strategy, they are a practice that will set you apart from your competitors. Though they tend to be pushed to the wayside when implementing SEO, their impact is undeniable. Outbound links add validity to your content, show users that experts back your opinions or claims, and can help with establishing trust.
Additionally, Google and other search engines use links to establish how relevant and accurate content is. For example, suppose you're linking to high-domain authority websites. In that case, your content will become influenced by articles and information deemed accurate, thus improving your ranking.
Need further assistance with understanding how outbound links can help your business or how to implement them on your website? Reach out to us at Digital Authority Partners to improve your medical SEO strategy today.