Let's face it. Financial product marketing is NOT easy.
Before we go on, a quick definition.
Financial product marketing refers to a set of marketing solutions that cater to the needs of financial services companies. Highly effective financial product marketing uses digital channels to promote new financial products and increase brand awareness.
Fortunately, financial services companies are slowly becoming aware of the unlimited potential of digital channels in marketing their new financial products. A recent study on the 2018 Digital Trends in Financial Services and Insurance surveying 700 senior industry leaders confirms this.
The report found that the proportion of financial services companies that viewed themselves as advanced in terms of digital maturity nearly tripled from 7 percent in 2016 to 19 percent last year.
The same report found that over 60 percent of companies surveyed are already using artificial intelligence (AI) and 28 percent rank optimizing the customer experience as the single most important priority in 2018.
So why choose digital marketing if you're in the financial services industry?
Because technology and gadgets aside, going digital is about creating a more compelling customer experience and building trust.
Let's dive right into five solid strategies that can get you started on your digital transformation.
Suppose you're ready to go on that journey from ineffective standard marketing to financial product marketing that can yield a great ROI. In that case, you're ready to dive into three solid strategies that can get you started on your digital transformation.
That said, we recognize that you are busy professionals. So here's an infographic summarizing the key points of the article below and the stats supporting these financial product marketing initiatives for 2019: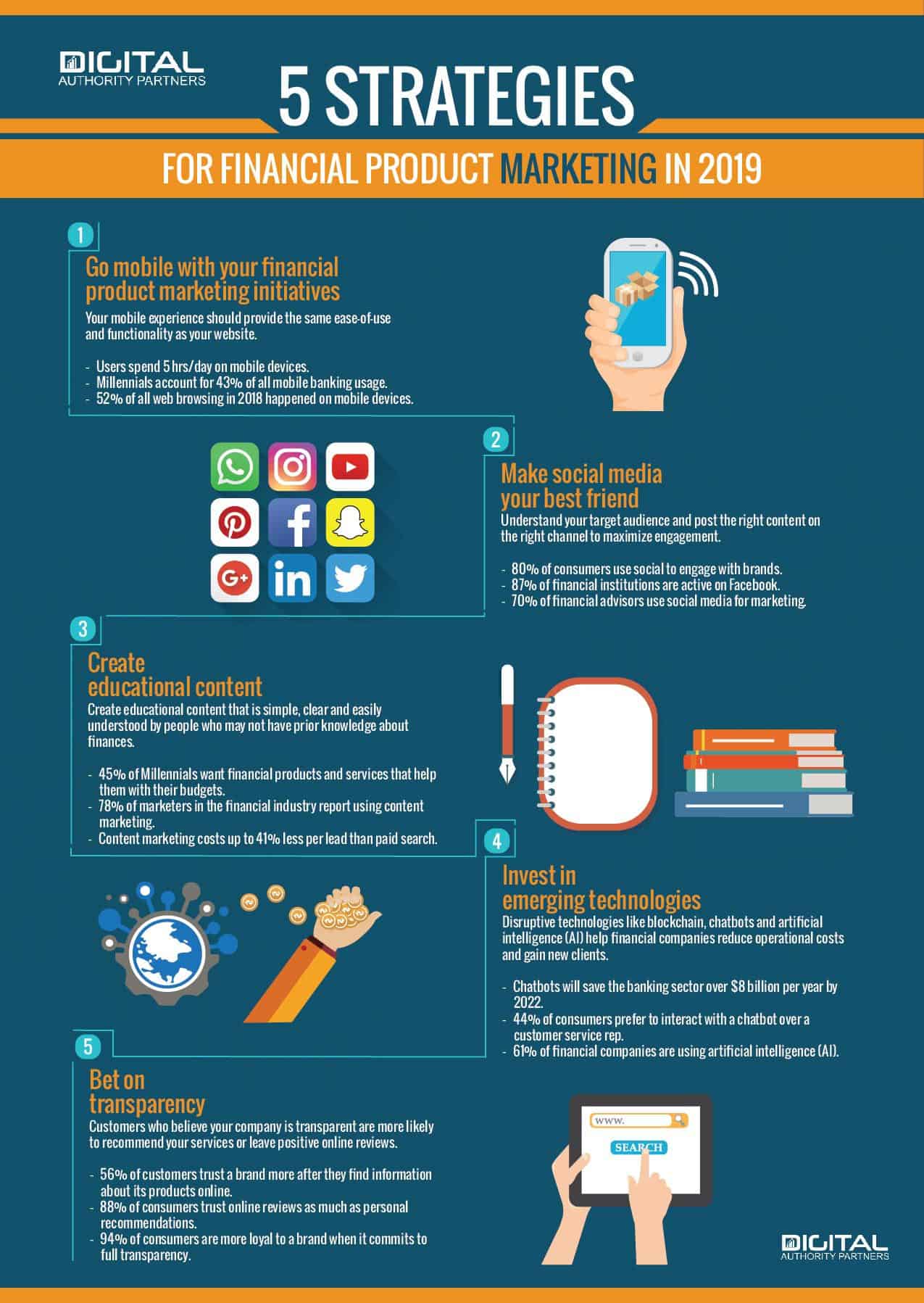 Now that you know the key stats, are you ready to learn more? We hope so.
1. Go mobile with your financial product marketing initiatives
In 2019, it's nearly impossible for financial services companies to reach their target audience without mobile marketing.

If you're a financial services company, your website (and you better have one) has to be optimized for mobile use, because a large percentage of your customers, and prospects you hope will become customers, are doing business on the go.

In fact, new research has found that we're spending five hours a day on mobile devices, and 90 percent of our mobile time is spent using native apps.
The truth is most of us are spending more time using new apps than we are watching TV, listening to music, or doing any other kind of recreational activity.

That means that any marketing plans for software products in the financial industry must include a heavy focus on mobile marketing.
But how do you implement financial product marketing like a pro?

First, you have to ensure that your website is optimized for mobile users, which means it has to feature large call-to-action (CTA) buttons such as 'Click To Buy,' or 'Subscribe To Our Newsletter' that are easy for users to see and relate to.

Second, you must ensure that any sign up / register forms on your mobile content are short and easy to complete. People on the go don't have the time to stop and fill out complicated forms, and making it easy for them to complete a form can boost the number of prospects who engage with your product.

Third, you must ensure that your mobile content is responsive, which means that it provides the same ease-of-use and functionality when a customer is on the move as it would if the customer was at home browsing your site on a desktop computer.

Fourth, ensure that the text is large and easy to read, and that you use clear images which directly related to your product (visual recognition!). Your design layout shouldn't be overly complicated and you should invest heavily in video content that is short, actionable, and informative.

Here's what's really important to remember about financial product marketing on mobile devices: it's not about the sale.

Confused?

What we're saying is that while the end result is for customers and prospects to make a purchase, your financial mobile marketing is about engaging them, and making it easy for them to become comfortable with your brand, AND then closing the deal.
2. Make social media your best friend
Social media is the perfect platform for financial product marketing because it cuts across all demographics.
Once you've identified your target audience, you can post the right content on the right channels for maximum audience engagement. As a financial services company it is critical for your marketing team to understand where your customers like to hang out on social media.
Say you're selling a new type of long-term care insurance, which is typically targeted to older customers. You would want to choose a more professional social media platform such as LinkedIn, where financial services content is more likely to be consumed. Facebook's broad-based demographic of users also makes it ideal for content that caters to older people.
When planning your financial product marketing campaigns on social media, first learn what content plays well on which platform. On LinkedIn, for example, blog articles and whitepapers perform best, since its users are more willing to invest time in reading well-written, well-researched, informative pieces of content.
Facebook is more flexible in terms of content, so try a combination of blog pieces and video content. Facebook Live is a great video streaming tool for marketing.
Next time you unveil a new financial product or service, set up a live streaming session to your existing customers. Invite them to ask questions, make comments, and even 'test-drive' a product or service to see how it works.
Crowdsourcing is another hidden gem of social media that allows financial services companies to get customers involved in the process of creating new financial products.
Maybe a survey showed that your customers want a financial software program that aggregates their financial data, future earnings potential, and other factors to provide them with a long-term solution to secure their retirement. If that's the case, then ask feedback from customers on social media channels to refine and improve the product.
For example, when Barclaycard developed their Ring MasterCard, the company reached out to its existing customers on social media platforms and asked them to send ideas. The card was recognized as the first social credit card to be designed and built through the power of community crowdsourcing.
Bottomline: having a say in how the final version will look, makes people feel more intimately connected to the product.
3. Invest in emerging technologies
Disruptive technologies are being embraced by companies across all major industries from retail to healthcare. It can be daunting to decide what emerging technologies are worth investing in.
However, if you are a financial services company that wants to stay ahead of the competition, you can't afford to be risk-averse. The world's biggest investment banks are already investing big in highly innovative technologies such as Blockchain, which is expected to help them save up to $12 billion a year. Interested in how blockchain is used every day by various companies? Check out our 'Blockchain in Healthcare: An Executive's Guide for 2019' report.
But what if you are a smaller organization? There are plenty of other new technologies to include in your financial marketing strategy. Chatbots are one of the most low risk, high ROI investments that can take your customer service game to the next level.
Think about it: people want instant answers to their inquiries. They expect financial service online platforms to allow for the same fast communication as their social media ones. Chatbots are available 24/7, have endless patience, and the best answers readily available. No wonder people are growing more fond of them too: 44 percent of consumers said they would prefer to interact with a chatbot over a human customer service representative.
More advanced bots can even detect aggressive mouse clicking on a screen and adjust their response accordingly, thus avoiding losing a client.
Having a virtual assistants will also slash operational costs by freeing up your staff to focus on selling your products and services. A new study has found that chatbots will lead to a cost savings for the healthcare and banking sectors of over $8 billion per year by 2022.
Other technologies to consider when planning your financial product marketing strategy?
Artificial intelligence (AI) algorithms and biometrics. Clients might put up with lousy customer service, but they'll take their money elsewhere if you can't keep it safe. A single cyber attack can not only result in financial losses of millions of dollars, but it can also wreak havoc to your reputation. Trusting AI to become your eyes and ears can help you prevent those crises from happening in the first place.

And if you want to kick security up a notch and, biometrics are the way to go. Both young and elderly customers loathe remembering multiple passwords; invest in thumbprints and facial recognition and they'll choose you over your competitors.
4. Create valuable content
One of the biggest challenges for finance companies to leverage digital marketing is that the terminology used in relation to financial services can be confusing and difficult for customers and prospects to understand. And that is a huge challenge when it comes to creating digital content that can engage people and make them feel invested in new financial products and services.

That's especially true when you are trying to target Millennials. And make no mistake: this is the cohort that will inherit the wealth passed down by Baby Boomers and Generation X, and it is also the generation that is creating wealth through startups and other business ventures.

But the truth is most financial companies have ignored Millennials in favor of marketing to Boomers who have stable net worth as opposed to lower-net-worth individuals (aka Millennials) who are less desirable, at least in the short term.

That's why it's so important for you to create valuable content that can appeal to not only Millennials, but to a wide swath of your customers and prospects who crave information that matches their lifestyles, wants, and needs. After all, a recent study found that 45 percent of Millennials want financial products and services that help them handle their financial situation better, but 37 percent said they could not find resources online to educate them on vital financial topics.
That's where you come in, because your mission is to create content that is simple, clear, and understandable to anyone who doesn't have prior knowledge about financial topics.

Valuable content answers this question: What is in it for me, and how does this content solve a problem, or fulfill a want or need?

Users don't understand the standard boilerplate of complicated language that many financial companies offer as valuable content. They want short videos that explain core concepts. For example, you could explain the difference between a certificate of deposit and a bond, so users can make intelligent decisions.

Users are more engaged with visual images, which is why educational videos, tutorial videos, live streaming Q&As, and product videos are your best bet.
5. Bet on transparency
It's not a secret anymore that the financial industry has a major consumer trust issue. In fact, the financial services industry is the least trusted sector of the economy.
From banks creating accounts on behalf of customers, without authorization (like the infamous case of West Fargo) to agents mis-selling life insurance policies via shady financial advisors who get high commissions from selling bad investments, the industry seems to be peppered with landmines.
Clients naturally assume that companies are trying to pull the wool over their eyes in one way or another. Your financial marketing strategy should prove them wrong.
One way to achieve that is by making things as transparent as possible.
Tell people upfront what are they paying for and how much it will cost. Keep clients in the loop with any new changes. Send them email and text updates proactively. Use data visualization tools to create infographics that even a five-year old can comprehend.
Learn from personal financial apps and fintech companies.
Mint for instance sends alerts for every financial update and uses pie charts to show clients what's happening with their money. Other apps help customers monitor their cash flow and spot sneaky charges like auto-renewal fees.
If you're a financial advisor for example, make sure you tell the truth about your certifications and experience. Make your fees visible. Talk openly about your commissions.  Encourage people to look you up and do the research.
In the age of "fake news", honesty will bury your competition, not your sales. It will create trust and increase customer retention.
You have two choices: managing how unflattering details about your business are communicated and shared, or have them come to the surface in the form of bad online reviews.
Clients who think you're being transparent, on the other hand, will be more likely to recommend your services or leave genuine positive online reviews.
With 88% of consumers saying they trust online reviews as much as personal recommendations, this strategy will only strengthen your reputation in the digital space and open the door for new customers.
Summary: Seize the digital day
In the financial services industry, you can't afford to sit out the digital revolution if you want to implement effective financial product marketing.
Any marketing plan for software product must begin with the understanding that simple, clear, and valuable content is the way to engage your customers, while answering the burning question: How does your product solve a problem I have?
Remember that your customers are looking for products on mobile devices, make their buying decisions on social media, expect instant support, and complete transparency.
Armed with this knowledge and a well-executed digital strategy in financial services, you can draw your customers closer and make them more invested in your company.