Whether B2C or B2B, LinkedIn ads help you turn a profit by connecting you with potential customers. However, maximizing your earnings this way requires having the best plan possible. And part of that plan can mean changing your ads or hiring a LinkedIn ad agency to really boost profits.
This guide provides five tips that should help you increase profit margins from LinkedIn ads:
Establish Clear Business Goals
Revise Your Audience Attributes
Try Posting an Organic Ad First
Use LinkedIn's Lead Gen Form
Outsource to a LinkedIn Ad Agency
There's a lot to discuss, so get ready to take notes.
Let's go!
---
Want to learn more about the Digital Authority Partners approach to Digital Marketing? Watch this video!
---
1. Establish Clear Business Goals
The first step in profiting from paid social ads is to define your business goals. These shape your key performance indicators (KPIs) and inform you of the best approach to running your campaign.
When setting your goals, consider the following:
What are your long-term goals and objectives?
What do you want to achieve in the short term?
How do you make your goals manageable?
For instance, say that one of your primary goals was to double the enrollment in your professional development workshop. An achievable short-term goal would be adding an extra class per month. That makes finding students for the extra class your immediate task.
Setting clear business goals helps you build your LinkedIn campaign for maximum profit. Creating the ads themselves is a separate challenge altogether. However, knowing what you want to work towards is an invaluable step in the right direction.
2. Revise Your Audience Attributes
LinkedIn Ads give you a lot of wiggle room in terms of your target market. In addition, it is where professionals come to network and find opportunities. Those two factors make it much simpler to generate leads with LinkedIn than with other platforms.
For example, you can set your ads to display:
Within a specific geographical location, such as a city or country
To individuals based on their education, such as people with a PhD
To people with a particular job title, such as front-end developer
LinkedIn also includes other fields typically seen on a resume as attributes:
Company
Demographics
Education
Job Experience
Interests and Traits
Each field has multiple subcategories that you can add or remove to refine your audience information further. A well-thought-out list of attributes helps you reach your target audience better than a long list of random ones.
However, you want to be certain you don't narrow the field too much. In other words, don't make your target audience too small to justify your ad budget or yield your expected ROI.
3. Try Posting an Organic Ad First
If you are hesitant to start running your ad campaign, consider displaying your ad as a regular post first, whether on your feed or in groups. Of course, you should edit them beforehand if you plan on publicly posting them in groups to avoid being called out.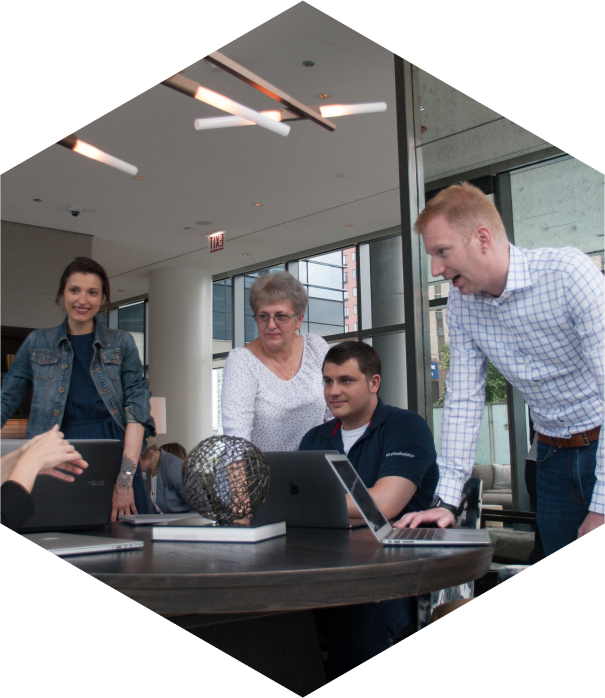 How Can We Help?

Fill out the short form below or call us at:



(888) 846-5382
Posting an organic ad lets you test whether your target audience responds to your ad ideas.
That, in turn, provides you with information on what works and what does not. Of course, you cannot test your ads like you would under more controlled conditions. However, you can make adjustments to the visual elements as you slowly build your successful LinkedIn ads campaign.
Here are some changes you can make to improve ad quality:
Use a professional-looking font such as Helvetica, Cambria, or Georgia.
Ensure the font is clear and readable when displayed as an ad.
Choose complementary fonts and colors when using two or more of each.
Include a direct and compelling call-to-action (CTA) somewhere visible.
Create versions in different languages if applicable to your campaign goals.
Be conscious of how much time you spend practicing. At some point, you have to put your ideas to work as paid ads where they provide the most value in the form of ROI.
4. Use LinkedIn's Lead Gen Form
According to LinkedIn, the Lead Gen Form has an average conversion rate of 13%. That is a phenomenally higher rate than the 2.35% generated by landing pages. In addition, LinkedIn is the platform of choice for B2B marketers, 89% of whom use it for leads.
Given this, optimizing your Lead Gen Form is one of the best ways to maximize profit using the platform. So how do you effectively incorporate this into your ad strategy?
LinkedIn's Lead Gen Forms Playbook gives the following best-use tips:
Write a short, compelling hook to get your target audience's attention.
Offer valuable content, product, or solution to encourage responses.
Use photos and videos to make your ads more distinct and engaging.
Keep your questions to a minimum on the form. Five or fewer works best.
Use multiple-choice items rather than open-ended ones for more responses.
Make your questions easy to answer. Avoid wasting the person's time.
Update your Lead Gen Form every two months to keep it fresh.
While you can expect more and better leads with LinkedIn, do not take it for granted. Turning them into paying customers, and loyal ones at that, is still up to you.
Creating a profile for your company allows leads to learn more about your business. Maintaining constant engagement with leads can help move them along the sales funnel.
5. Outsource to a LinkedIn Ad Agency
Hiring experts is another way to maximize profits from LinkedIn ads. Outsourcing the work to people familiar with the platform and its system contributes to cost savings, leading to better profit margins. A LinkedIn ad agency already has the necessary processes down to a formula.
Results vary between agencies and skill levels, but for the most part, they offer everything from conducting research to running ads on your behalf. Their insight into optimal spending for each ad also plays a role in keeping profits high for client companies.
Summing Up
ROI makes paid advertising an integral part of growing a business. However, not knowing where to start or how to change a marketing strategy can cause preventable losses.
Simple remedies like posting organic copies or utilizing reliable tools like LinkedIn's Lead Gen Form can make a sizable difference in profits. That is, as long as you execute them correctly, as outlined here. Hiring an ad agency is also a viable cost-cutting measure for better profits.
Want to boost your LinkedIn ad conversions? Contact us today and work with our team of digital marketing experts.