When it comes to pay-per-click (PPC) advertising, many business leaders and marketing professionals do not have the time or skill to run effective campaigns. Over the last decade, PPC has evolved from simple search-based adverts to a more holistic form that includes various platforms, including social media behemoths. This evolution means it is no longer enough to set up a campaign and wait for results.
Constant monitoring, tweaking, and a defined but flexible strategy are integral to a successful PPC campaign. Here is our take on why you should leverage the expertise of a Las Vegas PPC agency to maximize results.
---
If you want to learn how Digital Authority Partners can increase your PPC effectiveness, watch this video!
---
First, What is PPC?
Pay-per-click advertising is where the advertiser only pays a fee if a user clicks on the advert. It is a great way to ensure that your marketing budget drives measurable, qualified traffic if used correctly. Those adverts can appear in four key places: 
search engine results pages

displayed on webpages

in user feeds on social media platforms

as shopping, service, or product adverts that appear in online marketplaces
Where your adverts appear is a vital part of the targeting strategy – you need to know where your largest audience spends most of their online time. An expert PPC agency will help you set this strategy, among other benefits.
What To Look For in a PPC Agency
A track record is the first thing you should look for in a PPC marketing agency. Can they show you successful case studies, ideally in your business segment? If not, various cases from different sectors (proving that they know how to run a campaign regardless of sector/platform)? 
Next, look for an agency with certifications or partnerships with the platforms you want to appear on – if they are a Google or Microsoft Ads partner, that is a good indication of ability. 
You should also always look for a cross-platform agency or expert where possible if you decide to branch out to other platforms during your campaign. Then it is easier and less time-consuming for you as you already have the team you need supporting you and do not have to start the process again.
Pay-per-click is not a static entity. Every year, the various search engines and social platforms release updates to their PPC marketing tools. It takes time to stay abreast of those changes. 
Fortunately, your PPC agency will already have done that research for you, as well as being fully up to date on the different trends affecting click behavior—yet another good reason to use outside expertise. You can find out more about the ongoing evolution of PPC advertising by reading this article.
Finally, it would be best if you looked at the results. Specifically, how long it will take to generate results, key performance indicators, and how they can respond to a need to boost results in a failing campaign.
     1. Leverage Expertise
Choosing the right PPC agency gives you access to the expertise, experience, knowledge, and skill-sets that you need to make your campaign as successful as possible. However, it would help if you benefited from a more streamlined process. 
What could take you days and weeks to research and understand should be second nature for them. As a result, your PPC activity can get started faster and on a better footing. 
One of the under-appreciated aspects of running a successful campaign is not necessarily the strategizing or launching of the activity but the monitoring and adjustments. 
     2. Writing the Advert
We have discussed how an agency can help you with the back-end aspects of PPC – the strategy, the reporting, the management – but what about the front-end? For example, writing an advert that encourages clicks can be art. However, the ads must meet the requirements and approval processes implemented by the platforms you will work with, or the campaign could quickly evaporate.
At the same time, keyword research is crucial when it comes to the advert's content. Your PPC agency should perform deep-level keyword analysis. Steer away from keywords with high competition and negative keywords and find the right keywords to bring the clicks you need from the audience you want.
Check out this article for more information on creating click-worthy content in your adverts.
     3. Understanding the Data
When you launch your PPC campaign, you will usually have access to a wealth of data. These metrics provide you with all the information you need to make decisions and assess the value of your activity – but only if you can understand them correctly. 
Different platforms have different portals and data points to show your campaign progress. Your PPC agency should accurately interpret each to give you an easily understandable report.
That data can then hone your strategy, giving you a better return on your investment. Key strategies employed by different business types include: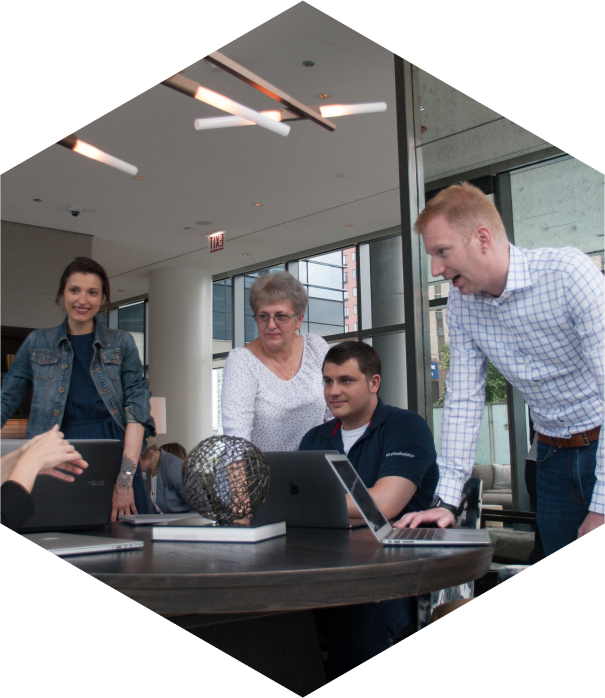 How Can We Help?

Fill out the short form below or call us at:



(888) 846-5382
Optimal cost-per-action (CPA)

– ideal for service-based businesses where the end goal might be a sign-up or download for every clicked ad.

Optimal return on investment (ROI)

–

ROI is referred to as ROAS, or return-on-ad-spend in PPC terms. Optimizing this is a good option for sales businesses where a dollar figure measures success. 

Maximum coverage

– getting the absolute most clicks and conversions, well suited to lower-value sales.

Increased value

– focusing on increasing the value of the click-through rather than the number of clicks.
Digital Authority Partners
If you have any questions or want further information about running a pay-per-click campaign, speak to one of the experts at our Las Vegas PPC agency. Our targeted campaigns bring qualified customers to your landing pages, with a consistent 4x return on ad spend.