When you talk about Chicago, it's impossible not to bring up how diverse its economy is.
There's always somewhere to go, somewhere to eat and almost every day you can go to a bar and see sports fans at the edge of their seats.
There are three million people in Chicago to entertain, after all. And with over 100,000 different businesses in Chicago, it's no surprise that the competition to win consumer attention is fierce. That's why local SEO has become a must-have amongst this competitive city.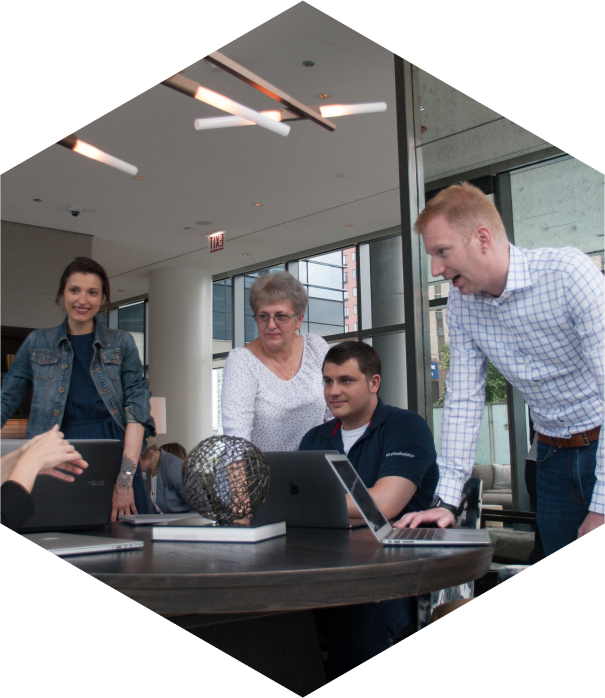 How Can We Help?

Fill out the short form below or call us at:



(888) 846-5382
In this guide, you'll get to know what it takes to create an effective local SEO strategy. But first, let's talk about the key ranking factors of local SEO.
---
Watch this video to learn about the Digital Authority Partners approach to local SEO!
---
The Key Ranking Factors of Local SEO
There are three ranking factors for local SEO that you should consider if you want your brand to stand out amidst the crowded Chicago marketplace.
These are:
Proximity

— the distance between your business' physical building and the location of the user

Prominence

— how noticeable or important your business is in the eyes of your audience

Relevance

— how useful you are to your audience in the eyes of search engines like Google
In short, what's important here is how your audience and Google see you. Yes, proximity is great, but some customers would be willing to cross the entire city just to buy what you sell. 
Now, let's dive into the five major ways you can hit all these key ranking factors.
     1. Paid Advertising
This is where all local Chicago businesses should start focusing their SEO efforts. 
As a first step, advertising helps you understand if the traffic you get from ads converts into customers or clients. If your conversion rate is good, that means you should put more effort into bringing traffic to your website. 
Google ads is an excellent tool for paid advertising, as it also gives you insight into what your audience is looking for. For example, if you're a Chicago Japanese restaurant, you can see the volume of searches for related keywords. This means you can target some of that traffic through your ads.
Once you enter the keywords you'll be targeting with your ads into Google Ads, you'll get an estimate of the monthly search volume for each one (remember to use your target location as a keyword too). You'll then receive a curated list of additional keyword ideas that may also be effective.
You can also opt to refine your keywords by targeting neighborhoods and regions of the city.
If your conversion rate isn't good even though you get a lot of clicks on your ads, this means you should do a deep inspection of your landing page, your offer, and your product.
     2. Google My Business
Google My Business (GMB) is an absolute must for an effective local SEO strategy. After all, when people want to buy something near them, they open their Google maps app and start typing.
GMB should be your business's second home online (next to your website). It's the first thing your audience is going to see before hitting the "directions" button. So, make sure you have these two simple processes buttoned up.
     3. Optimize Your GMB Profile
This is when you have your GMB listing filled out completely, with all of your information up-to-date. This includes:
NAP (name, address, and phone number)

Website

Description of your business

Hours of operation

Categories

Photos and media

Reviews

Description of your services
…this list could keep going for a while. But one great aspect of GMB is the ability to define how you create and track visibility, directly in your dashboard.
     4. Keep Your GMB Profile Fresh and Up-To-Date
Google's purpose is to find the latest and most relevant results and feed them to its users. That's why it gives priority to businesses that are constantly updating their GMB profile.
You can achieve this by:
Updating your hours of operation on holidays

Uploading new photos

Getting more reviews

Writing notices about changes to your business
Anything new that can interest your customers or clients, that's an update, and Google will reward you for it. 
     5. Social Media
Social media doesn't directly affect your SEO — not directly. But it helps with your brand visibility, which means more organic traffic to your website. 
Many top brands use social media to let their audiences know about seasonal offers, discounts, events, and notices. It's also an effective way to keep your brand top-of-mind in the eyes of your target market.
Aside from posting and asking questions, here's how to translate social media into business income.
     6. Paid Partnerships
Whether you like influencers or not, it's a fact they've become a smart way to promote your business. If you have a product inside the niche of an influencer (food, health, beauty products, gadgets, places to visit, etc…) then it may be worth reaching out to one or two in order to support your marketing efforts.
"Where am I going to find an influencer in Chicago?" you may be thinking. While you can't just Google "food influencer" and find your perfect match, you can set aside some time to vet influencers to make sure they're right for your business. 
As a starting point, make sure they're actually in Chicago. Then, look at their followers. If their followers consist of your target market, and the influencer's style aligns with your brand, then reach out.
To help you get started with this, here's a list of free software to find influencers — yes, this actually exists. With some of these, you can filter by social media account and number of followers. So take the time to find the influencer that best fits with your brand.
     7. Community Events
Be part of the Chicago community. Say you're a retail store that sells sweaters and you donate a percentage of your earnings to a local dog shelter. What's more, you don't even have to donate money, you can just help by investing your time in shelter events.
Why?
Because the shelter and its members will post photos of the event. When the shelter community sees it, your business will be remembered in their heads as "that nice sweater retail store that helps dogs". And when they're ready to buy, they'll either go to your store or check out your website.
     8. Local Contests
The great thing about local contests is that people talk about you, whether it's word-of-mouth or in Facebook groups. And the truth is, local contests give you visibility, even if not many people take part.
Each of these options also has a hidden power for your business– they help you produce quality backlinks. 
SEO Link Building Strategy
I'm sure you've heard about the power of quality link building and its vital role in any SEO strategy. Don't confuse this strategy with simply having a bunch of links pointing to your website. This is where I see so many brands making a critical mistakes. 
You won't be one of them.
Before we dive in further, here are some rules to keep in mind when it comes to link building — rules that will keep you from doing more harm than good to your website. 
Get backlinks over time, organically:

Getting 1,000 backlinks overnight is suspicious in the eyes of Google. Get backlinks little by little, steadily over time.

Don't get too many directory backlinks:

There are countless business directories where you can list your business and link back to your website. But… don't. This is also suspicious, so

directory links

should make up about

10 to 20%

of your backlinks.

Don't buy backlinks

: The first two are suspicious activity, but this one is a clear violation of Google guidelines.
Now that we're clear on that, here are some ways you can build quality backlinks that boost your domain authority and increase your position in search.
Start a blog (we'll go deeper into this one soon)

Try guest posting on websites related to your niche

Use local directories,

wisely

Get reviews on the top 3 to 5 review sites in your niche

Check out Help a Reporter Out (

HARO

), and reach out to media outlets like The Chicago Tribune directly 
Building links is a lot of work, but it's well rewarded. 
SEO Content Strategy
Let's talk about starting a blog. 
One of the best ways to get organic traffic and backlinks is by having a strong SEO content strategy. When done correctly, the content you create will be developed with your target market in mind, and be driven by relevant keywords. 
Using this approach allows you to not only rank higher in search but also satisfy your readers' search intent by creating high-quality content that addresses their needs. 
This is a process that takes time and effort but can skyrocket your traffic when done right. Usually, companies have an in-house content team or they go to an agency for local SEO services.
If you want to start doing it on your own, here's some advice:
Target keywords that have a

high search volume, commercial intent and that aren't impossible to compete for

Write blog posts with the intent of helping your audience solve a problem or answer a question

Create high-quality blog posts with good readability, grammar, and spelling

Always think about the user's experience when formatting a post

Use images and media to explain complicated topics
As an SEO strategy plus, remember to put the physical address of your business in the footer of your website. That's going to tell Google you're a relevant local search for certain keywords if you're targeting them in your blog.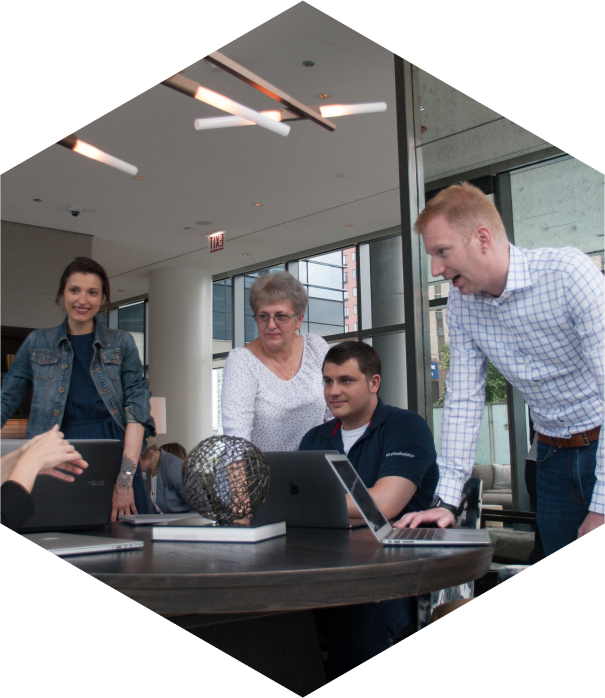 How Can We Help?

Fill out the short form below or call us at:



(888) 846-5382
Final Words
SEO focused in local areas can be much more profitable than national SEO. It's an advantageous opportunity that most Chicago businesses miss out on. Don't make that same mistake by implementing the strategies we covered today little by little.
However, if you're too busy growing your business and want to get work off your plate, or you just need a little support going all-in on your local SEO strategy, it might be time to hire a Chicago Local SEO agency.