While optimizing your healthcare website, you will come to a point when you question your efforts: "Is this campaign working?" "Are my marketing efforts worth it?" "What's my return on investment (ROI)?"
Measuring your healthcare content marketing techniques is crucial to creating better and more engaging content. This guide focuses on
How to calculate healthcare marketing ROI

Factors to consider when calculating ROI

The ideal ROI value
Find out how you can effectively measure your content marketing efforts. Let's go!
4 Steps To Calculate Healthcare Content Marketing ROI
Computing ROI is something that marketers must learn, understand, and perform. However, ROI is not meaningful if you do not have formatted goals. Follow the steps below before you measure your ROI.
     1. Review Your Objectives
Go back to your marketing objectives and check if you met them. Each business has unique goals. Yours may even go beyond ROI. So you must understand your objectives before launching and monitoring a new campaign.
Also, not every aspect of your digital marketing strategies shows results related to ROI. You can count your clicks and lead generation, but these do not have specific monetary values that can describe your revenue. If you only look at returns, you might miss important details about your marketing campaigns, such as how happy clients or patients are and how much time they invest in healthcare with you.
     2. Choose Your Key Performance Indicators (KPIs)
Even among competitors in your area, your healthcare company is distinct. So your KPIs must reflect your company. Some of the most common KPIs for healthcare websites are:
unique monthly visitors

cost per lead 

cost per acquisition (CPA)

return on ad spend (ROAS) 

customer lifetime value (CLV)
Make sure your KPIs align with your marketing goals, strategies, and objectives before you move on to the next step.
     3. Identify Your Data Collection Methods
Data collection is crucial to business success. It helps you ensure your data is accurate, complete, and relevant so you feel safe about your business decisions. Keep in mind the following: 
Develop a method of collecting data efficiently and cleanly.

Any inconsistencies when collecting, transferring, or encoding data can lead to errors in your ROI calculations. 

Set up a reliable and uniform strategy when collecting data.

Some of the most effective data collection tools for healthcare businesses are surveys. They can be emails, in-person, mobile texts, apps, and social media. You can also get data from interviews, focus groups, client observation, and industry sources.
     4. Refer to Your KPIs To Calculate Your ROI
How do KPIs like website traffic, search page result rankings, cost-per-lead, and social media shares translate to marketing ROI? All these are excellent indicators of how well your marketing campaigns attract prospective patients who turn into actual purchasers of your services.
For example, your social media page generates interactions and leads. You get higher revenue and sales using enhanced brand recognition and industry authority. Your ROI rises thanks to better site traffic and session duration on your optimized healthcare content.
Engagement and greater visibility on search engine result pages (SERPs) help build trust and authority, which lead to more interest, engagement, and patients. Eventually, you will have higher revenue and ROI from your digital marketing campaigns.
But how do you calculate your marketing ROI (MROI)? Use the equation below. 
(Sales Growth – Marketing Cost) / Marketing Cost = ROI
If your sales growth was $1500 from a campaign on which you spent $200, then you have a 650% ROI. Using the formula: 
(($1500 -$200) / $200)  = 650% ROI
ROI compares the profit from your digital marketing campaign to the campaign cost. This value includes the cost of creating and deploying your strategies. When working on a campaign, you want your marketing ROI to be as high as possible.
These tasks, however, can be tricky, so hire a medical SEO agency to help you monitor ROI and optimize your marketing strategies.
What Is The Ideal Digital Marketing ROI?
The ideal digital marketing ROI depends on what you want to measure. Check benchmarks in your industry for specific KPIs. If you use Google AdWords, the conversion range is about 2.4%. The top 25th rank has a conversion rate of 5.3%, and the full 10th has an 11.4%
Good ROI also varies depending on where your traffic comes from. For direct search and email marketing, expect the highest value, while social media has the lowest average order value. LinkedIn has the highest ROI value for B2B marketers in 2021 at 23%, followed by Instagram and Facebook, both at 18%.
Aside from industry values, refer to your company's historical ROI data. Look at the ROI metrics in the past and find out if they are still suitable. Check for spikes and dips, and analyze which campaigns work and which ones fail.
Relevant Metrics for Various Healthcare Sites 
An e-commerce website has a different set of metrics and KPIs than a lead generation site. Below are metrics for e-commerce, content, and lead-generation healthcare businesses you must note. They help you get an accurate description of your ROI.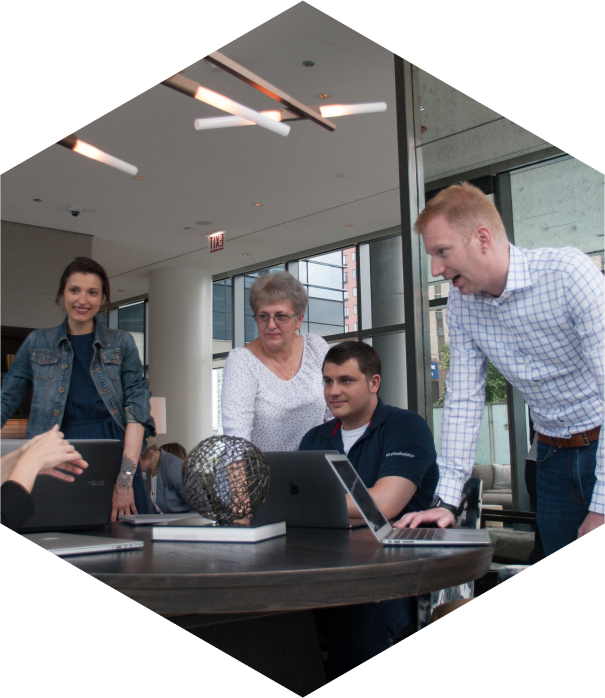 How Can We Help?

Fill out the short form below or call us at:



(888) 846-5382
     1. Healthcare E-commerce
If you sell health and wellness products, drugs, and equipment and offer discounts, deals, reviews, and promos for these products, then you are in the healthcare e-commerce market.
KPIs – web traffic, social media engagement, cart items, and newsletter subscribers

ROI – sales revenue, days to a transaction, transaction volume, average order price, average conversion rates, and average sales price
     2. Healthcare Lead Generation
A healthcare lead generation website has campaigns that drive medical leads and convert them into full pledge-paying patients or customers.
Lead values – number of traffic to a website, webinar attendance, online event attendance, and form conversions

ROI values – lead volume, lead conversion rate, cost per lead, and lead quality
     3. Healthcare Content
A website that provides healthcare content produces information for better health and wellness. Content could be through blog posts, research, videos, infographics, podcasts, and guides. 
Key metrics – website traffic, average session time, click-through rates, average pages per session, and social media engagement

ROI metrics – email list subscriptions, downloads, online newsletters, and number of shares for an article
Summing Up
By learning how to calculate ROI, the factors to consider when computing ROI, and the ideal ROI value in healthcare marketing, you will know if your campaigns are working. Getting accurate ROI data is key to creating better and more effective campaigns to take you closer to business success.
Do you want to know more about marketing ROI? Contact Digital Authority Partners today to find out how your ROI affects your healthcare marketing strategies.