In order to stay ahead of the curve, businesses must be aware of the latest SEO agency trends. When you're conducting an SEO campaign, staying on top of trends is paramount to the success of your initiative. That means understanding which changes are happening and how they're affecting your efforts.
This article will cover the five most prevalent trends for SEO in 2023 that you need to know. In addition, we'll also cover what an SEO agency does for businesses like yours.
---
Want to learn more about the Digital Authority Partners approach to SEO? Watch this video!
---
What Is an SEO Agency?
An SEO (search engine optimization) agency is a business that provides services to help improve the visibility and ranking of their client's websites on search engine results pages (SERPs). When you work with an SEO agency, they will help you implement strategies and techniques that will help your website rank higher for relevant keywords and phrases.
There are many benefits of working with an SEO agency. First, they have a deep understanding of how search engines work and what factors influence rankings. They also have access to the latest tools and technologies that can help improve your website's visibility. Additionally, SEO agencies have extensive experience conducting successful SEO campaigns and can help you achieve your desired results.
Now that we've covered the basics let's jump into the trends.
1. Content Quality
Content remains king in 2023. Your website must have high-quality, informative, and keyword-rich content to rank well. However, it's not enough to simply stuff your content with keywords. Search engines are getting better at understanding user intent and will penalize websites that engage in keyword stuffing.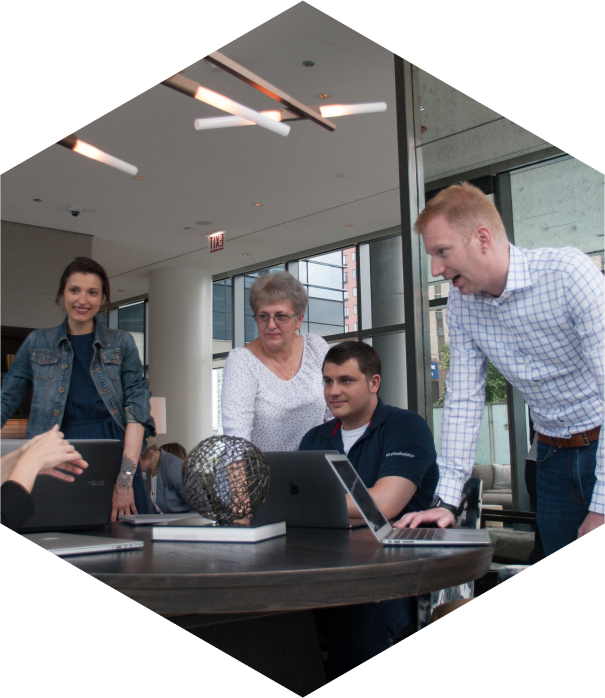 How Can We Help?

Fill out the short form below or call us at:



(888) 846-5382
Instead, focus on creating quality content that provides value to your audience. If you're unsure where to start, consider conducting a content audit. That will help you identify gaps in your existing content and ideas for new topics to cover.
Remember that if your content is exceptionally long yet super dry, that's not always better. Instead, you want your content to be as engaging as possible while stretching its length. Structuring and outlining content scope beforehand is the secret to creating engaging long-form content.
2. User Intent
When someone searches, they have a specific purpose or goal in mind. This concept is known as user intent. In order to rank well, your website must be able to satisfy the user's intent.
There are four main types of user intent:
Navigational: The user is looking for a specific website or webpage (e.g., Facebook, YouTube).
Informational: The user is looking for information on a particular topic (e.g., How to make a cake).
Transactional: The user is looking to purchase a product or service (e.g., Buy shoes online).
Commercial investigation: The user is comparing products or services to make a purchase (e.g., Best running shoes).
Your website must have the relevant information that the user is looking for to satisfy user intent. For example, if you're trying to rank for a transactional keyword, your website must be set up to make transactions (i.e., have a shopping cart and checkout process).
Additionally, your website's content must be well-written and informative. If you're providing information on a particular topic, ensure that your articles are thoroughly researched and give value to the reader.
3. Automation
More and more use-cases for automation are being created in the SEO agency space. Tasks that were once manual and time-consuming are now being automated, which frees up time for agencies to focus on other business areas.
Some common examples of automation include tasks like link building, keyword research, and reporting. Automation can also be used for more complex processes like competitive analysis and website audits. Soon we'll see more effective automation processes for data analytics.
If you're not using automation in your business, you're likely falling behind the competition. Fortunately, many SEO tools offer automation features. Do some research and see if any of these tools can help streamline your workflow.
4. Mobile-first Indexing and User Experience
In 2018, Google announced that they would be rolling out mobile-first indexing for all websites. Mobile-first indexing means that Google will primarily use the mobile version of your website to determine your rankings.
This change was a response to the growing number of people using mobile devices to access the internet. Over 41.5% of all web traffic now comes from mobile devices (and rising).
If you want your website to rank well, you need to make sure that it has a good user experience on mobile devices. Your website should be responsive (i.e., it should adjust to any screen size), and all of your content should be easily accessible on mobile devices.
Additionally, your website should load quickly on mobile devices. Google has stated that page speed is a ranking factor for mobile searches. So if your website is slow on mobile devices, you're likely to see a drop in your rankings.
To improve your website's mobile user experience, start testing your website on different devices. See if there are any areas where your website needs improvement. Then, work on making those improvements.
5. E-A-T
Google has emphasized the importance of E-A-T (Expertise, Authoritativeness, and Trustworthiness) in its quality guidelines. E-A-T is a way for Google to measure the quality of your website's content. For your content to be considered high-quality, it must be written by experts on the topic, and it must be trustworthy and authoritative.
If you want your website to rank well, you need to make sure that all of your content meets Google's E-A-T standards. That means writing informative and well-research articles authored by experts on the topic.
In addition, your website should be designed to instill trust in the user. That means using a professional design and including information like your contact details and customer testimonials.
Takeaways
To stay ahead of the competition, you need to keep up with the latest trends. We've discussed five current trends that you need to know about in this article.
We've talked about automating tasks to save time, making your website mobile-friendly, and writing high-quality content that meets Google's E-A-T standards.
If you're not already using these techniques in your business, now is the time to start. These will propel your site to the top of SERPs and give your business the boost it needs!