SEO and social media are crucial elements of any successful digital marketing strategy. However, many have always considered them two separate entities with their aims and objectives.
However, suppose you talk to any respected SEO agency. In that case, they'll tell you they can work harmoniously, with SEO and social media integration becoming more common. This article will teach tips, tricks, and strategies to combine these two platforms.
---
Want to learn more about the Digital Authority Partners approach to SEO? Watch this video!
---
The Relationship Between SEO & Social Media
Ok, we'll level with you – social media doesn't directly improve your SEO rankings. So, don't read this article expecting the golden ticket of how you can cheat the Google algorithms. Masses of social media followers and engagement won't take you to the first position.
However, finding the right balance between social media and SEO can be crucial to digital marketing success.
The strategies you'll learn in this article will teach you how social media can supplement a strong SEO strategy. In addition, how it can indirectly improve your search engine performance.
Does Social Media Help SEO?
Yes and no. You may have noticed that you occasionally see social media posts and profiles as search results. So, while your social content or profile may rank, this does not improve the ranking of your website, as they are two completely separate entities.
So, your social content or profile could claim a ranking spot, enabling your brand to take up more SERPs real estate, but it won't propel your domain up the rankings.
Furthermore, there is no way of optimizing your social strategy for SEO. Google is a hub of information – it exists to provide answers to users.
Crawlers index this information and present it in search results. Unfortunately, it's near-impossible to do this with social posts because they're constantly changing, with new content added every second.
How SEO & Social Media Work Together
We know that social media doesn't directly impact your website's SEO rankings, so what's the point in aligning them to improve SEO? You're about to find out.
     1. Link-Building Opportunities
The first way of using social media for SEO improvement is passive and difficult to achieve, but it is the most rewarding.
Backlinks are one of the most crucial elements of any strong SEO strategy and high-ranking website. Yet, so often, there are a lot of questions about how to generate backlinks – social media can and should be one of the tools you use.
When you produce a new piece of content, whether a blog, an infographic, a how-to guide, or anything else shareable, you should promote it on social media. Your followers have engaged fans of your brand. They are the most likely to link to your content – if they have their website.
Using your social media platform to encourage backlinks isn't measurable, nor is it consistent or guaranteed. Still, it can be a powerful channel for improving rankings.
Steps to take:
Devise a strategy and plan for how you will use social media to share every new piece of content you create.
Reshare content regularly – social media algorithms only show your posts to a small portion of your audience.
     2. Create Partnerships & Collaborations
A prominent feature of social media platforms is mutually beneficial collaborations, both paid and unpaid. These can improve your social media standing and brand awareness.
Firstly, you have user-generated content when brand advocates shout about your products and services without input. You have little control over this area, although you can actively encourage and incentivize brand advocates to post about your business.
Then, you have influencer marketing and strategic brand partners – preferably, brands that don't compete with you. These people are experts, and brand endorsements from their accounts will positively influence your brand's opinions.
Again, raising your brand awareness on social media doesn't directly impact your rankings. However, with increased exposure comes increased search volume. The more people looking for your products and services, the more traffic is driven to your website, meaning the more significant impact on your rankings.
Furthermore, once you've established these relationships, you could expand further afield to improve SEO with these relationships directly. Again, referring to driving backlinks, guest blogging, and exchanging backlinks will enhance your domain authority.
Steps to take:
Make a list of accounts with which you want to build relationships. These must be beneficial for both you and them.
Don't forget to engage. Likes aren't the best way to engage – comment, share, save, answer questions, reply to stories, and message.
     3. Become a Thought Leader
Thought leadership content is reserved for your website, right? Wrong. A prime example of how SEO and social media work together.
The premise of content marketing is to deliver high-quality, value-giving content. However, many forget that content marketing is much more than the words on your website. Content marketing is every type of content you produce – social media included.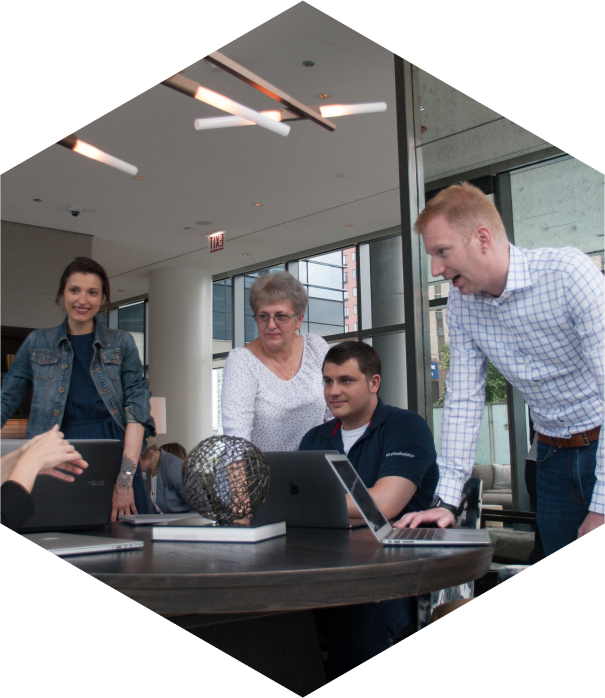 How Can We Help?

Fill out the short form below or call us at:



(888) 846-5382
Suppose you can translate your thought leadership website content into compelling and shareable social media posts. In that case, the trust in your brand grows.
For users who may not have found you via organic search, they'll have established a bond with you before even finding your website. Now, they'll actively seek your brand, and when they see you in an organic search, they're more likely to click your result than a brand they don't know.
Steps to take:
Use media that your audience and platform engage with most – text, images, or video.
Engage with your audience, answer questions, and provide solutions.
Promote your existing website content and encourage users to find further information there.
In Summary
While SEO and social media don't directly correlate, you can use the power of social channels to up your SEO performance. Tapping into the incredibly active and engaged social audience is ideal for driving referral traffic to your website, increasing brand awareness, establishing yourself as an industry thought leader, and building backlinks.
Remember, social media is about being social. Interact, engage, and communicate with your desired audience and partners – give them a reason to buy into your brand. Unfortunately, too many businesses post on social media because everyone else does. With no strategy or end goal, you're simply wasting precious time.
If you're feeling lost and unsure how to make the most of the relationship between SEO and social media, get in touch with Digital Authority Partners today, and our expert team will be happy to assist.