Are your website optimization strategies going nowhere? Are you still far from your first-page, top-rank SERP goals?
B2B companies often find it hard to compete for the top rank in the SERP, especially in a market or industry with tight competition. Still another challenge is coping with search engines' ever-changing algorithms. All these reasons can be too much for a marketer, but not with an expert B2B SEO agency.
---
Want to learn more about the Digital Authority Partners approach to SEO? Watch this video!
---
7 Things To Consider When Finding a B2B SEO Agency
More companies realize the value of digital marketing. Statista reports that digital B2B advertising spending in the US has reached $8.68 billion and could go beyond $14.5 billion in 2023. B2B companies are more than willing to spend on search engine optimization, pay-per-click advertising, inbound marketing, and outbound marketing.
If you want to make the most out of your digital marketing spending, you must partner with the right B2B SEO agency. Here are some factors to explore when vetting for an SEO agency that best fits your needs.
     1. SEO Agency Portfolio
Examine the agency's portfolio to see what they've done, primarily for B2B companies in your industry or niche.
This portfolio will give you a better idea of the agency's work quality. Make sure the portfolio contains a variety of examples, including the keywords that they've used and the rankings that they've achieved with these keywords.
The portfolio should give you a good sense of the SEO agency's experience. A strong SEO team should have a lot of experience in your niche, but collaborating with having worked with organizations from other industries is a plus. The agency's extensive SEO experience ensures that it is versatile, efficient, and capable.
     2. SEO Agency Services
A full-service SEO agency offers a wide range of services to ensure the success of its clients. These SEO services include keyword research and strategy creation, content analysis, on-page SEO, off-page SEO, competitor analysis, and reporting.
Because SEO encompasses all on-site elements, you're likely to find SEO agencies that provide content creation, website development, and website management. Having an agency that you can rely on for SEO and other essential services will give you peace of mind. You can rest assured that all your marketing efforts will lead to success.
     3. Client Reviews and Testimonials
Another way to gauge an SEO company's expertise is to check their client reviews and testimonials. Usually, client reviews and testimonials are featured on their website to encourage prospects to take action. However, if client reviews are not available on their website, you may request case studies or a client to speak with.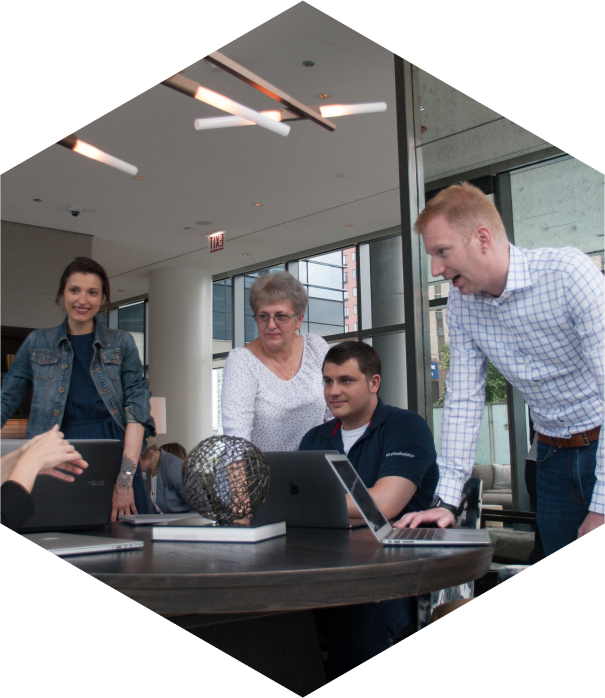 How Can We Help?

Fill out the short form below or call us at:



(888) 846-5382
     4. Agency Case Studies
SEO agencies will have case studies ready for clients looking for the right SEO company for their business. Meanwhile, a good case study highlights what SEO can do for a company, the interventions made, the strategies used, the project timeframe, and SEO analytics and data.
Find case studies that focus on B2B companies similar to yours. Make sure the case studies clearly show what issues the SEO agency addressed and how these were solved. It would be great to find out more about these companies in the cases by contacting them.
     5. Agency Rates and Pricing
Some SEO agencies will offer a free estimate for their services. It's best to take advantage of this offer to know the rates and pricing beforehand. As such, you know what to expect. Agency rates vary depending on the services, agency expertise, years of service, and other factors.
Usually, agencies that offer full-service SEO may charge more than companies that provide essential SEO services. Expect to pay more if you want to take advantage of other services like content creation, website development, and web design.
Talk with an agency representative to find out more about the pricing. You may also take advantage of free trial offers or no-commitment site audits to get a feel of how the company works.
     6. Willingness To Sit Down and Plan
You want an SEO agency that's more than just data, analytics, and strategies. You need one that is willing to sit and plan with you, who will listen to your goals, who's ready to analyze your past and current SEO tactics, and much more.
Creating a successful and well-optimized website starts with a well-established plan. This SEO agency should build this marketing plan with long-term and short-term goals in mind and depending on your needs.
Also, a good SEO plan focuses on what the agency plans to accomplish, considering the SEO foundation pillars: content strategy, technical SEO, link building, on-page SEO, and user experience.
     7. Agency SEO Audit
A good SEO agency will start every project with an audit. An SEO audit will identify issues that affect your site's ranking. It covers multiple areas and tasks, ensuring search engines crawl, index, and render your site and examine off-page SEO problems.
An audit looks for thin or duplicate content and checks for keyword optimization. It also checks user experience on your desktop website and mobile.
An SEO audit matters as it reveals issues affecting site traffic and sales. Remember, losing traffic and sales reduces your competitiveness. Also, problems on your site can lead to improper indexing, which means it's hard to look for your business online.
Where To Look For Good SEO Agencies for B2B Companies?
You'll find B2B SEO firms online. However, not all SEO companies can provide the best services. Here are some places where you can find SEO agencies:
Search engines. Start with Google and Bing when looking for an agency. The top pages in your search results can give you a list of companies to research.
Business listings. Check Google My Business or Yelp to find SEO agencies.
Social media. LinkedIn is where many businesses build their network, and you'll likely find SEO agencies there.
Recommendation. Your networks may know of a few agencies to recommend. Use them.
Make a shortlist of three to four agencies to explore. Compare these companies head-to-head to determine which one can give you the best value. Use the guide on this page to find the best SEO agency that matches your requirements.
Final Words
Hiring a B2B SEO company is an investment. Don't be in a rush!
Study your options, research your candidates, and hire a reliable, reputable, and experienced company. A good SEO team will improve your online presence with long-term results. You'll rank your business higher on search engine results and drive more revenue and sales in no time.