Branding is the process of creating a compelling and positive perception of your company and what it sells. This perception is what the customer thinks of first when they think of your site. You don't have to look far today to find examples of strong branding – Tesla, Apple, Trader Joe's, and Nike come to mind easily.
What those companies get right is that their brand message is consistent, across every medium they appear in and for every campaign they have. Tesla is a high-end luxury and performance maker of the world's most advanced vehicles. Trader Joe's is an affordable way to discover healthy and interesting food. Nike is the world's foremost maker of footwear technologies and innovations.
But what happens when your message is not consistent? When you position your company as affordable at one point and high-end at another? When you are performance-oriented on one medium and budget-conscious on another?
Inconsistent branding, particularly online, confuses customers, puts marketing campaigns into disarray, and can be a huge turn-off to both long-term and first-time buyers.
Let's look at branding, and in particular inconsistent branding, in more detail, to understand why a consistent message online today is so crucially important.
---
Want to learn more about the Digital Authority Partners approach to SEO? Watch this video!
---
What Is Online Branding?
In theory, online branding is simple – it is the branding of your company and what it sells, just online. Online in this case could range from your own website to Google search engine to blogs, pay-per-click advertising, social media, and more.
The success of online branding for a business, an e-commerce store, or an initiative or campaign comes down to elevating and optimizing your presence online. This optimization leads to more customers, better leads, higher conversion rates, and more sales and contracts for your company.
But as a company's online presence becomes more important, online branding is becoming more complex and holistic. It now includes brand management, which can be defined as the process of building, measuring, and managing a brand, how it is recognized, and what it means to consumers, with the overall goal of boosting revenue and achieving long-term business growth objectives.
As a company's online brand management process becomes more focused and intensive, its online platform and brand consistency become even more important, with branding becoming infused with internet marketing channels that are golden opportunities for expanding a brand's online identity.
Align Your Messaging for Consistent Branding
Consistency is key when it comes to messaging. Brand consistency is how a company and its messages are aligned across both core values, brand identity, and marketing messages, no matter what medium they appear on or who is promoting them.
Most purchase decisions are rooted in psychology, with factors including subconscious cues, choice overload, and the need for loss aversion. At its fundamental core, purchasing something is not always a practical decision — it is often an emotional decision. Humans are driven by feelings, and marketers tap into these by using emotion-based marketing campaigns that set and maintain a feeling.  
This feeling, or brand identity, is a key factor for modern businesses and is growing in importance as companies realize that what they sell is about more than just a product on a shelf – it is about an identity. When you see messaging for Apple products, no matter where or when it is, you come away with the overwhelming impression that they are high-end products with unique designs and bright outlooks. The same goes for Starbucks – the singular message is classy design, cozy atmosphere, fast service, and custom-made coffee drinks.
Why do you go to Starbucks every single day? Because you know exactly what to expect and know you will enjoy the outcome. Starbucks discovered a way to give consumers a dependable experience no matter if they are buying their mocha latte in Boise, Beijing, or Bandar Lampung. For the consumer, a feeling of brand recognition, comfort, and trust makes them more likely to purchase from the coffee chain giant again and again.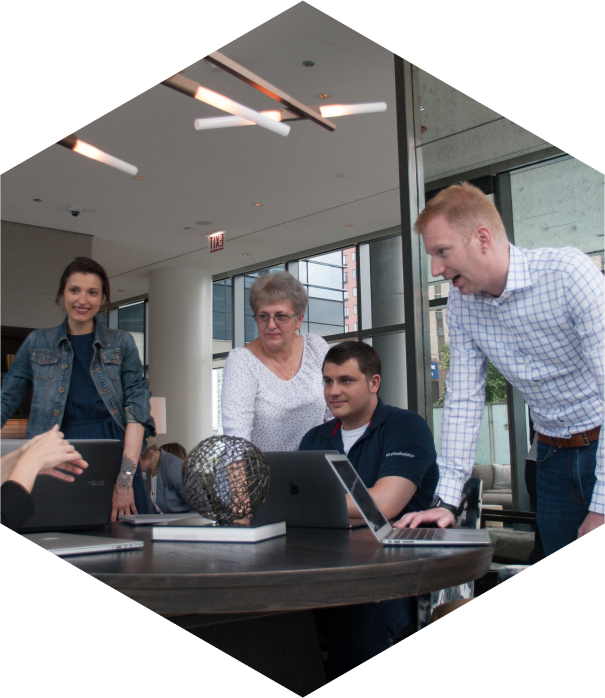 How Can We Help?

Fill out the short form below or call us at:



(888) 846-5382
So What Happens When Your Branding Is Inconsistent?
Branding is awesome when it works, and branding works best when the message being conveyed is consistent across platforms, mediums, time, and customer groups. 
Branding stops working when the message being conveyed is uneven, changing, or jarring. Inconsistent branding creates an uncertain personality for your company, and that makes it harder for customers to identify with it and know that they can trust it for the long term. Businesses with an inconsistent branding message go from being a friend the customer can rely on to being just another product on the (virtual) shelf – one that may not live up to the customer's expectations.
Inconsistent branding also creates confusion. If your customers are not sure what you are and what you stand for, it will be more difficult to figure out if you are going to provide the solution to their problems.
Strong and consistent branding is crucial to setting customer expectations and influencing buyer behavior. The more a company toes the line on its messaging, the more authority they gain in the eyes and minds of customers, and the more dependable you become as a solutions provider. When that brand is constantly changing – whether it colors, product focus, or messaging – the fewer customers see that they can depend on you.
Top mistakes related to inconsistent branding include losing sight of the brand's vision, relying too much on trends to boost business, straying too far from your core product focus and area of expertise, not understanding who your audience is, losing focus on who you serve, and having too many different voices in your messaging.
Consistent Messaging Is Tough – The Right Marketing Experts Can Help
If all of this sounds hard to get right, that's because it is. As companies grow and mature, it is natural that messaging may stray or even conflict with previous messaging. This is where a top Chicago SEO agency will come in. Digital Authority Partners is a creative, results-focused marketing agency that specializes in SEO, outsourced CMO, digital design, and digital marketing, and has years of experience in aligning marketing messages around a company's core vision. To learn more about the value of consistent messaging, contact the marketing pros at Digital Authority Partners today.