Have you been searching the market for business software that fits all of your criteria, fitting in seamlessly with your existing process and plans for the future, but everything comes up short? You're not alone in the endeavor. In fact, you do have an alternative – custom software development. A system tailor-made specifically for your company could well be the route to take.
You need to ask yourself a few questions, as there are compromises to either option. With an off-the-shelf solution, you can begin using it immediately and will see the benefits soon, but you'll have to rework your processes to fit how it works. Whereas a custom-built product will take a few months to be in a position to begin use, but it will be built exactly as your business needs it.
Let's take a look at the major benefits of custom software development and find out if it's the best investment for your business.
---
Watch this video to learn how Digital Authority Partners designs software that works for your business!
---
A System That Fits Exactly With Your Processes
Every business has its own processes and quirks – unless you follow the steps of off-the-shelf software, it's unlikely that you work in the same way as your competition. If you're a large organization, it's incredibly challenging to change from one software to another, and you'd be adding another level of difficulty to this task if you were to change processes too.
A Platform That Can Grow With Your Business
When scoping out the project, you can clearly explain the vision you have for your business to the custom software developers, enabling you to future-proof your system. Whether you have plans to grow the company, diversify your offering, or expand your product range, this can all be considered. It can be incredibly cost and time-effective to take these considerations early on, as you'll have the functionality already built and ready to be activated. Whereas, if you tried to add it in at a later date, it may become more of a challenge.
Offer Your Customers A Streamlined Service
With your newly developed system, you'll see the level of service you provide your customers skyrocket. Thanks to the streamlined nature of your processes, and a central system that makes any interaction smooth and seamless, don't be surprised to see your existing customers comment on the improvements you've made and new clients coming back frequently. 
Tweaking processes and finding workarounds in off-the-shelf systems are a burden for employees, but they're also noticeable to staff. You'll often hear customer service representatives blaming technology or the system they're using – you'll never have to do that again.
All Employees Working From The Same System
Consistency is key in business, and a custom-built software package provides exactly that. As you're in control, you decide which departments use your new system, and who continues operating with existing software. Either way, you'll be able to use APIs to build sophisticated integrations, enabling every software package used within your company to communicate with your new bespoke central system. 
One hub of business activity provides your employees with clarity, allows everything to be reported on, and gives you data as you've never had access to before. Better yet, your team members will see productivity increase, their jobs become more enjoyable, and their levels of stress reduced.
Specific & Knowledgeable Technical Support
Often with bespoke software, the technical support you receive is from a close-knit team who understand your system in great detail. Usually, they've been part of the project from the beginning, from initial concept, through development. Once the system is live, they're best -placed to provide you with rapid responses, solving any issues without thorough and timely investigations.
With an off-the-shelf system, you're using the same functionality as thousands, if not millions of other users, meaning if a feature doesn't work in a way you'd like it to, the response you'll get is "that's just how it works." Even with something you would consider a bug, it is unlikely that it will be fixed unless other users agree, giving you very little flexibility and input over the features needed.
Increased Return On Investment
What many businesses forget to do is to view custom software development as a long-term investment. Getting a quote for your bespoke system can feel excessively expensive, but if you're investing in a system like this, it's designed to be with your business for 10+ years. Yes, off-the-shelf or Saas packages are cheaper, but you'll still have to pay for ongoing support, updates, and eventually an upgrade to a system that can handle your growth.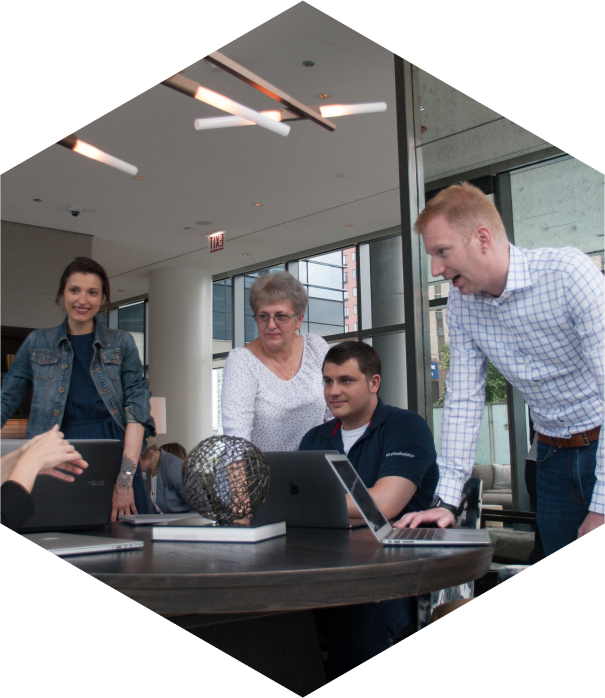 How Can We Help?

Fill out the short form below or call us at:



(888) 846-5382
Realistically, if you're a fledgling or small business, custom software development is unlikely to be the route you take, as you don't know if your business is going to succeed. However, if you're medium-sized and up, with a history of success, and are looking for a system to support your long-term goals, investing in bespoke software is a realistic option. 
Check out this article for some handy tips on how to measure the ROI of custom software.
In Summary
There are many factors to deciding if custom-built software is for you, but the benefits are clear. If you've got a clear vision for your business, want to future-proof your business software, improve your processes, and enhance customer service, a system unique to your business will do exactly that. 
For expert advice, our Chicago software development agency is available to kickstart your journey to a customized software package that perfectly suits your organization. Alternatively, if you'd like to discuss how Digital Authority Partners can provide your business with a digital transformation like no other, we would love to hear from you.