Content is king is a phrase commonly used in the marketing world. Even with digital transformation and creating websites that cater to bots rather than people, that statement remains the same. Therefore, startups need to understand the benefits of content marketing and implement it successfully.
Content is an extensive word encompassing all channels. Essentially, anything written or spoken is content. And, how you present it can be the difference between people seeing your website or not and whether they engage and resonate with your business or not.
For small businesses, knowing the do's and don'ts and getting things right the first time can be difficult. Hence, we've put together the seven best ways to use content marketing for startups, giving you a helping hand to kickstart your content marketing strategy.
---
We're the top B2B Content Marketing Agency in America. Watch the video below to learn why.
---
1. Research Trending Topics 
SEO and content marketing go hand in hand. Your content production needs to have a sense of direction, focal points relevant to your industry, and be attractive to as broad an audience as possible. Many tools are available, enabling you to search for popular topics in your niche. These tools help you create content that people want to read and share, driving high traffic to your website.
However, being a fledgling business with little domain authority, you need to select your topics wisely. Battling against popular websites that Google deem to have a high domain authority makes little to no sense. If you see that the first page of Google searches with well-known websites, this means competition for your chosen topic is high. Try to make it more specialized or look for article titles your relatively new website can rank highly. The perfect tool for finding content topics and types is BuzzSumo.
2. Create A Content Calendar
Consistency is crucial to your success strategy when producing content, no matter the platform. One article or one social post might get you an explosion of engagement. Still, it will have little to no long-term impact on your business without backing that up. A fantastic way to hold yourself and employees accountable to consistency is the creation of a content calendar. Using the list of topics you created using BuzzSumo, formulate a calendar that dictates when you will produce each piece of content.
Another helpful tip when creating a content calendar is to reach out to the most recognized publications in your industry and request their editorial calendar. Often, these publications will feature specific topics at certain times of the year. If you can align your content calendar with theirs, the chances of your content being featured and shared externally increase drastically.
3. Decide Which Channels Are Most Appropriate
Not all channels will be suitable for every type of content. For example, a long-form article that may take over 10 minutes to read isn't ideal for a post on Facebook. On the other hand, a visual infographic presenting the key information from that article would be perfect. Neglecting what users want and posting on the wrong platform means your time producing your amazing content will go to waste. Not sure how to choose the right channels, targeting approach and the right content assets for specific channels? Consider learning more about our Fractional CMO for startups service. 
4. Guest Blog or Share Your Content with Publications & Industry Influencers
As a business with a relatively small audience, you should leverage the followers and subscribers of established websites and accounts, such as reputable publications and industry influencers. Usually, these brands have spent years growing their businesses, following, and influencing. As a result, their audiences are highly engaged and trust the content they produce.
Guest blogging won't bring direct SEO benefits to your website – unless you create a backlink to your website in the article. However, it will put your name, face, and brand in front of customers who care about what you do. A successful guest blog has the power to increase brand awareness massively. Better yet, it's usually entirely free.
Depending on your product, influencer marketing tends to carry a cost. First, you must select the right influencer, someone that resonates with your brand has the same values, and isn't going to do anything to tarnish your reputation. You may have a limited budget as a startup, making it a better option to offer free products and services as an incentive.
5. Write Thought-Leading Niche Articles
Finding your niche will attract more significant numbers to your website than high-level overview articles repeated hundreds of times. Discovering exciting emerging topics in your industry that ignite conversation is a fantastic way to create engagement with your brand. As a startup, the more niche your content is, the better. However, it's essential to find the right balance. Although you don't want to rank organically for a prevalent topic, you still need an article that attracts a reasonable search volume to warrant the time and cost of producing the content.
Specific and detailed articles that encompass long-tail, less popular search terms are what makes content marketing for small businesses work. Realistically, you don't have a chance of ranking highly against robust and established websites. However, you can outdo your direct competition and punch above your weight by focusing on less searched terms more specific to your offering.
6. Repeatedly Promote Your Content
Often, businesses spend a great deal of time producing great content and then don't put the work in to promote it. On too many occasions, marketers and business owners feel the need to create new content all the time. While it is valuable to produce new content consistently, you must not forget the work you've already done. You may not have gotten the traction you expected from your initial release. A news event, product launch, or industry development may trigger content to become highly relevant, making it a traffic magnet for your website.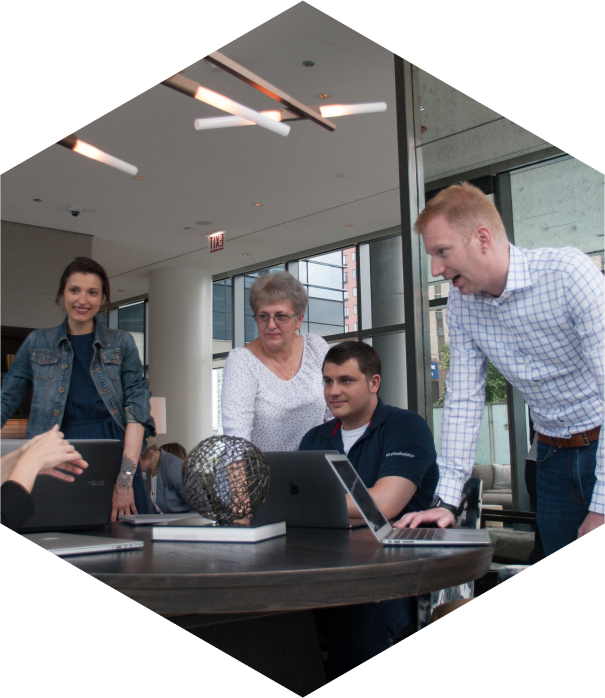 How Can We Help?

Fill out the short form below or call us at:



(888) 846-5382
Remember, even though it didn't go viral the first time you promoted it, there's still life in the article.
7. Post at the Right Time
Knowing when your audience is most active and engaged will decide whether you get the engagement you're expecting. For example, if you are a B2B company targeting office managers, sending content to them over the weekend will be worthless as they won't see it. And, by the time Monday rolls around, social media algorithms have forgotten your post, or you're a nuisance email in their inbox that will get deleted.
Target your audience when they are most likely to engage, encourage instant interaction with your content, and this will boost its value, impact, and reach.
If you're looking for a Chicago content marketing agency to kickstart your content strategy, our specialist team would love to hear from you. Alternatively, if you're looking for a Chicago digital marketing agency to have a broader impact across all of your digital marketing channels – get in touch.