SEO, or search engine optimization, is the process of improving the visibility and ranking of a website on search engines like Google. People type keywords into search engines when looking for a product or service. Personal trainers can use those keywords on their websites to improve their rank in search results.
When potential clients type those keywords, your optimized website will appear higher in the results, making it more likely that they will click on it and contact you. Personal trainers can also use SEO to improve their online presence through informative and keyword-rich blog posts and social media content. SEO can help personal trainers reach a wider audience of potential clients and become more successful. Not sure where to start with your personal trainer SEO? Below are tips on how to optimize your website and online presence for better visibility and ranking. Let's begin!
---
Want to learn more about the Digital Authority Partners approach to SEO? Watch this video!
---
Is SEO Important?
Did you know that organic search drives 53.3% of all website traffic? SEO is one of the most important marketing strategies that personal trainers can use to reach their target audience. Search engine optimization can help personal trainers by:
Improving the visibility of their website on search engines like Google
Increasing the traffic to their website from organic search results.
Decreasing the cost per acquisition of new clients
Decreasing long-term marketing spend
Increasing new leads
Elements of a Good SEO Strategy
While the results of personal trainer SEO sound promising, SEO takes time and effort to see results. There is no magic bullet when it comes to SEO – it's a marathon, not a sprint. But by following some simple tips and best practices, you can set your personal trainer business up for success in the long run. Here are some elements of a good SEO strategy:
     1. Select and Optimize Keywords
The first step in any SEO strategy is to select the right keywords. These are the words and phrases that potential clients are searching for when they look for a personal trainer. When choosing keywords, it's important to consider both what your target audience is searching for and what keywords you can realistically rank for. A few different tools can help you research keywords, including Google AdWords Keyword Planner and Moz Keyword Explorer.
Once you've selected your keywords, the next step is to optimize your website for those keywords. This means using the keywords throughout your website, including in the titles and descriptions of your pages, in your blog posts and social media content, and even in the alt text of your images.
     2. High-Quality Content
Hands down, the most important element of any SEO strategy is high-quality content. This is what helps you rank higher in search results and drive traffic to your website. When creating content, keep your target audience and keywords in mind. Your content should be informative, keyword-rich, and engaging. In addition to blog posts and articles, you can also create infographics, videos, and other types of content that help your personal trainer business stand out from the crowd.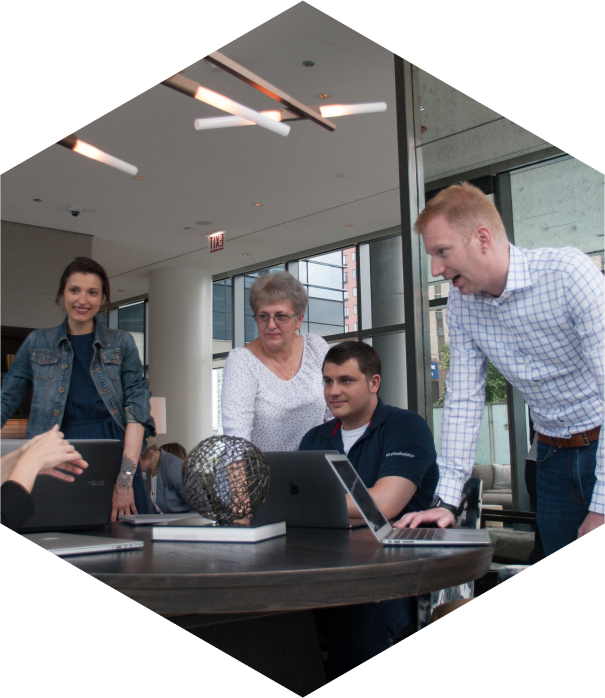 How Can We Help?

Fill out the short form below or call us at:



(888) 846-5382
For example, if you're a personal trainer who specializes in helping people lose weight, you could create blog posts with titles like "The Top 10 Foods to Avoid If You Want to Lose Weight" or "5 Simple Exercises That Help You Lose Weight Fast." Informative and keyword-rich content helps you attract more visitors to your website and improves your chances of ranking higher in search results.
     3. Optimize Your Website for Mobile
Did you know that almost 60% of all internet traffic comes from mobile devices? If your website is not optimized for mobile, you're missing out on a lot of potential traffic and leads. In addition to making sure your website is responsive, your website has to load quickly on mobile devices. This can be done by compressing images and using a content delivery network.
     4. Focusing on Local SEO
If you're targeting local clients, it's also important to optimize your website for local SEO. Include your city and state in your titles and descriptions, as well as on your website's contact page. You can also create local content, such as blog posts about local events or popular attractions in your city. By optimizing your website for local SEO, you can make it easier for potential clients who are searching for personal trainers in your area to find your website.
For example, if you're a personal trainer in Los Angeles, you could create a blog post titled "The 10 Best Places to Workout in Los Angeles." This would be a great way to attract local clients who are searching for personal trainers in Los Angeles.
     5. Building Backlinks
Another important element of any SEO strategy is building backlinks. Backlinks are links from other websites to your website. They act as a vote of confidence, telling search engines that your website is relevant and authoritative. The more backlinks you have, the higher you will rank in search results. There are a few different ways to build backlinks, including guest blogging, directory listings, and social media.
     6. Social Media Marketing
Finally, don't forget about social media marketing. Social media is a great way to connect with potential clients, build relationships, and drive traffic to your website. In addition to posting engaging content, always include links to your website in your social media posts.
Summing Up
These are just a few of the many things you can do to improve your personal trainer website's SEO. By following these tips, you can attract more visitors to your website and generate more leads for your business.
At Digital Authority Partners, we specialize in helping personal trainers grow their businesses online. We can help you create a custom SEO strategy that is tailored to your unique needs and goals. Contact us today to learn more about our services and how we can help you take your business to the next level.