Outsourcing to an SEO agency takes a lot of pressure off your employees. The basics of search engine optimization (SEO) and marketing campaigns are easy to learn. However, they may be challenging to apply without extensive experience and expertise.
This guide talks about three invaluable functions an SEO agency can perform for you.
Conduct In-Depth Research
Match Clients and Strategies
Monitor Your Improvements
There's a lot to discuss, so get ready to take notes.
Let's go!
---
Want to learn more about the Digital Authority Partners approach to SEO? Watch this video!
---
1. Conduct In-Depth Research
Research is an essential part of a good marketing plan. Without the right information, it's hard to create a campaign that will work.
For example, if you do not know who your target market is, your marketing plan ends up in disarray. If you have no unique angles or offerings, customers have little incentive to choose your business over competitors.
When you hire an SEO agency, they do the tasks below as part of their research for your campaign.
     a. Define Your Target Market
Every business has a market segment with unique needs and interests, which they want to capture. Defining your target audience takes a lot of time and effort. Executing surveys, interviews, and focus groups, for example, requires careful planning. Compiling data from third-party firms is just as complex and sometimes costly.
An SEO agency speeds up the process because they already know where and how to find information. It is like asking a librarian for help instead of looking for a book yourself.
     b. Identify Your Competitors
Competition is probably the single biggest concern that businesses have. Similar products and services can reduce your market share if left unchecked.
Your business needs to stand out from new and old competitors to grow. In a word, you need to be irreplaceable to your customers. To achieve that, you must understand your competitors.
SEO agencies help you find and work around the different types of competitors you meet. More important is knowing what your competitors lack and turning it into a niche.
     c. Help Find Your Niche
No single company holds a monopoly on every product or service. Otherwise, there would be no emerging giants in any industry. Remember, the top companies of today also started from zero.
While you should not expect to become a billion-dollar company just by hiring an SEO agency, they can help you find an idea suitable for your business. A niche is a powerful asset, and in-depth research is the first step in identifying what yours can be.
2. Match Clients and Strategies
Digital marketing comes in many forms, each with its strengths and weaknesses. Every situation calls for a different tactic, and it can be confusing to know which is best.
An SEO agency is knowledgeable in search engine-centered methods such as SEO, content marketing, and local marketing. Other forms, such as SEM and PPC, are also best delegated to specialists.
Below is a rundown of how agencies create and use the above mentioned marketing strategies:
     a. Rank High on Search Engines
Search engines are where most of your traffic comes from. Therefore, modifying your website for maximum visibility on those platforms helps your bottom line. On-page, off-page, and technical SEO are all separate but interconnected parts that all contribute to your success.
On-page SEO is the process of modifying the visible elements on your web pages. For example, formatting your blogs for readability or checking internal links for errors.
Off-Page SEO covers branding and marketing efforts such as posting on social media and building and managing backlinks from other websites.
Technical SEO focuses on improving the user experience (UX) for your website. Elements that contribute to a good UX include web design, load speed, and crawlability.
     b. Use Content To Drive Traffic
Content creation may or may not be part of an SEO agency's service. However, keyword research, which sets the tone for high-quality content, contributes to effective marketing.
Keyword research is no easy task. You must balance search volume and difficulty to find the best words to build your content. If you have writers for your website, they can work with the agency to produce high-quality blogs, videos, and other posts.
     c. Connect With Local Customers
Lead generation is another way an SEO agency adds value to marketing campaigns. Your area is rich with customers who might still need to be made aware of your company.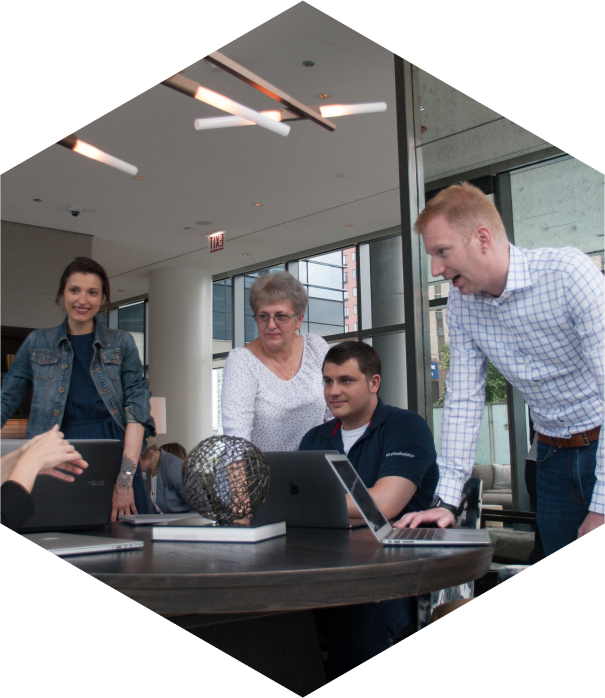 How Can We Help?

Fill out the short form below or call us at:



(888) 846-5382
One of the best applications of SEO is capturing new customers through:
Local keywords like your city's or town's name
Business listings, such as Google My Business
Local city pages for your different locations
Minor adjustments to any of these impact how well you attract and convert leads around you.
3. Monitor Your Improvements
SEO has many separate but interconnected parts, which makes everything hard to keep track of all at once. Agencies keep tabs on all efforts and changes to your content and marketing strategies to make tracking and analyzing results smoother and faster.
For example, results from link building can take at least three months to materialize and are dependent on factors such as:
Site authority
Traffic trends
Brand popularity
Niche competition
Page types
Link building budget
With SEO, changing or improving even a single aspect hinges on several elements. You need to check each one individually to see which impacts your marketing campaign the most.
From there, you also need to know how to respond to underwhelming results. If you hire an SEO agency, you can rest assured that they know how to address these issues and more.
Summing Up
SEO is more complex and complicated than it seems at first glance. It is not just posting content with all the right words. It is a balancing act of elements that customers and search engines want to see on your website.
Overall, the goal of an SEO-driven marketing campaign is that visitors leave your website having gained or found something of value. Contact us today to work with SEO experts who can build the right marketing campaign for your business.