As companies embrace digital transformation, workflow and critical data have become fragmented across disparate systems. This puts revenue at risk.
A fractional CRO (chief revenue officer) helps address the growing problem by unifying data and systems. This article highlights the following essential points about the topic:
Definition of a tech stack.

Operational efficiencies from integrated systems.

Adaptability in a dynamic market.

Why fractional CROs prioritize tech integration.
Combining different technologies drives efficiency, promotes sounder decisions, and delivers personalized engagements and seamless customer experiences. Read below to learn how fractional sales management experts use this technique to grow businesses. 
Let's go!
What Is a Tech Stack?
A technology stack is a set of software and technologies that work together to support a product, service, or business process. Originally, it referred to a combination of programming languages, frameworks, libraries, databases, and other software.
Over time, the definition broadened to include various business technologies:
| Category | Purpose | Example |
| --- | --- | --- |
| Infrastructure | They provide the foundation for products and services. | Servers, cloud platforms, hosting services, and networks. |
| Data and analytics | These are types of software for collecting, storing, and analyzing data. | Google Analytics, business intelligence tools, and data warehouses, such as Snowflake. |
| Security | These refer to solutions for data and system protection and control. | Public key infrastructure, firewalls, and endpoint detection and response tools. |
| Operations | These are technologies for overseeing and managing infrastructure, applications, and services. | Platforms for log analysis, IT ticket systems, documentation, and customer relationship management (CRM). |
| Human systems | These are tools for collaboration, workflow ease, and automation. | Software for video conferencing, project management, training, and human resources. |
| Integration | These platforms connect different applications seamlessly. | API gateways, messaging queues, extract, transform, and load tools, and integration platform as a service. |
A robust modern tech stack incorporates a few or all of these elements to comprehensively support business goals and processes. In particular, it provides the following benefits:
Unifying data for holistic decision making.

Enhancing efficiency, automation, and collaboration.

Scaling the business for an ever-changing, dynamic market.
Below are expanded versions of these three critical points.
Unified Data for Holistic Decision Making
At its core, revenue strategy is about leveraging data to make informed sales, marketing, and customer service decisions. Using disparate tools creates siloed data.
This fragmentation can lead to costly consequences:
A higher churn rate because of a poor user experience.

Over or understated data, skewing campaigns, and objectives.

Missed sales opportunities because of the limited collaboration of departments and access to more data.
Integrating technologies gives a complete view of customer data for more personalized experiences. Imagine a customer named Jane who fills out a contact form on your website but receives a generic sales pitch. Frustrated, Jane ignores the outreach and takes her business elsewhere. 
With unified data from integrated tools, you would have seen Jane's web activity in the CRM and crafted a tailored sales message. The result is a smoother journey for her and higher chances of conversion.
Fractional CROs also champion combining relevant information for more effective demand and lead generation. 
For instance, Bob signs up for a product demo after an online ad piqued his interest. With disjointed data, marketing might not have tracked this demo conversion. 
What if the business uses integrated tools? The linked analytics tools would capture Bob's ad clicks and demo signups. Email marketing platforms would then deliver personalized content according to the customer's profile or persona. 
In the grander scheme, marketing focuses its budget on targeted nurturing campaigns rather than inefficient ads. The result is a higher lifetime value for a customer like Bob.
Efficiency, Automation, and Enhanced Collaboration
A new American Express study among the UK's small business leaders showed that most needed work-life balance. An overwhelming 82% agreed they should take time off for their well-being. Meanwhile, 78% said that regular work breaks improved their leadership.
Despite this, many feel pressured or guilty for trying to catch their breath. At least a third of the survey participants said they stopped their hobbies after starting a business. 
No business thrives without grit and commitment but working 40+ hours weekly leads to fatigue and stress. Both are counterproductive:
Overtired, burnout employees are more prone to illnesses and absenteeism. 

Tired workers also make more mistakes, contributing to costly errors and quality issues.

High turnover is another consequence as top talent leaves for a healthier workplace. 
A fractional CRO promotes a safer, more conducive workplace for everyone, beginning with tech integration. Stacking different technologies helps streamline processes. Depending on the tools, it can save up to 50% of time. 
Both employees and business owners can use the extra time to build more resilient, efficient processes. They may also pursue personal interests, which sometimes stimulate innovation.
Let us talk about Sam as an example. He is your committed sales agent about to close the biggest deal of his career: a contract from a Fortune 500 company. 
Eager to finalize the paperwork, he logs into his company's outdated CRM system to enter details about the new client and contract. Because the CRM is not linked to other platforms, he must now email copies of the contract to accounts receivable. 
He then lets the marketing department know about promotional opportunities with the new customer. The next day, he reaches out to customer success to help onboard the client. After finally landing his white-whale client, he is bogged down in booking the business instead of servicing his new customer.
With an integrated stack, the fractional CRO and the development team can design or customize workflows and dashboards that trigger sequential actions. For example, immediately after Bob closes the deal and updates the CRM, the system:
Generates an invoice in the billing software.

Assign tasks to the customer success team.  

Launches tailored upsell campaigns in the marketing platform.
Adaptability and Scalability in a Dynamic Market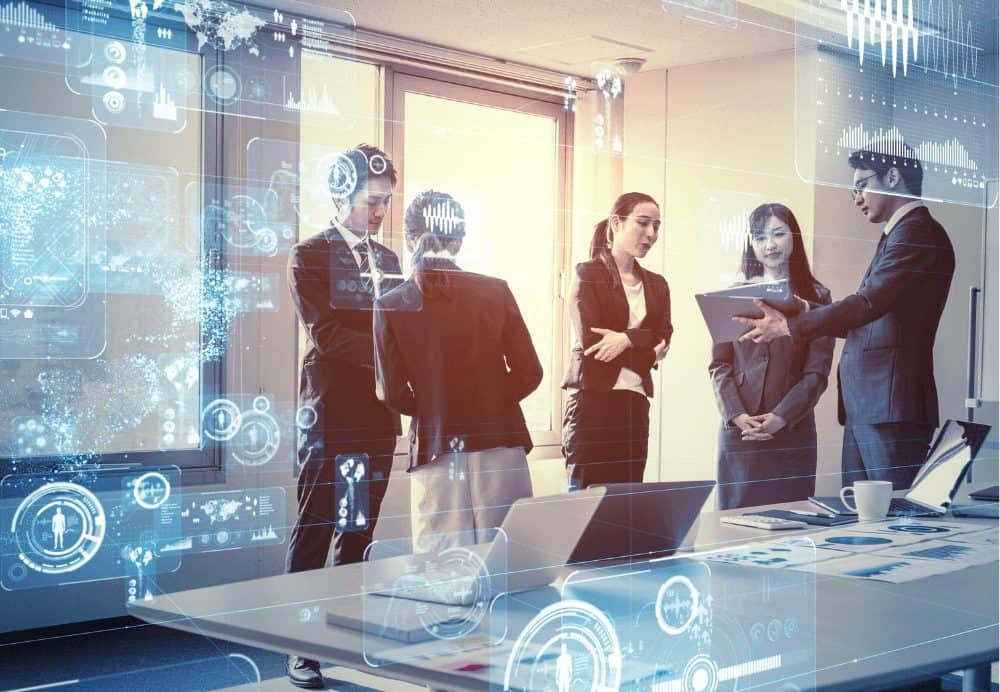 Today, the market changes so fast that pivoting has become a critical success factor. An integrated, modular tech stack makes your business agile even in sudden, shifting conditions. This agility also enables scalability, which is crucial amid economic uncertainty. 
During COVID-19, integrated systems flexibly supported new initiatives such as contactless delivery. They allow businesses to optimize their omnichannel strategies. 
Beyond external events, a unified tech stack simplifies exploring new business models and revenue streams as opportunities arise. Consider a brick-and-mortar fitness company looking to expand into online services. 
The company's consolidated stack makes every aspect of the customer journey seamless. The client lands on high-converting landing pages for virtual classes. Native e-commerce handles memberships and online payments out of the box. Built-in streaming delivers the actual classes. Member profiles flow across environments, powering personalized promotions. 
Summing Up
An integrated tech stack is fundamental to modern revenue operations and strategy. It provides the data unification, workflow efficiency, and cross-functional alignment needed to drive growth. Integration often takes a backseat to the latest shiny marketing technology tool.
As an award-winning fractional CRO agency, Digital Authority Partners (DAP) knows tech by heart. Using our expertise, we pinpoint the best platforms based on your needs, budget, and objectives. We automate workflows and processes to improve your team's productivity and scale your business. We get you ready to respond to market changes with more agility. 
Spend your money on the right technology. Contact us today to schedule a free consultation.