Best practices for search engine optimization (SEO) change with the times. Artificial intelligence (AI) is the future of content because machines can process information faster and with more power than humans can. While human intervention is still necessary, AI tools can do most of the work.
Any SEO agency can tell you that AI is a must-have for SEO success.
This guide shows you the three steps to using AI-powered SEO content:
Get ideas from AI marketing platforms
Leave content writing to AI software
Edit your blogs for SEO with AI tools
There's a lot to discuss, so get ready to take notes.
Let's go!
---
Want to learn more about the Digital Authority Partners approach to SEO? Watch this video!
---
3 Steps for Creating AI-Generated Content
Content creation is a time-consuming but necessary process for SEO. Blog posts, the most commonly used content type, drive much of your online traffic because they keep you visible and relevant to users. That is why SEO agencies and experts repeatedly point to keywords and content when giving advice.
It is not just any content you should aim to have on your website, however. The content you post, be it blogs or videos, should meet a high standard of quality that tells your audience that you are the right choice for them.
For that reason, search engines like Google refer to your content's experience, expertise, authority, and trustworthiness (E-E-A-T) when indexing and displaying results. The extra "e" for "experience" is a recent addition that highlights the human side of content creation.
AI tools can quickly generate blogs that contain E-A-T. Still, experts believe it takes a real person to convey experience in writing effectively.
While there are a lot of different types of content, let us focus on AI-powered SEO for blogs to genuinely generate traffic. Below is a step-by-step guide.
     1. Get Ideas From AI Marketing Platforms
Every writing process starts with inspiration, but sometimes it can be hard to find. But it's not hard for AI tools that have learned to generate intelligible keyword suggestions from analyzing massive data libraries. You can immediately get hundreds of ideas by inputting a target keyword.
AI-driven marketing has led to the development of intelligent software and tools that address a wide range of SEO needs. For instance, many of them can provide a comprehensive overview of your SEO status. Meanwhile, some focus on content creation and marketing automation.
Dedicated marketing platforms give you powerful insight into your website traffic, audience, and content. Among these insights are:
Keywords that match your core audience's search intent
Topics you should explore further based on existing content
Top keyword forecasting based on traffic and volume data
Information on leading competitor content for a given keyword
Outline suggestions based on successful competitor blogs
All of the above make good stepping stones for amazing SEO content. If you want a second opinion, AI writing tools can also produce keyword suggestions based on prompts.
     2. Speed Up Content Writing With AI Software
Content creation tools are indispensable for making AI-powered SEO content. They have all-around functionality that helps you write captivating blogs. These tools can source so much, from target keywords to headlines to authoritative reference websites.
In addition, AI content creation tools are equipped to produce effective SEO blogs on their own. INK is a good example of this because of its easy-to-use user interface (UI) and long list of features. With a quick web crawl, it can start piecing together content.
After giving it a target keyphrase to work with, it gives you relevant resources broken up by section for easy review. You can sort them by topic to further refine your study of the subject matter. Finally, it can synthesize the information it has gathered and generate new content from it.
Besides blog posts, AI content creation tools can produce the following:
Call-to-action (CTA)
Blog introductions and outlines
Meta descriptions
Pay-per-click (PPC) ad headlines
Branded hashtags
Product descriptions
Interview or survey questions
Brand motto or slogan
Cold email copies
Image and video captions
Expect the writing quality to be patchy, if not somewhat repetitive. That means you still have to fix the output in places or rewrite them to sound more natural. This is especially true if you have a unique writing style that you want to shine through in your content.
Either way, it works out since Google's latest algorithm update is not a fan of 100% machine-generated content. Give your blogs an edge by ensuring that they have E-E-A-T.
     3. Edit Your Blogs for SEO With AI Tools
If you want to get the most out of AI for SEO, intelligent editing apps are something you cannot ignore. Whether man-made or AI-generated, every draft you produce is still raw and needs polishing before it is ready to post—this is especially true if you want to meet SEO criteria.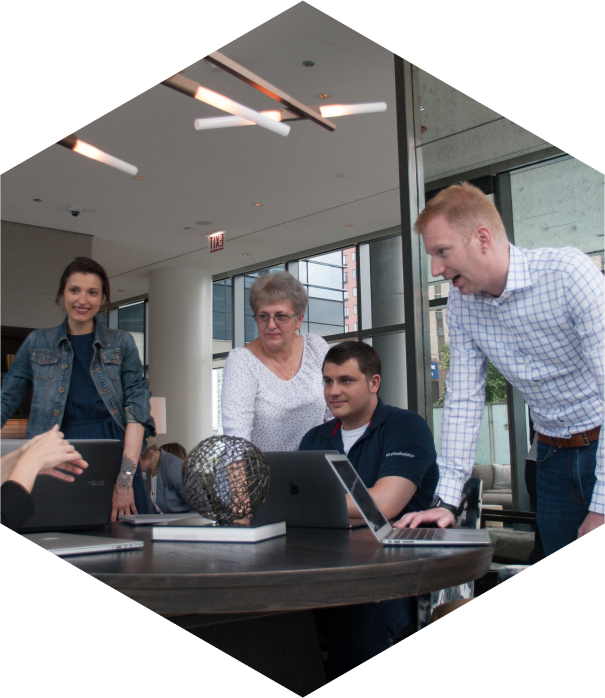 How Can We Help?

Fill out the short form below or call us at:



(888) 846-5382
For example, Yoast SEO, a popular WordPress plugin, monitors keyword usage and makes suggestions accordingly. While it only works within the confines of your WordPress dashboard, it is an invaluable tool because it keeps your content up to the standards of search engines.
Other stand-alone third-party software, such as Grammarly, can:
Check for common grammatical errors
Optimize or simplify your word choice
Modify complex or confusing phrases
Help effectively use the active voice
Highlight sentences in the passive voice
Tailor corrections to suit different goals
Guide your writing based on intent
You can customize all of these from within your profile. Modify Grammarly's behavior to monitor the usage of inclusive language (or lack thereof) to improve appeal for your target demographic. Finally, you can create personal style rules that you want the AI to enforce.
However, editing software is not the be-all-end-all of AI writing tools. Every generative AI tool out there is just as capable of guiding your editing process for maximum SEO benefits. They can rephrase, rewrite, or simplify entire sentences or paragraphs in mere seconds.
Summing Up
AI has many SEO applications that individuals and small businesses can use to drive website traffic. Writing content is only one of these — marketing, especially content marketing, is another important application you should pay attention to moving forward.
Expect AI to continue growing in strength and scope from here. That means adaptation is key to thriving in the new SEO ecosystem.
Need help adding AI software to your content creation process? Contact us to learn how we can help.