What makes successful startups? 
Startups are not just about creating products and getting more customers. If you have a startup, you need to establish a good relationship with your market.
With a limited budget, you can't rely on a hit-and-miss strategy to connect with your consumers. You need the help of an experienced SEO agency to establish ground, engage your audience, and make your business more visible online.
---
Want to learn more about the Digital Authority Partners approach to SEO? Watch this video!
---
5 Reasons Why You Need an SEO Agency for Your Startup
Statista reports that 32.8% of SEO professionals considered on-page elements the most critical factor affecting search rankings. Next on the list were organic user behavior (30.9%) and the depth and accuracy of the content (24.6%).
These factors are crucial for startup survival. With a good SEO agency, you can get your marketing campaigns in full swing with an optimized website. You'll get higher organic search rankings, bringing more traffic to your website and your local shop.
     1. Make Your Startup Visible
A good SEO agency will quickly improve your SERP rankings, making your content visible in organic searches.
You'll have experts that will start your optimization campaigns through thorough keyword research. The right keywords help your target audience find your business easily when they run a search. Using the terms or language your audience uses brings your brand, products, or services closer to them.
The right keywords also help search engines like Google understand your content. It can index your content better, making it easier for your website to appear when someone searches for a keyword you used.
Consider these tactics to find the right agency to promote your startup's visibility online.
Ask about their keyword research tactics.
Check out case studies about the agency's latest clients.
Check the websites of their current clients.
     2. Experience in the Industry
The SEO agency you choose must know your industry inside and out. It must be aware of the latest trends in SEO.
Search engines like Google and Microsoft regularly update their algorithms to help make searches faster and more efficient and improve website indexing. A good SEO team will ensure that your website is relevant and consistent with the latest algorithm updates.
It would be great if you were to work with an SEO agency with previous experience working with similar startups like yours. They can help you create effective optimization strategies to promote your business online, offline or both. These tactics will help you determine a PPC agency's experience in your industry.
Take note of their industry knowledge through an interview.
Check case studies that are relevant to your industry.
Ask about their current knowledge of SEO industry trends.
     3. Improve Your ROI
A reliable PPC agency can boost our return on investments and help you increase revenue in the long run. SEO takes time to work out but, when properly implemented, can produce excellent, sustainable results.
It takes a combination of SEO tactics to increase ROI, and a good agency must know how to prioritize these strategies. If your goal is to drive sales, you should be hiring a PPC agency that can:
Understand the importance of using the right keywords. You need the right keywords in your content, URL, headings, meta descriptions, image descriptions, page titles, emails, and web pages.
Produce engaging content. With the best content, you can convert your prospects into paying customers. Content can be blogs, videos, infographics, animations, podcasts, guest blogs, newsletters, Ebooks, lists, how-to guides, and product reviews.
Promote your business through social media. An updated PPC agency knows that more consumers use social media to find what they need and engage with their brands of choice.
Understand the power of local. A good PPC team knows that more people visit a business after looking for it online.
Know the importance of on-page SEO in creating user-friendly websites and easy indexing by search engines.
Manage your online reputation with professionalism and manage your online reviews.
     4. Be Ahead of Your Competitors
An SEO agency helps you stay ahead of your competitors by using updated strategies to get you on top of search results. They are experts in strategizing for competition, tracking backlinks, and the quality of their keywords. The data they gather create better strategies to promote your business. Consider these as qualities of a good SEO team.
Focus on content creation. An effective SEO team knows that useful, engaging, and relevant content will keep you on top of your competitors.
Belief in thorough keyword research: uses the right keywords efficiently on all content.
Track competitors' SEO.
Stay ahead of SEO trends, news, and updates.
Not sure how to choose the define the right competitive report to create a long-term SEO roadmap for your startup? Consider learning more about our Fractional CMO for startups service.
     5. Save Money, Manpower, and Time
There's no need to handle complex SEO strategies when you partner with a reliable SEO agency: No more hit and miss strategies and trial and error campaigns that only cost you money and time. Your employees can concentrate on the essential things in your business: your products, services, and your customers.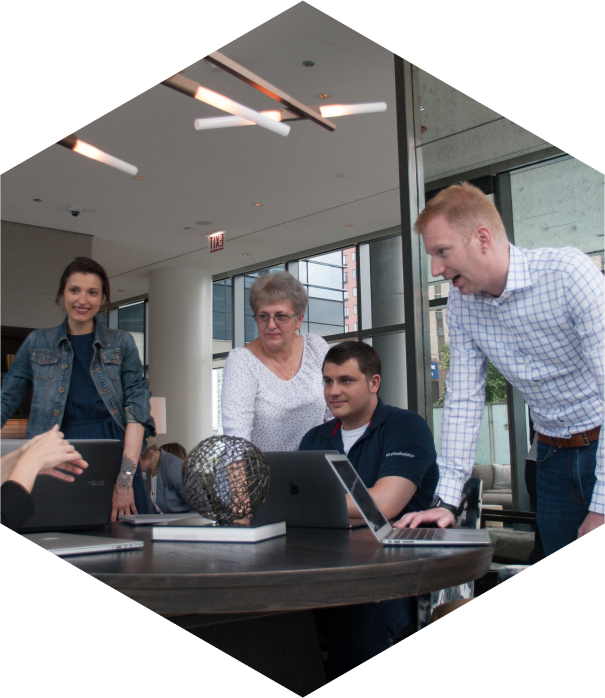 How Can We Help?

Fill out the short form below or call us at:



(888) 846-5382
A good SEO team has experts capable of handling different aspects of your online marketing needs. You'll have a pool of professional content writers to create unique and engaging copies for your website, PPC experts for your paid ad campaigns, and a research and testing team to evaluate your SEO campaigns.
Do the following when searching for the best agency that can save you time and resources:
Again, check case studies of previous clients. Focus on the cost-efficient strategies for hiring the PPC agency.
Ask about software or tools that they use for research and account management.
Consider their turnaround time for your SEO project. SEO takes a long time to implement, but it helps set a deadline to ensure that your short and long-term goals are achieved.
Ask if you will have an SEO account representative. A rep ensures easy communication between you and your SEO agency.
Final Words
You should hire an SEO agency to promote your startup online. A good agency knows the right strategies to boost your reputation, increase traffic, and help you reach your startup goals. Consider these reasons for hiring the best SEO team and getting the best results in your online marketing campaigns.