Digital marketing can quickly turn into a nightmare if you don't pick the right strategies to show a positive Return on Investment for your work. Many companies beginning their B2B marketing journey ask themselves: SEO vs SEM - which one should I choose?
The simple answer is: you don't.
Asking for an opinion on whether to choose between SEO and SEM is the proverbial apples versus oranges scenario. SEO and SEM have completely different functions, goals, and intents in digital marketing.
For example, you can drive traffic via SEM tonight and potentially spend a lot of money in 2 hours and see some results, whereas any SEO campaign will take 90 to 120 days to see results.
Want to learn more about Digital Authority Partners' approach to National SEO? Watch the video below!
Costs are different (SEM is always more expensive in the medium to long term), conversion rates are different, engagement rates are different.
That's why the debate between SEO and SEM is predicated on a false premise that somehow you have to choose between the two. You don't. And you shouldn't!
Any consultant working at a marketing company, who's been around the block a few times, will tell you to never prioritize one over the other.
Instead, you should consider the pros and cons of each strategy and then map this onto your company goals for the next month, three months, year and so forth.
So in this article, we'll look at both SEO and SEM. Their pros and cons, when to use one versus the other and what to do INSTEAD of choosing between the two.
We'll not only dig deeper into their differences but also touch on the advantages and drawbacks.
What is SEO?
Search engine optimization (SEO) is a comprehensive set of tactics digital marketers leverage to increase both the quality and quantity of traffic to a website through organic search. In other words, SEO refers to a collection of strategic techniques whose ultimate goal is to propel your website to page #1 of Google SERPs.
If executed creatively and correctly, SEO can do wonders for the entire business. It can help companies increase leads/sales, improve brand awareness, and help with reputation management.
Here's a good example of SEO. Type in 'healthcare marketing' in Google and chances are you will see our article on this topic at the top of search results. The Digital Authority Partners website received ~3,500 monthly visitors to our website as a result of being #1 search result for this keyword as of April 1st 2019.
There are multiple search engines in the United States to rank on. Of course, Google takes the lion share, 88.6%. But, don't forget other notable search engines: 6.01% Bing, 4.09% Yahoo, and .97% DuckDuckGo. But to simplify things, our suggestions and analysis in this article is primarily geared towards Google.
SEO engineers typically monitor Google results first and foremost - and with good reason:
Every second,

Google processes an average of

73k

searchers from global online users

At least

one in 6 people

worldwide is a daily "Googler"

Google serves more than

3.5 billion and 1.2 trillion

searches every given day and year respectively

Desktop Google searches have been overtaken by mobile searches in more than 10 countries, including Japan, China, and the US

The top 5 results in Google Search Engine Results Pages (SERPs) hive off close to

70 percent

of all click-throughs

Almost

18 percent

of local/mobile searches on Google convert into a same-day sale

Approximately 90 percent of all web traffic comes from search engines (

HubSpot

), which might as well be called Google searches
Takeaway: There are a lot of online users using Google on any given day to search for what you offer. Be that as it may, it is crucial to rank within the top 5 results on Google's first search results page.
When all's said and done, the primary goal of SEO is to drive the most qualified traffic to your site as possible.
Properly optimized websites get more traffic over time, and that translates into more leads, more visibility, and more revenue. Without proper SEO, online users will not be able to locate your website/business online, and all your efforts will go down the drain.
Not to mention, companies do a horrible job at SEO, oftentimes leveraging the wrong SEO strategies which frankly result in epic fails.
That said, it's critical to remember that SEO is a continually evolving practice, with changes from search engines and your competitors requiring changes to your strategy.
That's why you need to stay on top of essential SEO ranking factors. These are factors that'll help you dominate search and pull in web traffic from right, left, and center.
Top SEO ranking factors
Today, the most powerful SEO ranking factors include:
Accessible site - You can't rank unless Google crawlers and bots can find and access your website and its pages. Use a neat sitemap and robots.txt file to help the crawlers out.
Domain authority (DA), URL and age - Your DA says a lot about your site's search dominance. Ahrefs reports that over 60 percent of the domains that appear in the top 10 Google results have been around for more than 3 years.
Of course, you can boost your DA by securing backlinks from high-authority sites, blogs, etc. In any case, stay away from backlinks that originate from questionable websites. Getting backlinks from "garbage" domains is a surefire way to fail at SEO.
Mobile readiness - Google has taken a mobile-first approach when indexing websites. If yours isn't optimized for mobile browsing, then your SEO will flop too.
After all, more online users are now accessing websites on their mobile devices than desktop browsers. To ensure that your site is mobile-friendly for SEO purposes, use vertical page layouts, large fonts, and avoid too much use of plugins, scripts, etc.
Site/page load speeds - Fast-loading website pages can certainly improve online visitors' user experience. Web pages that are slow to load can be painful for the user. This has been cited as one of the top reasons for page abandonment.
Original, captivating content - Your web pages should be teeming with attention-grabbing, high-quality content that resonates well with your target users.
Google crawlers are not fond of duplicate content, so keep all content original and exciting to keep traffic rolling in. More importantly, your site content should be long enough (preferable 2000+ words long, like this article) and optimized for relevant keywords. That's core idea behind SEO.
Technical SEO - your website code should also be robust and ready for Google crawlers. Create Meta titles, descriptions, and sprinkle a few keywords in them. All images, videos, and non-text content should have alt tags. Don't forget HTML and schema markups - they are also key factors for technical SEO.
User experience - Google's latest RankBrain algorithm leverages AI to rank sites better. And one of the criteria for this AI-driven ranking is user experience. More specifically, Google considers UX metrics like Dwell time (time spent on the page), bounce rate, and click-through rate (CTR) to rank your site.
Shareability - Content that gets shared across social media is often viewed as credible and valuable by Google and other search engines. So, social shares and signals are definitely a factor for SEO ranking.
Oftentimes that means that you should not only have a solid presence in the social media space but also amplify your social signals by making it easy for your web content to be shared.
Accessible business info - This is especially true for local SEO ranking. Your site should feature easily accessible and digestible business information, including physical address, business name, and telephone number. Take it up a notch by listing your business on Facebook and Google My Business. Additionally, use relevant local search keywords to rank this information.
Link-building - As you might already know, the internet in and of itself exists because of links. While you need to build internal links, outbound links, and inbound links, pay more attention to the latter because Google uses it to help tell if your site is authoritative.
Here's a great intro to how search works and the role of backlinks in search results - straight from Google.  
https://www.youtube.com/watch?time_continue=4&v=BNHR6IQJGZs
Now that we know, high level, how SEO works, let's move on to SEM.
What is SEM?
SEM, simply put, is paying to be shown in search results. And what does it mean in the context of answering the question around choosing between SEO vs SEM?
Pay per click (sometimes known as CPC) is the process of paying for ads to show up in organic search results for certain keywords, search platforms, and demographics. This means you'll pay for each click that comes to your website regardless of the person's intent, or if they buy from you.
Let's look again at the earlier example where Digital Authority Partners ranks organically as the #1 search result for healthcare marketing.
As you can see, right above the organic search result for Digital Authority Partners, there's an ad from Scorpion, a marketing agency, paying to have the ad shown in Google search results. For whatever reason, Scorpion either didn't invest in SEO for this search term or decided it's better and quicker to just pay to be at the top of search results.
But here's the catch. If I click on that ad, which I didn't because it would be in poor taste, Scorpion would have been charged $19 for my click according to an AHREFS data extract from April 1st 2019.
And that's $19 dollars for one single keyword and one single click, someone using SEM would have to pay for to get that customer to a page set up by Scorpion or any other company.
In contrast, as you can see from this extract below, our own article is not only #1 for healthcare marketing, but also ranking organically for an additional 94 other keywords.
Bottom line: SEM is paid search, while SEO is organic search.
Now, let's get cracking on the upsides and downsides of both approaches to help you make an informed decision: SEO vs SEM.
Pros of SEO
1. SEO drives quality traffic and generates great leads
Organic Google traffic is the best quality traffic out there, and with good reason. That's because users visiting search engines are most likely looking for products, services, and solutions that you may be offering. SEO is hands down one of the most powerful inbound marketing strategies. It helps you bring quality traffic to your website, and therefore improve your lead generation.
Even in terms of quantity, search engines do a bang-up job as they pull in a large amount of traffic across the web.
Look at the screenshot shared before against to see estimates for organic clicks versus paid clicks. For the 'healthcare marketing' keyword, 11% of clicks only go to paid ads while 89% of clicks go to organic traffic.
Two things stand out from this screenshot.
1. Companies paying for traffic in the form of SEM get a significantly smaller piece of the pie than companies that work hard and have their content rank organically.
2. SEM is super expensive. Let's assume for a second that Scorpion outbid everyone else with their SEM efforts (that's not realistic, but let's assume it for illustration purposes). And that they only did it for this keyword not for this and the other 94 keywords our article is ranking for. 11% of 2,200 is 244. Multiplying that by 19 gives us a monthly cost of $4,598. That's 5 grand just for one keyword.  
The superiority of organic search results over SEM should not only be based on this anecdotal evidence.
In fact, according to Outbrain, the content aggregator platform, Google and other leading search engines drive 300 percent more traffic to websites than Facebook, Twitter, Instagram, and other social media sites combined.
If that's not convincing enough, SEJ says organic search (SEO) commands 51 percent of all web traffic, while only 10 percent, 5 percent, and 34 percent originate from paid search (PPC), social sites, and all other sources respectively.
SEO doesn't just drive quality traffic, it all increases conversions over time.
That's right; traffic from SEO initiatives is more likely to convert into leads/sales/actions than other traffic sources. In other words, for the hypothetical example above, Scorpion would pay $5,000 per month and get only a fraction of the leads that Digital Authority Partners received by being #1 search result.
By investing in SEO campaigns, you are positioning your website to receive lots of qualified organic traffic. As a result, you are also positioning your company and business to get more leads and conversions in the long haul.
What's even better is that organic traffic usually generates more than 40 percent of revenue for digital businesses.
Bottom line: if you offer viable solutions (products or services) and embrace an effective SEO strategy, you'll definitely drive significant website traffic in the long-term. This will result in more lead generation, more conversions, increased sales, and eventually spruce up your revenue.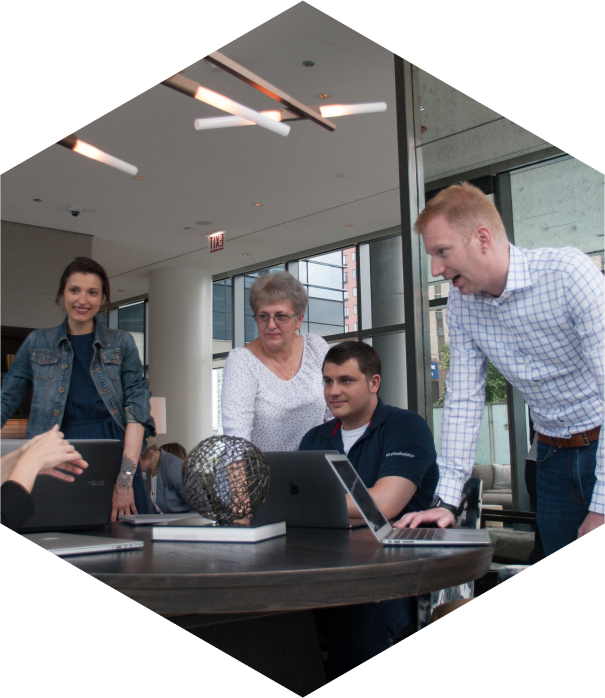 How Can We Help?

Fill out the short form below or call us at:



(888) 846-5382
2. SEO is incredibly cost effective - if you're willing to invest in it and wait for the results
Whether you are a small business, an e-commerce or a blue-chip company, SEO will help you deliver quantifiable and trackable results.
This means that you won't be in limbo when it comes to ROI for SEO.
This is especially important when hiring an SEO agency, because you will be able to track each and every aspect of their search engine optimization strategy and results, including traffic, site rankings, lead generation, conversions, and sales.
Top-down SEO analytics allow businesses to take an in-depth look at their campaigns, right from engagement data and demographic metrics to dwell time and much more in between.
And these ROI metrics could be applied up to the granular level.
More importantly to the subject at hand of choosing between SEO vs SEM is that despite receiving only 11 percent of digital marketing dollars, SEO delivers 6x higher ROI than SEM.
Ultimately, the icing on the cake is that you don't have to pay for SEO clicks. You pay for a competent team to help you rank organically in Google, but once you are on the first page of search results, you don't constantly pay every time a visitor comes to your website.
If you have created a website that Google deems traffic-worthy, you will continue to attract sizable traffic for as long as you are compliant with SEO best practices and search engine guidelines.
Of course, you will have to research and craft compelling content, which in and of itself is an investment. And then you need to have a calendar for updating your content.
For reference, we update the healthcare marketing article once every two months to include new trends, stats, and opinions that make this article relevant and superior to the other articles on page 1 of search results.
Either way, SEO is remarkably more cost effective than SEM or any other lead-generating strategies.
Take an inbound strategy like email or cold-calling, for instance; it'll cost you 61 percent more than SEO when it comes to generating high-conversion leads.
The beauty behind SEO is that your target users are already actively looking for what you offer online. And given that organic search traffic is already qualified, SEO will result in more cost-savings for your business.
3. SEO has a better long term ROI than SEM
SEO is the undisputed superstar of the digital marketing world when it comes to long-term outcomes. While you might spend more money getting your SEO strategy and campaigns off the ground, you will definitely recoup it and then some in the long run.
Remember, SEO is all about producing attention-grabbing, keyword-optimized content, as well as staying on top your site code.
Ongoing costs are pretty low compared to SEM campaigns that you have to fund day in day out, year-round.
A simple example.
Most of our customers spend $10,000 to $15,000 a month working with us on SEO campaigns. This includes new content production, optimizing current content, reaching out to outlets that accept guest posts, getting articles published, reporting on SEO analytics, and more.
We, Digital Authority Partners, spend around $16,000 in labor costs per month on our own SEO efforts. For the keyword 'healthcare marketing' and all its variations, DAP received 3,561 visits in March of 2019. If we had to pay for that traffic it would have cost us $67,659. Do you see the difference? And that's for only one keyword DAP ranks organically for 1,200 different keywords.
4. SEO helps you build trust and credibility
As a core part of SEO strategy, creating valuable, relevant and original content that's not salesy can help you build rapport with your target audience and establish yourself and your company as a thought leader.
Case in point, in this article, I'm showing you the differences between SEO and SEM. I'm also showing you tangible examples of how we do SEO for ourselves. I'm not saying work with Digital Authority Partners on SEO or else you won't succeed.
I'm just giving you the data you need to do your job. And I'm hoping that by reading this article, you see that Digital Authority Partners knows when and how to use SEO and, if you are looking for SEO services, you will remember us when you're on the market. 
Additionally, pushing your website to the top of Google's SERP through rigorous SEO will, in turn, make your business appear more credible and more trustworthy. In other words, good SEO will transform your website into the brand name in your niche and perhaps your industry. Your business will be perceived as the leader of the pack, the contender to beat.
On the flipside, if your site appears in Google's search results pages 2 and beyond, target customers will not think much of your business. Only 5% of users click on the second page of search results and beyond.
Additionally, because most people find ads a little annoying, SEO might be your only shot at improving your brand awareness and elevating your credibility online.
The trick, however, is to show leadership by supplying your readers will authoritative pieces of content that resonate well with them. Give solid advice, a solution to a problem or pain point, and offer answers they can't get elsewhere.
This is a great way to put your best foot forward and leverage SEO to not only build buzz for your brand but also make your company stand out of the crowd.
Don't forget that landing pages 1000-2000 words long or even longer can help propel your site to a new level of authority. After all, the average length of the content on the 1st-page of Google search results is 1890 words.
[bctt tweet="After all, the average length of the content on the 1st-page of Google search results is 1890 words." via="no"]
5. SEO helps sales because you're shutting out your competitors
SEO is a great sales tool. You can take advantage of content that you create (or have already created) for SEO purposes, including articles, blog posts, white papers, case studies, in-depth reports, and so on. More specifically, SEO content can be given as supporting evidence for the ROI of work or linking back or from the said content.
Additionally, let's be honest: your products or services are going up against a few (or a lot) of other equally good competitors. That's where SEO can come to your rescue. Remember that your competitors are likely investing in SEO as well.
If executed comprehensively and creatively, SEO can help you stay way ahead of the curve, and shut out your competitors. Just imagine your products pages taking over the whole of the first Google search results page, while your closest competitor is trailing in the 2nd, 3rd or even the 5th page. 
That's exactly what we promise and deliver as an SEO agency. If you let us know who you view as your most direct or biggest competitors, we will pull a comprehensive report and show you how you compare. The next thing would be to use this report to outdo your competitors and show them dust on the game of search. (Ok - I admit, this last paragraph was a bit salesy).
6. Top SEO ranking sells 24/7
Top SEO ranking doesn't sleep.
Unlike ads which will run only for the period you paid for, SEO top results will keep boosting your brand, driving traffic, bring more leads, and increasing sales 24/7, 365 days a year.
Call it the Holy Grail of digital marketing, SEO is like your sales rep only it doesn't take breaks, weekends, or holidays off.
And the best part is that you don't have to pay a dime for the clicks.
Cons of SEO
SEO is the holy grail of digital marketing. I think we can all agree on that. But it also has some drawbacks. And it's important to highlight these drawbacks if we are to really do justice to understanding the differences between SEO and SEM.
1. SEO takes minimum three to six months to show results
As they say, Rome was not built in a day, and the same goes for SEO vs SEM. How long does it take to rank top on Google search results page?
While it depends on what you do, offer, and previous SEO experience, it can take up to one year to be listed as the #1 search result in Google.
If you are gunning for a spot on the first page of search results, an excellent SEO agency will take an average of 90 days to help you reach this milestone.
This can be a big deal if you after instant results. However, SEO is all about the long haul. You will need to trust the process. After all, the benefits of top SEO ranking are perpetual and long-term.
[bctt tweet="An excellent SEO agency will take an average of 90 days to help you reach page one of search results" via="no"]
2. SEO is not a one and done
Good SEO is an ongoing process.  It's not a one and done strategy - you'll have to put in hard work and time.
As a rule of thumb, you have to continue to nurture your SEO efforts.
Oftentimes that means that you will have to craft more refreshed and trending content on-site and off-site optimizations, adjusting your SEO strategy over time, keeping up with technical SEO, and much more.
For example, Google rolled out one major SEO update in March of 2019. This impacted 56% of all rankings in Google. It is very common for Google to constantly introduce new changes - and your SEO strategy needs to change accordingly.
It's all about hard work, true. But one that will pay handsomely in the long run.
3. You can get burned by working with a bad agency
Getting burned is on the scorecard here. Many people swear off SEO after they have been burned by a bad agency.
Before ever choosing an agency make sure to have them show you how they've made clients rank #1 for their keywords. Be sure they can also explain how they do it. If they involve blackhat tactics in their process, you are better off taking your business elsewhere.
We've put together this article with questions you should ask of any SEO agency before doing business with them. Here's some highlights
How to choose the right SEO agency that will not get you burned?
Ensure you're a good fit. Some SEO agencies specialize in a few industries, say healthcare, fintech, e-commerce, etc. While the core SEO principles are the same across almost all industries, it's crucial to find an agency that has done plenty of legwork for brands in your niche or industry.
Take a closer look at their portfolio. If you don't like what you see, trust your business instincts and move on to the next one.
Analytics and ROI tracking are crucial. You don't have to take their word for it. Work with an SEO agency that offers trackable and quantifiable results.
4. SEO isn't cheap
While SEO is a cost-effective inbound marketing strategy, it isn't exactly cheap. SEO requires a significant monthly retainer in order to rank for your keywords. You have to have a budget of at least $10,000/month to be able to see results within the first 4-6 months.
5. A Google penalty can hit you hard
Shady SEO practices will definitely get your penalized and your site can get deranked.
Whatever the case, it's indeed possible to get penalized by Google for something Google thinks you've done wrong.
An impact of a programmatic or manual penalty can be devastating to a business.
6. There is no absolute ROI known before starting SEO
As far as SEO goes, you have to have some faith. You don't know the exact ROI or impact of your efforts until months or even years later. You have to trust the process and know the outcome will be great.
Now that we've looked at the pros and cons of SEO, let's do the same with SEM.
Pros of SEM
When choosing between SEO vs SEM, it's important to consider the advantages of an SEM approach, too.
1. Great for instant results
If you are looking to drive urgent traffic to a time-sensitive campaign, product launch, or limited-time products or services, you stand to benefit from highly targeted PPC ads. Of course, you will have shell out pretty penny to get this urgent traffic.
2. It can help supplement your SEO efforts
SEO is a longer term, more permanent marketing solution than SEM.
However, SEM can be used as a great supplement to your SEO efforts, especially when it comes to your very best keywords.
But the operative term is 'supplement.' SEM is not the type of activity you want to work on first or last. You shouldn't get into a position where you have to choose between SEO vs SEM.
Think about it. Say you divert all your budget to SEM for April. Then you start SEO in May. Then it takes 3 months, at best, before you see the results. What happened? You've just delayed SEO results by 4 months.
Every marketer should create a set budget where SEO and SEM are leveraged at the same time. The goal is to hit some intermediate milestone in the short term with SEM but have a chunk of your budget directed at SEO - because that's where most of the ROI comes from.
3. SEM helps with visibility for very competitive search terms
If users are searching for specific terms that are associated with your business name or offerings, SEM can come in handy. It can be used to ensure that anyone who searches for these terms will click on your link at the top of the results.
Additionally, there are specific terms that will take a very long time to rank organically for. Those are buy-oriented terms. And to be honest, some terms may actually be impossible to rank for organically.
Example: search for 'best marketing companies'.
It would be close to impossible for any agency to ever rank as number 1 search result for this search term. 'Best' requires choices. Aka - it's a term often reserved for listicles and third party magazines that compare and review the best companies in a specific field. Which is why, in my case, because I'm in Chicago, Google's organic search results show listicles from Upcity and BuiltInChicago. 
We as an agency would love to be on a listicle that's on top ten search results for this term - but we would never try to organically rank for this term. That said - we occasionally run SEM campaigns from time to time for this search term. And as you can see above, 4 other agencies did the same at the time of writing. 
4. SEM is great for retarget marketing
Both SEO and SEM can help drive some traffic to your website. But, what about retargeting those visitors that didn't take the desired action? That's where SEM brings its A-game.
It can be a great way to retarget these visitors who come to your write or read your content but don't convert on the first try.
With proper SEM, you can tag those users and show them ads on other sites to bring them back to your site.
We at Digital Authority Partners run PPC campaigns against all our articles. So even if you leave this website after reading this article, you may see Digital Authority Partners ads on other sites you visit.
Cons of SEM
We've already established that SEM is great for short term, immediate ranking of your site in slots reserved for ads in Google. But that's only part of the story. Any company that has run SEM campaigns knows that PPC is not a sustainable strategy in the long term for the following reasons:
1. Odds are already stacked against SEM
Let's be candid. Many people have subconsciously trained themselves to ignore "paid results" entirely when browsing the web or searching on Google.
It's been that way for a while now, and most people often tend to ignore sponsored ads.
In fact, a recent Google survey revealed that a whopping 85 percent of online users claim to ignore sponsored listings when searching via Google. So, as a SEM marketer, odds are already stacked against you.
2. You get what you pay for
In the world of SEM marketing, you really have to pay to get good results.
Get this: the average pay per click for Google AdWords is $0.58 on the display network while it's $2.32 on the search results pages.
That's an incredibly steep cost rise. Ideally, the more you pay, the better the results. The competition for keywords has never been more cut-throat.
3. SEM is very expensive & requires specialized resources
SEM is so darn expensive - there's no question about that. I'd like to reiterate that if we ran SEM campaigns against 'healthcare marketing' related search terms and received the same amount of visitors and we currently get organically, it would cost us around $65,000 a month. 
While well-designed and implemented SEM campaigns can deliver targeted traffic, it is quite expensive. And to add insult to injury, the targeted traffic ends when the campaign ends.
In addition, SEM is resource-heavy especially at the beginning of a campaign and unfortunately, SEM ads and resultant traffic will cease and disappear as soon as your campaign ends.
That's a pretty bleak approach for an upcoming brand or a small business trying to find its footing in the digital space.
SEO vs SEM summary - which is the right search strategy for you?
SEO vs SEM is a question that many marketers and businesses have to ponder over as they attempt to improve their search dominance.
Well, as they say in the online marketing space, SEO is much akin to working out and getting fit in the gym, while SEM is like an energy drink. Which one would you go for? Of course, SEO – because it delivers long-term results.
As clearly evident, SEO offers small and large companies plenty of benefits that cut across the digital business spectrum. These top benefits of SEO include:
Great leads - It helps you drive qualified organic traffic, bring in more leads and/or sales, and increase conversions over time.
Cost effective - The ROI for SEO is about 6X higher than SEM.
Long term ROI - just sprinkle your site with fresh, optimized content regularly to keep your top SEO ranking. It will keep pulling in quality traffic as long as you stay compliant with search engine SEO guidelines.
Helps you build credibility and trust - Top SEO ranking is a sign of authority. This can help your business, brand, and company seem more credible and trustworthy from the user's perspective. All you have to do is improve awareness and show leadership in your field through content.
SEO is a great selling tool that can also come in handy for your sales team
Higher reach & traffic potential: 70 percent or more of all clicks on search engines are for organic traffic.
SEO helps you stay ahead of or shut out your competitors.
It is also worth noting that SEO does come with its fair share of challenges, too. It can take up to a year to rank at the top of search results, bad SEO agencies can burn through your marketing budget and get you burned, and it is not exactly cheap.
SEM, on its side, has a few advantages that you might want to keep in mind when choosing between SEO vs SEM. These include:
Instant targeted traffic - it delivers your desired traffic for the period your SEM campaigns are active.

It can be a great way to complement your SEO efforts

SEM can help with your retargeting efforts - you can use ads to lure back visitors that didn't take the desired action on the first visit to your website.
Unfortunately, SEM suffers from a long list of downsides:
People tend to ignore paid search ads

You have to pay handsomely to get good results

Targeted traffic ends when the campaign stops

It's incredibly expensive especially for startup and small businesses operating on shoestring budgets

People are warier of biting into ads because of spam and other less than savory advertising tactics.

SEM needs a significant investment of resources
The list goes on and on.
The bottom line: when picking between SEO vs SEM, what will work great for your business often boils down to three factors: your timeline, your budget, and your long-term goals.