Advertising can be an expensive undertaking. Mistakes can result in wasted time and resources. Investing in a critical project like pay-per-click (PPC) marketing requires careful planning, regardless of how large (or small) your company is.
Fortunately, fitness companies are in one of the best positions to profit from PPC marketing. Keeping healthy and active is among young people's growing concerns. PPC for fitness companies can help you stay ahead of the competition through the power of ads.
In this guide, we'll give you the following:
Three tips to maximize PPC ROIs
A list of five ways PPC can benefit your company
There's a lot to cover, so get ready to take notes.
Let's go!
3 PPC Tips for Fitness Companies
PPC can be easy or difficult, depending on how well you prepare beforehand. An effective PPC campaign should cover all bases. Your research must be thorough, and your strategy must play to your strengths.
This section will break down three must-dos for your PPC campaign.
     1. Market from Every Angle
There are many ways and means to set up an ad campaign, such as:
Email marketing: Get in touch with customers. Send updates, offers, and reminders to people who left your website without purchasing and those who lost interest halfway. Emails are an effective vehicle for closing or upselling deals.
Content marketing: Leverage your best content to encourage click-throughs. Make eye-catching ad copies such as "30 Days to a Healthier You" to promote your fitness ebook, sports nutrition recipe book, or free beginner workout routine.
SEO marketing: Use target and negative keywords to manage how a search can trigger your ads. For example, target keywords for a gym might include "gym near me" and 'chest workout.' Negative keywords would include 'fitness first' and '24 hour gym.'
Social media marketing: Post your products and services on social media. Talk about how valuable and beneficial your supplements, equipment, or diet plans are. Entice prospects to follow your ads to learn more or try the products themselves.
Video marketing: Upload short clips that captivate audiences and leave them wanting more. Show potential clients what they can expect from your business and why it can positively impact their health.
While each method offers unique advantages, the best marketing method is to do all of them. This is called omnichannel marketing, wherein you craft distinct ads for email, content, social media, etc. The goal is that you appear at every step of your target market's search journey.
     2. Use Location Targeting
Although omnichannel marketing allows you to tap into a diverse pool of potential customers, it doesn't mean you should be reckless. Omnichannel marketing should be inclusive, but that should be toward your intended audience. You want your PPC for your fitness company to be cost-efficient.
This is where location targeting comes in.
So, how does location targeting work? Essentially, you set your ad campaigns to appear within a specified area. This could be worldwide, a country, a state, a region, a city, etc. PPC is easier and more effective the smaller your target location.
Why?
Unless you're a large global corporation, your highest returns will come from the local market. There is no reason to show your protein shake ads in Japan if you can't deliver there in the first place. Aim for your immediate service area.
Running a large-scale ad campaign will cost exponentially more than a local one – which, again, won't pay off as well if you can't serve the entire area. Be ambitious, but work within your budget and area.
Creating personalized ads that appeal to a broad region on a limited budget may be difficult. Consumer needs vary from place to place. Everyone wants to be fit, but how do you match your pitch to the locals' lifestyles and circumstances?
     3. Test and Analyze Your Ads
Every ad you publish could guarantee outstanding results. The perfect ad campaign comes from small successes and many failed attempts.
It's unavoidable that there will be mistakes and bad takes along the way. Use this to your advantage through split testing or a/b testing.
Here's a quick summary of how to do a/b testing:
Determine what aspect(s) of your campaign you want to test, one at a time.
Create ads A and B. Do this for each keyword or channel you want to use.
Set a sample size for your tests. How do you define your sample size?
Test your ads. You can run both to save time or alternate to save money.
Analyze your results, then repeat until you find what works best.
Aside from refining your ad copy, strategies, and overall campaign plan, the results of a/b testing have other benefits. It can inform you of similar gaps or errors in your SEO strategy and shape the type of content you produce for your website (more below).
How PPC Benefits Fitness Companies
If you effectively apply these suggestions, you could reap many benefits. Apart from the ones mentioned above, there are many other reasons to use PPC.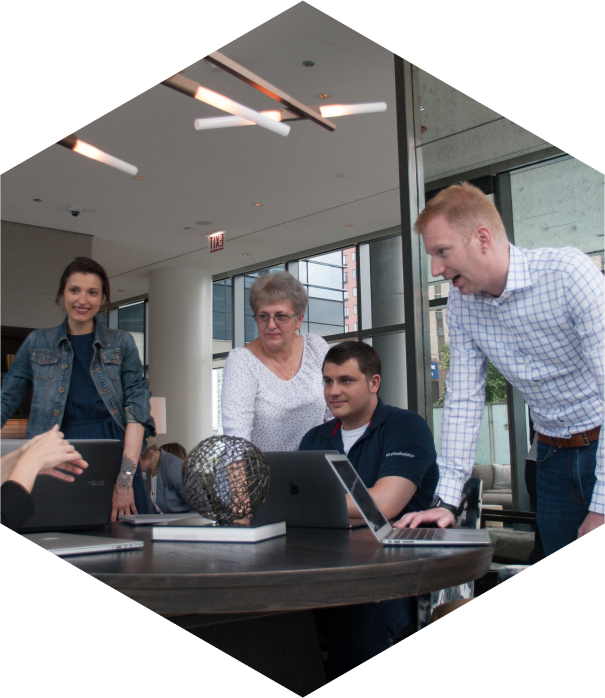 How Can We Help?

Fill out the short form below or call us at:



(888) 846-5382
Here's a short list of five benefits to consider:
PPC marketing strategies boost your visibility: Though paid advertising doesn't land you the top spot, you still place higher than most in search results. This is especially profitable when you release new products or add new services to your fitness business.
Testing helps improve your SEO and content strategy: As mentioned above, PPC gives you a wealth of new customers and information that can direct the future. For example, are products and services in line with recent fitness trends?
You boost profits with reliable conversion methods: PPC ads connect businesses with potential customers. However, a well-designed campaign converts leads into active gym members, clients, and buyers.
There are support tools for running PPC campaigns: Advertising is expensive and demanding work. So, it's convenient that the digital space contains many free and paid tools that make the job cheaper and smoother.
PPC agencies can craft and manage ad campaigns: If you don't feel confident about using paid marketing, don't worry. Many SEO agencies specialize in PPC for fitness companies.
Summing Up
Whether you want to show up higher in search results or highlight your company on social media, PPC has what you need. The best part is that there are many ways to learn and apply this marketing method. From emails to ebooks, endless combinations are available.
Follow the tips here to start seeing results today. Need help? Contact Digital Authority Partners to get set up with the best fitness PPC.