We interact with Artificial Intelligence every day. And most of us don't even realize it.
Look at the GPS app on your phone. If you have a weekly massage appointment on Tuesday at 6pm and regularly enter the spa address into your GPS at the same time, before long the app will start suggesting that address to you whenever you open the app close to 6pm on Tuesday. The app has learned something about your routine. That's a genuine breakthrough in AI.
Over time, AI may predict global weather patterns, movements in the economy, track risk factors for diseases, save lives, and reveal to us the answers to some of the greatest mysteries of the cosmos. 
For the time being, though, when we ask Siri, when Spotify guesses our music taste and builds a playlist, when Amazon recommends products you might like or Netflix recommends movies you might like, AI is doing its thing. 
And now that we're all sufficiently entertained and our interior lights respond to voice commands, one of the next horizons for AI developers is to streamline the student experience at colleges and universities. 
70% of all college students interact with a voice command at least once a day. Students are voting with their behavior. How can universities leverage that behavior to make their programs more attractive and more student-friendly?
Let's start with a quick definition. 
Artificial Intelligence is technology that replicates what a human brain does. People read data, infer from it, synthesize, predict, and respond. AI is being developed to do exactly that and at the same time remove uncertainty and indecision from the response.
A tech support specialist asks what the problem is; we answer; he recommends troubleshooting steps. We see a car slow down in front of us on the highway; our mind calculates the risk of a collision; we apply the brakes. A doctor sees an elevated temperature reading; she intuits risk factors for the flu based on the patient's medical history; she recommends a course of treatment. We perform this kind of "if this/then that" reasoning every day. 
If a computer can be taught to step into the breach and make any one of those decisions, that's a type of AI. Any time we can use AI instead of a human brain, that task can be multiplied at scale, because while you can't easily make more humans, software is easy to replicate and can usually work at far greater speeds than humans, with far less expenditure of energy. 
Again, this is a broad category, which encompasses a variety of functions, including:
Automation. Machines that perform repetitive or systematic tasks—anything from driving a car to answering emails and auto-chat.
Data Interpretation. Leveraging computer processing power to interpret large quantities of data. For example, a computer that can make a few of the inferences a doctor can make could in minutes discover patterns in disease epidemiology in a data set of millions—a task that could take a human doctor years.
Machine Learning. Software that is able to make more and more complicated inferences the more data it absorbs, like a Smart Home system that gradually learns your routine, from your alarm schedule to your preferred home temperature.
If AI can do all of this, how can these capabilities come together to enhance higher education? Let's dive deep into some of the ways universities can improve the experience of their students by integrating AI. 
Note: There are more AI assistant platforms on the market than Amazon Alexa, but we will use Alexa as a stand-in and go-to example because it is the most popular voice platform and one of the most adaptable, with developers at work right now tailoring Alexa skills to streamline higher education.
---
Watch this video to learn how Digital Authority Partners designs software that works for your business!
---
AI Can Help Students Learn More Efficiently
In a way, college courses are antithetical to the internet. They ask students to dig deep into a subject, rather than skim over it with a Google search before switching on Netflix and checking Instagram
And as education goes more and more digital, college coursework is getting more complicated, not less. In an exacting academic environment for what may be the first time, novice students may easily become overwhelmed.
Whereas technology compounded the problem, technology may be part of the solution in the form of AI. Ed Tech AI developers have Amazon's Alexa AI platform in their sights as a centralized repository for streamlining complicated course loads
University courses demand the kind of deep concentration that attention-sucking apps tend to undermine. It's strange to think that a sequence of apps might act as a facilitator of attention and concentration, because apps generally represent a distraction. They act as a process interruption, which undermines the very idea of deep focus and concentration. 
AI one-ups the app-manipulation process by adding a seamless voice interface. That's because while smartphone surfing isn't instinctive, having a conversation is. And that's a path to using AI for learning.
PROGRAMMING NOTE: Functions can be added to Alexa by downloading and installing "skills." The terminology implies that Alexa is "learning" skills, befitting its status as a popular AI platform. However, these aren't "skills" in the sense of machine learning. Adding a "skill" to Alexa is more akin to downloading an app on an iPhone—albeit an iPhone that you can have a conversation with like the Star Trek onboard computer.
     1. On-Demand Lectures For Studying
Alexa For Business already has a function that allows teachers and trainers to record their voice and disseminate the recording for selective skills training. If universities supply professors with Alexa For Business, they could record entire lectures and target them to students for on-demand recap. Students who need to recall lectures in the runup to midterms and finals will find this offering a boon, especially auditory learners whose retention is inhibited by note-taking. 
Of course, digital recording is not a new technology. Every smartphone comes with a "voice notes" app. But it takes extra steps to process those voice notes, upload them to the cloud, and make them accessible to students. Moreover, a DIY approach precludes a centralized repository for lectures that all students have access to, or one that is responsive to voice commands while students are in the process of tasks like tidying up their dorm room (we can dream).
For professors without access to Alexa For Business, the Alexa skill Voicelets offers similar functionality to customize audio content for student consumption.
     2. AI Teachers
More ominous for the teaching profession, but perhaps to the benefit of students, is the prospect of AI teachers and tutors. Computerized tutors date back to the 60s, but automation apps are already taking over repetitive classroom tasks. Could more complex professorial tasks follow
If students already recap a lecture from Alexa, why not have a robot at the lectern conducting the lecture in person as well? Of course, if the lecture evolves year by year based on the professor's research, the robot does no good. And at that point, why is the student coming to the lecture hall at all
Today's AI can currently take on only mundane academic tasks, but ed tech visionaries have their sights set on replacing up to two-thirds of the adjunct faculty on university payrolls. 
That might sound like armageddon for the faculty members who earn their livings from that payroll … but it might be tuition heaven for students who find higher education increasingly unaffordable. Economist William Baumel diagnosed colleges with "cost disease"—a malignant inability to cut costs because of the irreplaceability of its highest-paid employees. The availability of loans and the perception of a degree as "mandatory" puts further inflationary pressure on the cost of college. Could AI cure the cost disease by allowing higher education to automate like other industries do
And if it does, is there any justification to the cost of college anymore? If a robot is repeating a lecture to students, is there any reason for students to incur the cost of residential college?  With more than half of college students living with Mom and Dad rather than on campus, most college students clearly know enough math to solve that equation without an AI helper. 
     3. AI Course Management
Audio recall of lectures is one thing. Between the lecture schedule, study groups, reading, course assignments, and exams, many students face a logistical nightmare even keeping their coursework straight.
You can hardly blame professors. Academics with decades invested in their careers find themselves having to become ad hoc multimedia experts, designing coursework in ways that go above and beyond anything that was required of them previously. If administrative or support staff handle the multimedia aspect of their courses for them, they might have as little handle on their own courses as the students do.
The truth is, university coursework has always been expected to be a cut above the high school workload, and rightly so. AI could make it far more manageable, allowing professors breathing room to develop more challenging coursework.
An AI hub could create an easy centralized bank of information to help students stay on top of deadlines and course progress. More than 200 universities already partner with Coursera, an Alexa skill that allows students to ask Alexa questions like "Alexa, when is my CS problem set due?" or "Alexa, what tonight's Orgo reading assignment?"
     4. "Alexa What Classes Should I Take?"
Anyone who spent hours poring through a written course catalogue for the perfect course would appreciate being able to say "Alexa, what French literature classes are available this semester after noon?" If Alexa can identify your online course catalogue, it could retrieve this information simply with native web browsing.
With successful integration, Alexa apps could go even further. Once students have selected their courses, they could conceivably execute commands like "Alexa, register me for this course," "Alexa, cancel this course," or "Alexa, add this course schedule and syllabus to my calendar." The course syllabus could also be synced with the student's own Alexa account so that it can become accessible for voice recall commands like "Alexa, when is my next midterm?"
     5. Enhancements To Foreign Language Study
Innovative Languages has already launched Daily Dose, an Alexa skill that offers training in 34 languages that allow you to drill your language skills and compare your pronunciation to Alexa's—something the student might not be as thrilled to try in the more public forum of a classroom. 
FSI estimates that by practicing an hour a day for just under two years, a student could achieve functional fluency in a language. It's part and parcel of AI assistants to have conversations. With a multilingual AI assistant, students could avail themselves of a "virtual practice partner" for the target language. Immersion is one of the best techniques to help students learn languages.
Absent other practice partners, students could set Alexa to answer commands in the target language, and respond to Alexa in the target language. Alexa's responses will have the advantage of being unpredictable, creating a real opportunity for the student to practice comprehension. 
     6. AI Can Streamline and Simplify Administrative Tasks
As if keeping track of the intricacies of one course isn't challenge enough, the administrative burden on students does not stop there. Full-time students must often juggle this administrative task times four or more. Having four courses is like having four jobs, with four sets of responsibilities to balance against each other.
Nor is coursework the end of the story either. Many students must juggle meetings with advisors, financial aid deadlines, refilling of meal cards, and many other tasks. As college becomes more automated and online, mom and dad may not have the time or expertise to handle these tasks and often are not even involved.
Former students who pooh-pooh that this balancing act "builds character" or teaches "valuable life skills" need to be mindful of the fact that 58% of students who pursue a four-year degree take six years to complete it. Unless those who like to pooh-pooh are willing to foot the bill for those extra two years, isn't it worth asking if there's a better way? Handwritten letters have their sentimental champions, but for basic communication, aren't we pretty sold on email and text? If technology can help, why not let it?
     7. Course Load Management
While Coursera aims to make individual courses manageable, several Alexa developers have a full course load in their sights.
The Blackboard skill for Alexa allows universities to link their course catalogue to a centralized database, and gives students the power to ask Alexa questions like:
"Alexa, what is my homework due tomorrow for all courses?"
"Alexa, do I have any assignments due on Tuesday?"
"Alexa, what is my Econ homework for next week?"
"Alexa, what is my grade in Calc?"
"Alexa, when is my next Chem exam?"
Blackboard has competition from the Canvas skill, which not only allows students to ask Alexa for their coursework to-do list along multiple vectors, but also to ask Alexa for university announcements and policies, including health and safety announcements.
This only works if universities unify around a centralized AI platform on which to store their course information. Another option, as you will see, is to commission a standalone, proprietary AI skill that unifies all aspects of campus life, from coursework to social activities to special announcements from the university. 
     8. Student Self-Administration
Given the AI skills in the works and ready for market, it's easy to imagine a university developing an AI assistant architecture for every aspect of student life. Students could speak into their phones or a dorm-room-based Alexa hub and accomplish any number of tasks that have been enabled for one-touch execution. 
Examples include:
"Alexa, when is my next financial aid deadline?"
"Alexa, when is my next appointment with my academic advisor?"
"Alexa, please send my advisor an email requesting an appointment."
"Alexa, check my advisor's public schedule. When is the next available appointment?"
"Alexa, how many points do I have on my meal card?"
"Alexa, please refill my meal card."
This is most effective if Alexa can be linked to account holders' information like student account IDs, payment methods, mailing addresses, and other personal information. This raises natural concerns about data security, but what area of evolving, interconnected, cloud-based tech does not raise such concerns?
AI Can Answer Student Questions Quickly
Many universities are like small cities. In addition to adapting to a new kind of lifestyle and workload, freshmen in particular face the "fish-out-of-water" challenge where they don't know where anything is, stalling in place in the middle of quads to try and make sense of 3-D maps printed on paper brochures or written in tiny fonts on smartphones.
Even in subsequent semesters, a new course load comes with a new learning curve. Students may feel like they have to relearn the campus multiple times throughout their academic career. As they settle into a major and the home stretch, they may finally achieve some comfort with the surroundings--just in time to leave.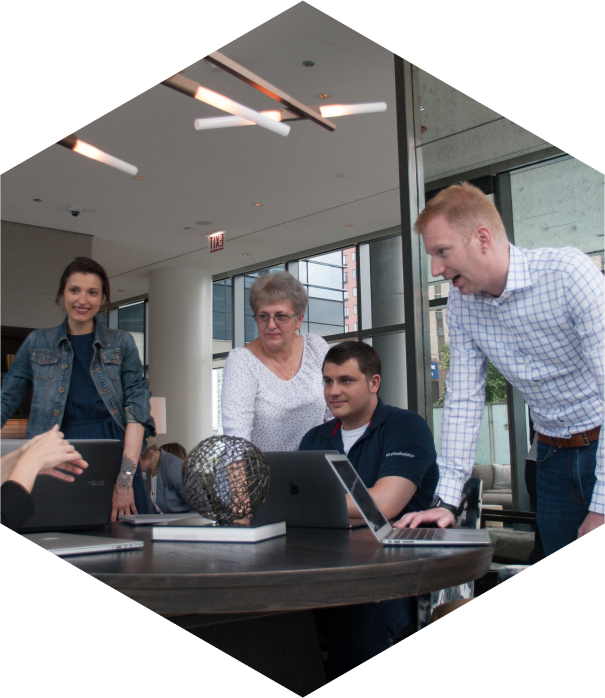 How Can We Help?

Fill out the short form below or call us at:



(888) 846-5382
Why not deploy AI assistants to help ease the transition? Even if we can all agree that college class should be challenging, should finding the class really be a barrier to entry.
There's a reason tech companies are leaning so hard on voice-activated assistants. Even if adoption is slow and the learning curve is steep, verbal conversation is a deeply-ingrained instinct in most humans. Few people are able to multitask while writing or tapping on a phone app—just look at a crowd of students at a restaurant table ignoring each other while tapping on their phone screens. However, a voice command is much less disruptive. People can carry on a conversation, chores, or other tasks with minimal interruption when they can fire off voice commands to an AI assistant. 
     1. Smart Campuses
Major universities enjoy a privileged position—they have the resources and the brainpower to deploy a customized AI solution that brings their campus to heel by voice activation. A customized Alexa skill for a specific campus could allow students access to voice functions like:
"Alexa, where is Lecture Hall 120?"
"Alexa, what study rooms are available to book in the next hour?"
"Alexa, what building does Professor Jackson hold office hours in?"
"Alexa, when is the next shuttle to the library?"
"Alexa, where is the nearest dining hall?"
"Alexa, what room is today's Anthropology discussion section in today?"
"Alexa, where is today's special guest speech taking place?"
Developers are working on standardized Alexa skills that universities can plug-and-play into their systems for end-to-end smart campus solutions, but other schools, like the University of Oklahoma, have mobilized their own IT departments to develop proprietary, customized Alexa skills to automate their campuses. The OU skill suite was developed in collaboration with students, kicking off with a "hackathon," and includes OU-focused extras like:
VITA—a directory to free food on campus.
EatQuick—a directory of reviews and delivery times for nearby restaurants.
SoonerGuide—a tool to help students navigate the campus. 
     2. Smart Dorm Rooms
It was a big deal when every college dorm began to come pre-loaded with ethernet cables and then to feature included wifi. Young people often take advantage of new technologies more quickly, while their parents struggle to learn new tricks like screwing a modem into the cable outlet.
A logical next step to tech out dorm rooms would be to incorporate a built-in verbally-activated AI assistant pre-loaded with common questions and the ability to answer them conversationally.
One university has already done so. St. Louis University led the pack by announcing the implementation of AI personal assistants in every student residence. This will involve the deployment of more than 2,300 Amazon Echo Dots, scheduled to be installed in student housing by late August of 2020. A trial run with 20 Echo Dots has already received positive feedback from a test group of students.
To customize the Echo Dots to students, N-Powered is designing a customized Alexa For Business "Ask SLU" skill that will offer quick answers to more than 100 SLU-specific questions with information like library and administrative hours, directions about campus, event announcements, Billiken athletics, service opportunities, and pretty much anything a new or returning SLU student could think to ask about the upcoming day, week, or semester.
SLU doesn't see this as an attempt to coddle or curry favor with students as much as an attempt to make learning easier. "Every minute we can save our students from having to search for the information they need online is another minute that they can spend focused on their education," SLU vice president and CIO David Hakanson said.
     3. Smart Bus Routes
With their disposable income diverted to educational expenses, many university students rely on public transportation to get around. While universities often help with dedicated shuttles or city bus passes, one of the hardest aspects of public transportation is learning to use it effectively—learning the schedules, the route numbers, how to pay fares, the quickest way to get where you want to go, and how early you need to catch a bus or train to make it on time. Eventually, it becomes second nature; early on, it's like pulling teeth.
The University of Oklahoma takes this into account in the development of its own proprietary Alexa AI skill suite. The subskill "yOU Travel" consolidates all transportation modes within range of OU and allows students to ask Alexa for bus routes, transit times, fares, and other pertinent information to get them where they want to go. 
AI Can Help Keep the Student Population Informed
Compared to special academic or social events, keeping track of every course in the catalogue may actually start to seem like a piece of cake. Once students are locked into their course schedule, they have a handful of places they know they need to be, consistently, every week.
By contrast, the average college campus has hundreds, even thousands of special events going on in their average week, many of them one-offs that you could miss if you blink at the wrong moment. A woefully incomplete list would include guest speakers, student plays and concerts, sporting events, a cappella performances, community outreach opportunities, frat parties or rush events--the list seems endless. One reason that residential college is so exciting is the surplus of stimulating activities that land right at the doorstep of an eager student body, if they can figure out where they're supposed to be and when. 
     1. Social Events And Academic Events On Campus
Ask SLU leads the way again. The skill-enabled Alexa Echo Dots in each dorm room include a centralized repository of student-organized and special events--if they are uploaded properly. 
The goal is to make Ask SLU the one-stop shop for information of what is going on at SLU any given week, day, or hour. Of course, one hurdle to implementation is getting students to use the system properly. Many young people are accustomed to using social apps like Facebook, Instagram, Snapchat, TikTok, and Whatsapp to get the word out about their events. It's easy to see why—their peers already check these apps regularly. 
Students may have to be convinced of the appeal of a universal SLU activity database, responsive to Alexa voice commands. But early tests of Ask SLU have yielded positive results. Such a change in behavior is far from impossible.
     2. Announcements And Updates
University announcements are not all fun and games. Students need to be kept abreast of announcements from the university administration itself, including policies and responses the university might implement in response to safety issues, health crises, event announcements or cancellations, and other important policies.
Students aren't the only one who have the right, or at least an interest, in the goings on announced by the university. Parents, many of whom fund their children's education, feel a pressing need to stay current on university announcements. Even with their children of adult age, it's hard to cut that cord.
Enter ParentSquare, an Alexa skill additionally targeted at the primary and secondary school market to keep parents informed of announcements from participating schools attended by their juvenile children. Adapting this skill to aggregate public announcements from a university instead of a primary or secondary school is just a matter of semantics.
Conclusion
In a sense, universities and Artificial Intelligence seem made for each other. From ergonomic chairs to cutting-edge connectivity, universities want to lead the way into the future. Training the great minds of tomorrow, it's practically their mandate.
Of course, technological advancements also cast dark portents for traditional college campuses, and not just the threat of being overrun by terminators alongside the rest of us. 
Online ed poses a clear and present danger to the university experience, especially in countries like the US where university tuition is expensive, propped up by the availability of student loans that are just starting to show their colors as a bad deal, not subject to discharge in bankruptcy and a millstone around the necks of tens of thousands of students who might take a different, more altruistic or fulfilling career path if they didn't have the debt to service.
Colleges can't even count on dorm parties to attract students. Gen Z is more financially savvy than many of their predecessor generations. They are wary of taking on debt and circumspect about the inflationary forces devaluing a college degree. If everyone has one, how much is it worth? Tens of thousands of dollars worth of debt?
Many forces need to come together to keep universities from losing ground to online ed. Universities as a hotspot of in-person connection and mentorship from brilliant minds--that is never going out of style. No amount of online ed or YouTube podcasts can replace access to brilliant teachers, renowned researchers, and the chance to have your name as co-author on a published paper. 
The core value proposition of universities is evolving to include not just the education or the laurels of a degree, but the access to non-stop stimulation and enrichment. For four or more years as a college student, the world comes to you, vying for your attention in a more personalized way than any Snapchat story can ever replicate.
In short, universities have to step up their game in the digital age. They can't rely on ivy covered  walls to put the zap in the heads of tuition-paying students. They need a "shock-and-awe" approach to stay relevant.
More than anything, as they offer more, they need to up students' capacity to absorb all they offer. If engaging with campus offerings is like a drink from the firehose, many students emerging from the cocoon of childhood and secondary education will get knocked over instead of hydrated.
This is where AI innovations like customized Alexa skills stand to enhance the university experience the most—by taking an overwhelming menu of options and making them manageable. Rather than juggling calendars, directions, fliers, multiple apps, and dozens of web browsers or paper folders, soaking up the college experience could one day soon be as simple as asking "Alexa, what's next?" to a friendly robot assistant. She may not have learned the secret to world domination or human subjugation yet, but she probably knows which bus will get you to the Chem lab on time. 
YOU MIGHT ALSO LIKE:
Alexa in Healthcare: 17 Real Use Cases You Should Know About
Alexa for Business: What Every Executive Should Know in 2023
27 Companies Changing Health Outcomes Through AI
Best Artificial Intelligence Books to Read in 2023
PODCAST: Amazon Alexa for Business and Healthcare With DAP CEO Codrin Arsene