Let's work together
Our team of Chicago App Developers is one click away
Mobile App Development Agency in Chicago
We are an award winning professional services agency which helps Chicago businesses create engaging Next Generation mobile applications. We deliver custom mobile experiences that propel businesses forward.
As Chicago continues to ascend as a world class digital hub, Digital Authority Partners has helped propel that leap forward, working with leaders in major Chicago industries like healthcare, government, finance and others to create the digital solutions that they need to meet the demands of today's marketplace.
As a Chicago mobile app development agency, we understand what Chicago companies need to not only succeed locally, but to compete on the national and international stages. We take pride in being a part of Chicago's thriving tech community, and in meeting the mobile app development needs of companies from emerging startups to Fortune 500 companies.
Tell us about your new mobile app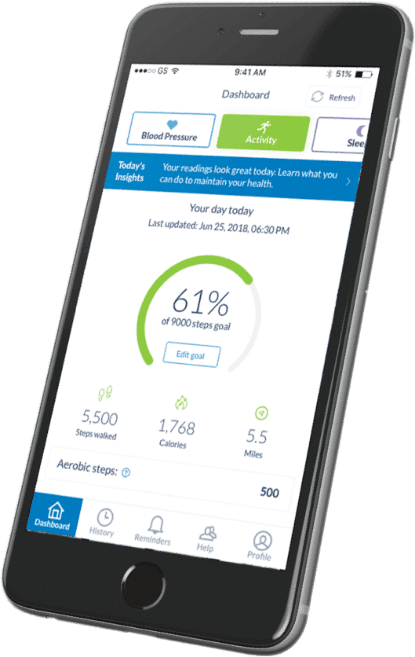 Abhirup Bhattacharya
I've worked with Digital Authority Partners on multiple complex healthcare mobile app projects over the last five years. They always deliver on what they set up to do. And they constantly attempt to push the boundaries of digital innovation, omnichannel support and customer-first mobile user experiences.
Our Mobile App Development Capabilities
Discover why DAP is the right Chicago mobile app development partner to create a transformative digital experience for your business.
Award-Winning Design
Our team of developers and designers has been repeatedly recognized for delivering innovative, intuitive mobile experiences that deliver for users and for your business goals.

Not only do our designs catch the attention of your ideal users, but a number of prestigious organizations have also taken notice. Our work has earned distinctions such as a Consumer Electronics Show award and a Top 100 Innovations of 2019 from Time Magazine.

DAP's design capabilities are known to make the difference for a number of companies in Chicago and beyond looking to build a mobile app experience that truly stands out.
Expansive Operating System Expertise
Whether your business is looking for help with iOS, Android, or a seamless cross-platform experience, our Chicago mobile app development team has the trusted experience you need.

There's nothing we haven't seen and, more importantly, nothing we haven't built, and built well. Our institutional know-how means a streamlined development process that will have your app creating meaningful value for your business faster.

From high-performing mobile apps to user-friendly wearable products, our development team has driven results for mobile app development clients in Chicago and around the world across a range of industries. Let us push your business forward.
Security & 
Performance
If your mobile app doesn't offer the most robust security while operating at the fastest possible speed, it isn't up to the standards users demand in the modern marketplace.

Whether you have an existing mobile app that needs to perform better, or you want to be confident that your new product is built to the highest possible security and performance standards, DAP will get the job done.

Don't let excessive loading times or a costly security breach damage your relationship with current and potential users. DAP has years of experience in Chicago developing mobile apps that are both secure and lightning fast, creating the kind of safe, hassle-free experience that keeps users coming back.
App store optimization
Building a fantastic mobile app is one thing. Making sure that your mobile app is optimized to consistently reach relevant, targeted audiences that generate value is equally important.

We make sure all of our clients' mobile products are optimized from an SEO standpoint to give you a leg up on reaching the right users.

Whether your target audience is specific to Chicago or other markets, or you're looking for the widest possible global reach, our fluency with mobile SEO best practices will ensure the right people find your mobile app organically, early and often. We make sure to lay the groundwork that sets your app up for the sustained growth that will continue to yield results in the months and years to come.
We Have a History of Delivering Results in Chicago
We have a track record in Chicago of results-oriented mobile app development that furthers our clients' mission. From healthcare to financial services to consumer goods, our award-winning work has provided businesses across a wide spectrum of industries with convenient, reliable, mobile solutions that deliver for their audience and for their bottom line.
Learn more about the ways our services have helped our Chicago mobile app development clients. Visit our case studies page for more examples of the transformative work DAP has performed for clients in a variety of industries.






Omron
An omnichannel experience for a pioneering medical device
Healthcare
After creating the world's first wearable, FDA-approved blood pressure monitor Omron wanted to further integrate the product into their users' daily life with a mobile app. DAP delivered a smartwatch-friendly app that was awarded "Best of CES" at the 2019 Consumer Electronics Show and "Time Invention of the Year" in 2020.
Huffy
A social app made for medicine's brightest minds
Social Networking
DAP provided a digital upgrade for the iconic cycling brand with an interactive, family-friendly mobile app featuring an immersive, gamified user experience that connected the brand to younger audiences and received a 5 star rating in the Apple store.
Athena Health
A social app made for medicine's brightest minds
Healthcare
DAP created a social app to give physicians the tools to seamlessly acquire and share medical knowledge, accessing and commenting on case studies and furthering the knowledge of the medical community, taking the project from concept to completion in three months.
CreditShop
Simplifying personal finance with a user-friendly credit card app
Financial services
One of America's leading credit management companies, CreditShop needed a state-of-the-art app that would allow users to easily manage accounts on the go. DAP created a sophisticated user interface that helped CreditsShop stand out in a crowded fintech marketplace.
Check Into Cash
A consumer-friendly lending app
Financial Services
A national leader in consumer lending needed a new mobile experience to reverse declining consumer engagement. DAP delivered a modern mobile experience that allowed users to apply for a loan in just five minutes.
My Top
An expert-driven social app for wine enthusiasts
Consumer goods
One of the wine industry's leading Master Sommeliers was looking to build an engaging social app to create a community of wine lovers interested in following and interacting with the brightest minds in the wine industry. DAP delivered a sleek, user-friendly experienced tailored to the tastes of a discerning audience.
Schedule your free consultation
Have questions about a Chicago mobile app development project? Schedule a consultation with a DAP expert today and find out what we can do for your business.
"We love nothing more than helping clients take a massive digital step forward with one of our development projects."

Michael Reddy
The DAP Difference
Find out why so many businesses have placed their trust in DAP for their Chicago mobile app development project.
We're Experienced
Our diverse team of Chicago mobile product developers and project managers have decades of experience delivering game-changing mobile experiences across a variety of industries.

Simply put, there's no platform we aren't fluent with. There's no device we haven't worked with with our Chicago-based clients. We've seen it all, and we are ready to leverage that knowledge and experience to propel your business forward.
We're On-Time & On-Budget
At DAP we're driven to not only meet deadlines, but beat them. We go the extra mile and put in the extra time to make sure your mobile app goes to market and begins helping your business grow sooner than you expected.

We also stay steadfastly focused on the project's budget, making sure to deliver high level results while staying within the projects' financial guidelines.
We're Award-Winning
We're proud of our Chicago mobile app development work, and the results it has produced for our clients. But others have taken notice as well, as our work has received multiple significant awards.

From the Consumer Electronics Show to Time Magazine and CNBC, prestigious organizations have recognized DAP's Chicago mobile app development work as innovative, intuitive, and industry-leading.
We're Focused on the Future
The mobile app development world is perpetually shifting. Our team of digital experts is constantly tracking trends and refining best practices to make sure your app will not only meet your customers' needs today, but in the years to come.

When you work with DAP, you get more than mobile app development. You get a partner committed to anticipating your needs and exceeding your goals.

Reimagining social networking with an intelligent app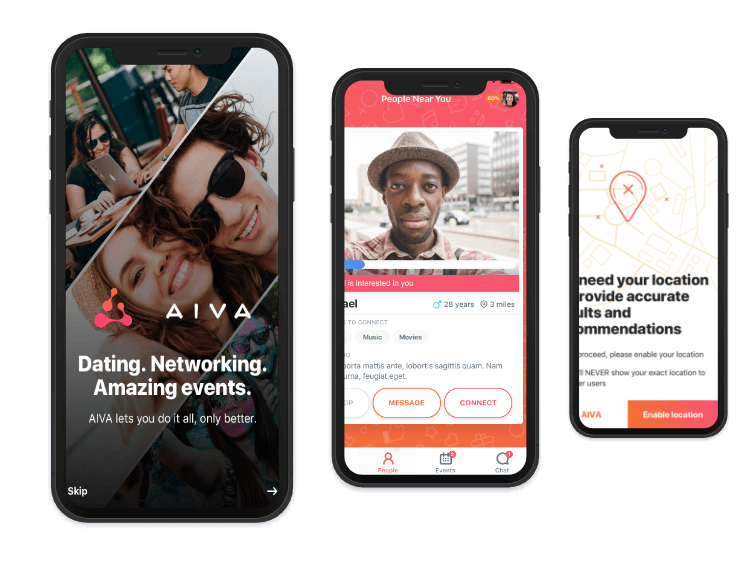 Gamified biking app mobilizes families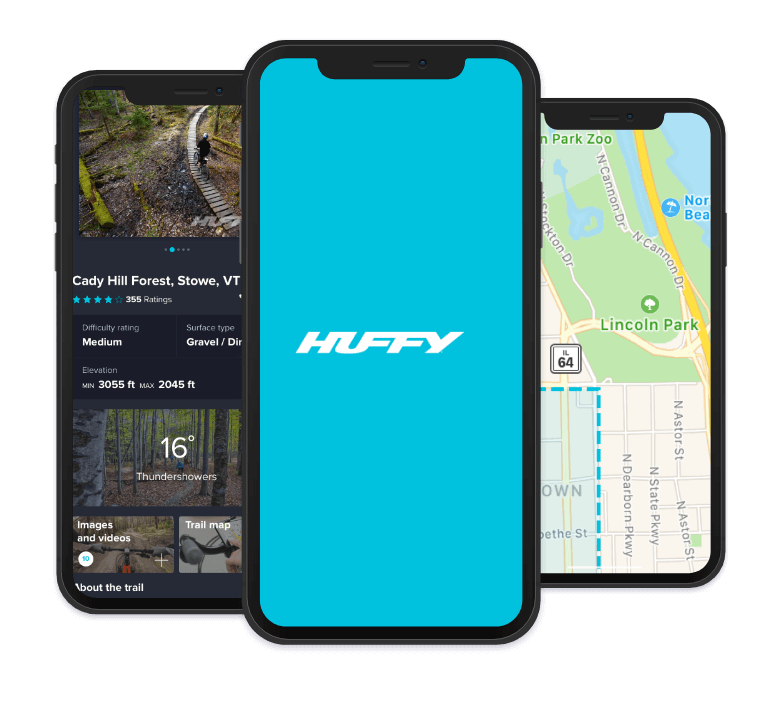 An omnichannel experience for a pioneering medical device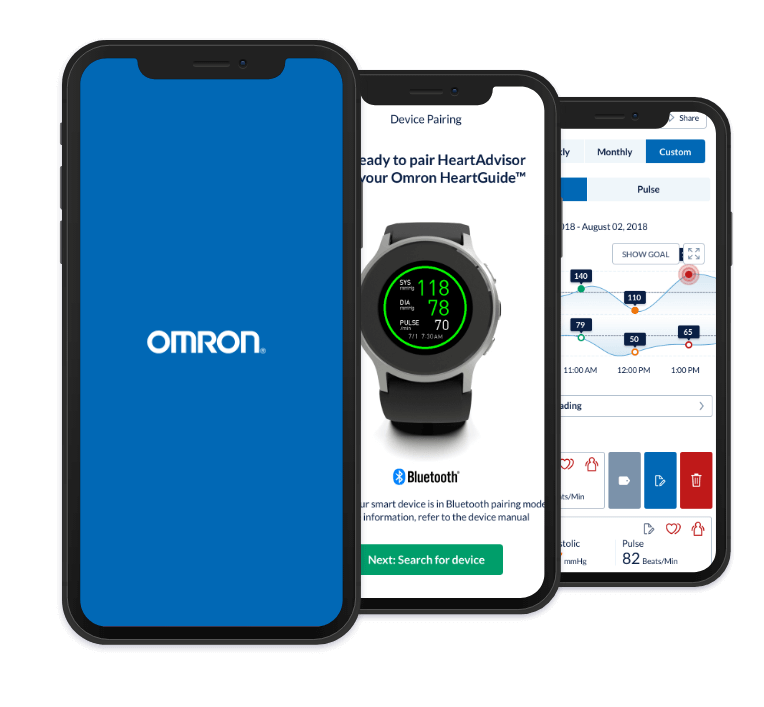 A consumer-friendly lending app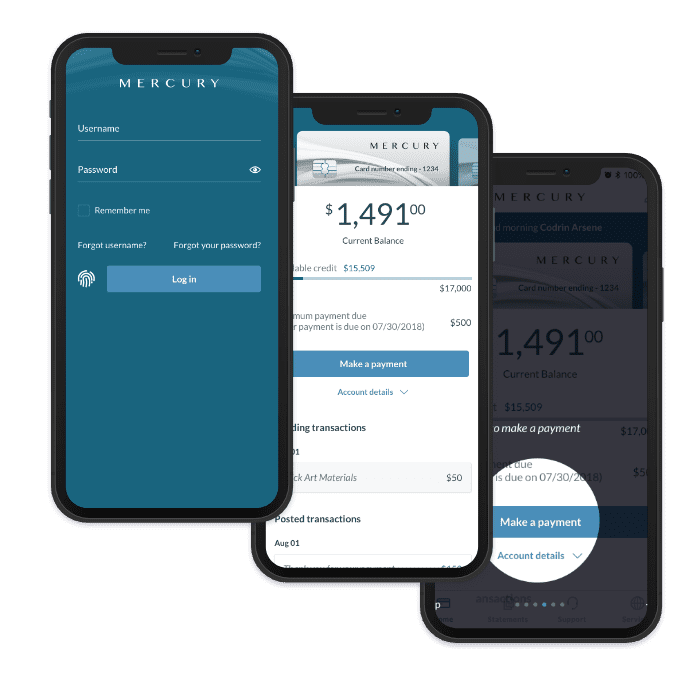 How DAP Became a Leader in Chicago Mobile App Development
From building and testing your app to providing marketing strategies and ongoing support, DAP has expertise in every step of the mobile app development process.
1
Data-Driven Strategy
At DAP, listening to the data isn't just a buzzword, it's a core tenet that is fundamental to everything we do. Working with DAP means you can rest assured that your mobile strategy is informed by robust data, and that we will continually track and test that data as your project moves forward.
Whether it's knowing how to perfect a call-to-action to drive engagement or how to design an experience that lets customers move effortlessly towards conversion, every choice we make when developing your app has sound data underpinning it.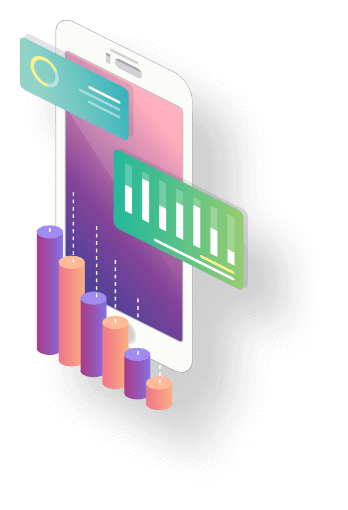 2
Laser-Focused on UX
Our data-driven approach isn't simply about numbers. It's about leveraging those numbers to create a mobile experience that is positioned to please the end user at every turn, leading to engaged and growing audiences.
We strive to make sure every possible action a user can take while navigating your app takes them exactly where they want to go and delivers on their expectations. We are constantly on top of the newest developments in UX best practices to help you build a product that feels clean, contemporary, and easy-to-use.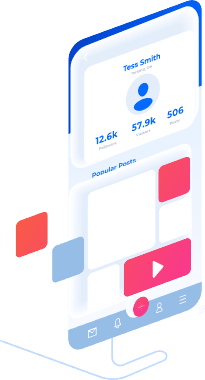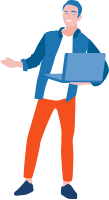 3
Rigorous Development Process
Our experienced team of Chicago mobile app developers has a history of delivering products that meet the highest standards of speed, ease of use, and security. That's because we hold ourselves to rigorous standards for mobile app development, using our battle-tested best practices to get it right.
We expect our team to identify improvements and solve potential issues early on in the development process, so that by the time your application is in the hands of your users, the experience exceeds expectations.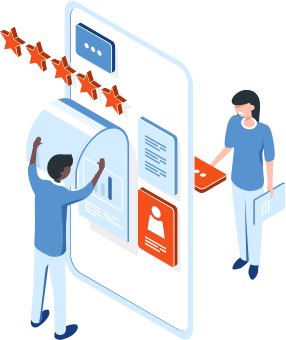 4
Thorough Testing
A key component of our development process is a commitment to testing your application thoroughly, making sure our core assumptions prove accurate and identify any potential user pain points that need to be corrected.
We believe there are always opportunities to improve a product, which is why our testing team is trained in line with our desire to leave no stone unturned in our pursuit to give your users the best mobile app experience possible.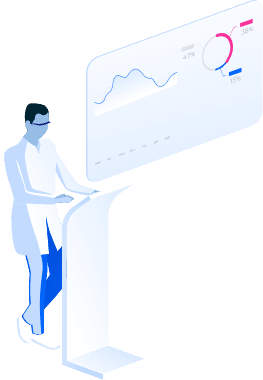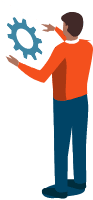 5
Post-Launch Marketing
Our experienced team of Chicago mobile app developers has a history of delivering products that meet the highest standards of speed, ease of use, and security. That's because we hold ourselves to rigorous standards for mobile app development, using our battle-tested best practices to get it right.
We expect our team to identify improvements and solve potential issues early on in the development process, so that by the time your application is in the hands of your users, the experience exceeds expectations.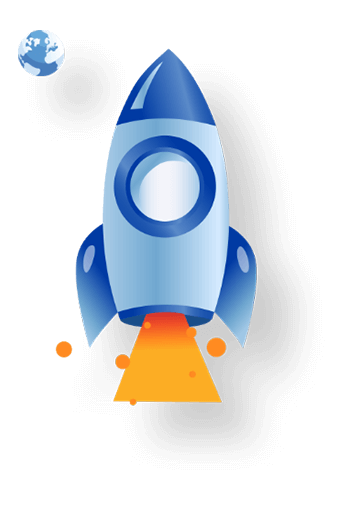 6
Ongoing Support
At DAP we're deeply invested in not only developing the best app that meets your business needs, but partnering with you to make sure your app becomes successful in the months and years to come after we launch it to production.
Whether a technical issue arises that needs to be addressed promptly, or you need help rolling out new features and capabilities, our team is available to provide any ongoing support required to ensure your app continues to drive growth and delight your users.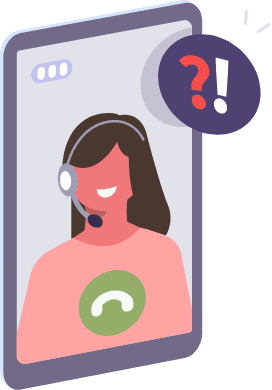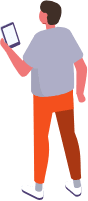 Mobile App Development Process
Pre-Design: We work closely with you and your team to understand your audience, your competition, and the most effective approach to the business or user problem you're trying to solve. We firmly believe that a thorough, strategic analysis up front leads to a smoother design and development process and a final product that will reflect your business goals.
Design: After we summarize the findings of the pre-design phase, we move forward with designing your mobile app, collaborating with you and your team throughout the process, informed by design thinking and centered on creating the most interactive, beautiful and usable mobile experience. Once an Invision prototype has been approved by all parties, we conduct a quick round of user testing to ensure your final product is in line with what your ideal customers would actually LOVE to use.
Development & Implementation: This is the phase where your mobile app comes to life. You just sit back and relax as we turn your app from a dream into a reality. We give you and your team visibility into each step of the process as we move towards implementation. Once the functionality of the final app has been fully tested, it is ready to launch. 
Support: When your mobile app is finally launched and being used by your customers, our involvement doesn't end there. Not only will we take the necessary steps to make sure your Chicago mobile app reaches as wide an audience as possible, but we are ready to help you solve any unexpected issues and add incremental improvements to your app as they become necessary.